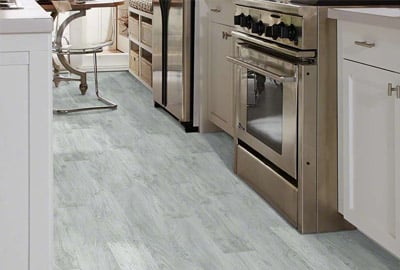 Renovating the kitchen is not an easy process because it concerns things on multiple levels – not only do you need to envision the overall look and design of it but also give a thought about appliances, plumbing, and electricity. There are a lot of things to consider once you have decided to do some alterations to your kitchen, especially when it comes to the floor. You might want to do the flooring yourself and think of some DIY options, or, alternatively, you could always use a professional service of some well-known companies like ADU Builders California to make sure that everything is done to meet the highest standard.
What is especially recommended to keep in mind when estimating the flooring is how durable your material is, how safe it is in terms of being slippery, how easy it is to clean, and, of course, the look of it and the way it complements the cabinetry.
It is estimated that a flooring budget takes around 7% out of the whole amount allocated to the kitchen, so plan carefully, and do not forget to add the price of underlays, fixatives, grouts and underfloor heating (if you need one) to your approximate cost.
In this article, we are going to give a brief overview of the materials available and suitable for the kitchen flooring, their pros, and cons, and also, we will try to provide you with some design tips.

1. Best Materials
There are quite a bunch of kitchen floor coverings on the market, so everyone is sure to find what suits them best. The materials differ in respect of durability, water-resistance, price and comfort, so let us guide you through the most popular kitchen options.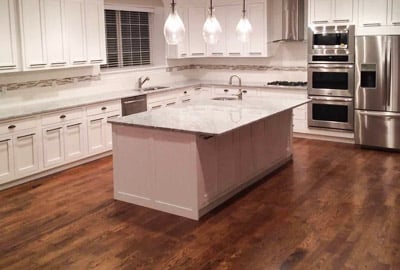 If you opt for a more traditional option, hardwood is what you are looking for. It is quite easy to clean, although even minimum spills should be cleaned right away so that there is no lasting damage. There are a bunch of colors and patterns to choose from if we talk about hardwood, so you can easily pick the best fit for your design. On the downside, this flooring is not waterproof, so make sure you do not forget to use the right water-resistant finish – you can ask professionals like ADU Builders California for help or advice. And you need to be careful with this type of flooring because it can be rather slippery.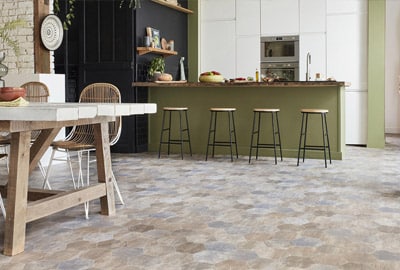 Tile is a very popular option for bathrooms and kitchens, where the floor is often exposed to water. With kitchen flooring in particular, ceramic, porcelain, and stone are the best in terms of durability and damage-resistance. These types of flooring are also water-resistant and easy to clean, although grout might be a bit hard to maintain, since any stains should be removed immediately to avoid them becoming stubborn ones. What is also important to keep in mind is the weight – professionals like ADU Builders California advise against using tiles on second-story floors.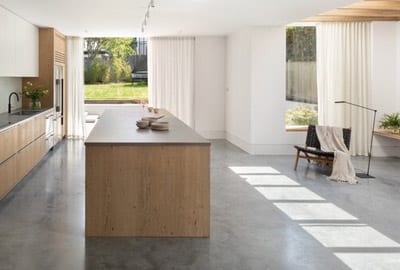 We can hardly imagine concrete flooring in a bedroom or living room, however, in areas like kitchens it could be the best solution – concrete is cheap, durable, almost completely waterproof and can be styled to look like other materials (wood, tile, or stone).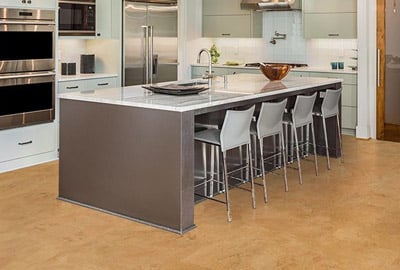 Cork is a relatively new budget material in kitchen floor designs which is suitable for do-it-yourself renovations. The advantages of cork include absorbing sound, stain-resistance, and soft touch. However, it is not waterproof and needs to be taken good care of whenever there is a spill or a stain. It is also recommended to avoid direct sunlight exposure in the brightest time of the day because cork can fade.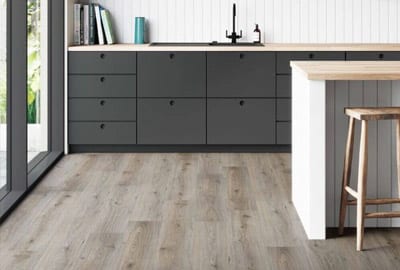 Laminate is a good substitute for hardwood because it mimics the material but is much less expensive. The process of installation is quite effortless because all you need to do is simply attach planks to each other and glue them. With the development of technology, there are water-resistant laminate options as well, so it is suitable for kitchens. You have to keep in mind though that laminate is not as durable as other kitchen flooring materials, so it can require a more frequent change.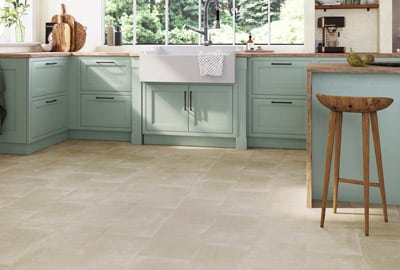 Like laminate, vinyl may look exactly the same as hardwood and stone, and it is not pricey at all. Currently, it is one of the most popular kitchen flooring ideas, especially if you go DIY, because you do not need to have any special experience or skill to put its planks and tiles on the floor. Despite all the advantages, there is one flaw vinyl has, and it is the softness of the material. It can be dented when large appliances are installed on it, and it does not spring back.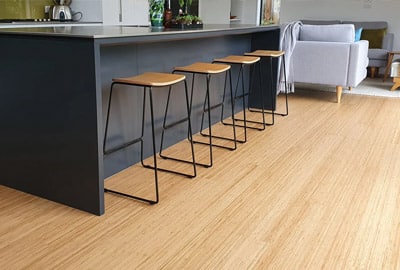 If you are into environmentally friendly design ideas, bamboo flooring is for you. Not only is it an eco-material, but its nature also allows it to reach such a level of water-resistance that can be compared to tile and vinyl, for example. But on the flip side, the bamboo option cannot cater for great sound insulation, and it may as well fade in the sun. However, the material is not hard to apply, and now there are quite a lot of color and pattern alternatives available, so everyone can find the best color and design solution to their kitchen.
2. Design ideas
When you have made up your mind about the materials to use, it is high time to start thinking about some design ideas and the ways to make your kitchen look best and reflect your personality. Here you will find a few tips on how to make your kitchen look a cozy and inviting place.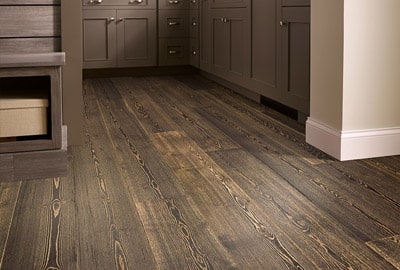 Give your kitchen a contemporary look with dark flooring – dark colors do not necessarily mean they create a squeezed atmosphere and narrow down the space. If combined with the right shades and texture, they make your kitchen look sophisticated and modern. You can add extra warmth if you compliment dark flooring with natural colors and textures.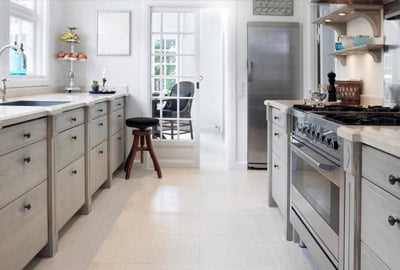 White colors are about space and brightness, so if your kitchen is quite tiny, this is the way to make it look a bit more spacious and airier. White flooring goes perfectly with white walls and adds more light, whereas blue or green wall colors create some contrast and give a feeling of freshness and juiciness.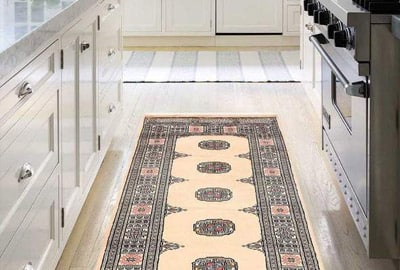 Rugs are usually associated with living rooms or bedrooms; however, a kitchen could also benefit from having one. Along with adding some softness to hard floor materials, it creates a warm and inviting look of the place. Rugs would work perfectly for large and open-plan kitchen designs, especially if placed under a wooden table and connecting the furniture to the rest of the room.
Traditional terracotta floors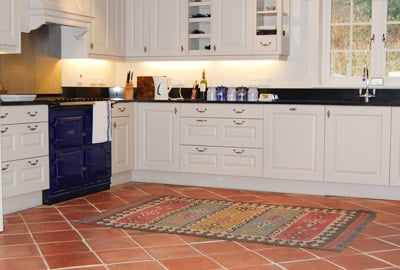 If you are not a big fan of contemporary styles, terracotta is an option which can take you back to the past and create a warm look of the previous centuries. Terracotta colors are usually represented by ceramic tiles like those you could see in farmhouses – so in case you opt for a homely and matter-of-fact kitchen style, this is the right choice.
Kitchen materials combinations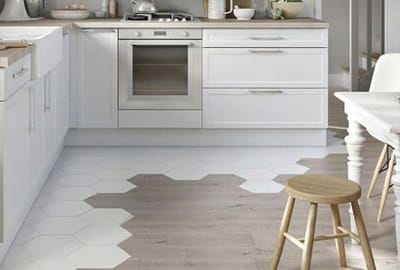 Many forget how vital it is to think of combining kitchen cabinetry with flooring, so our advice is to think ahead when choosing cabinets and imagine how well they would go with the floor in terms of materials and patterns. A good idea might be to think of the light (natural and artificial) and whether it would change anything about the overall look from different angles.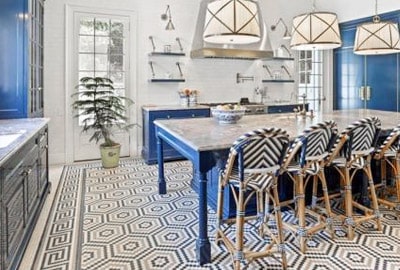 Despite the fact that your kitchen cabinetry might have a traditional mono-color design, adding some accents to the floor can change the whole look of the place. Try experimenting with tile, hardwood, vinyl patterns or ornaments to make your kitchen stand out. Also, bright colors can add a playful note to the room and make the design unique and distinctive.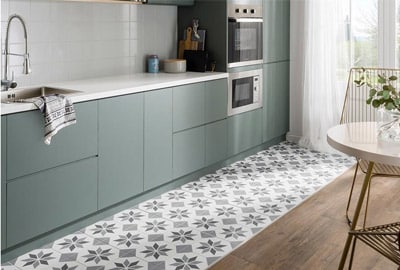 Study some traditional patterns or ornaments of the cultures you are interested in. No matter whether your kitchen is traditional or contemporary, accenting floor patterns can make your kitchen look even more appealing. Take a look at Moroccan, Turkish, or Portuguese pattern styles to see if it fits the entire idea you are trying to implement.
Conclusion
In this article, we have reviewed the ideas for kitchen floor designs. When choosing one for your perfect kitchen, you should look both at the material to use and the kitchen arrangement. All materials have their benefits and drawbacks, so do not forget to consider things like durability, safety and water-resistance when making a decision about one.
Although there are very many color and texture options regarding materials, you can always think of fresh touches by adding mixed textures, extra furnishings, and rugs. Do not be afraid of experimenting and see what you are most drawn to and what matches your aesthetics. If you are still not sure which options would be the best scenario, feel free to ask for professional advice – for example, ADU Builders California will be happy to give you some design tips or help with making an informed decision about materials.

×
Get extra 12% off