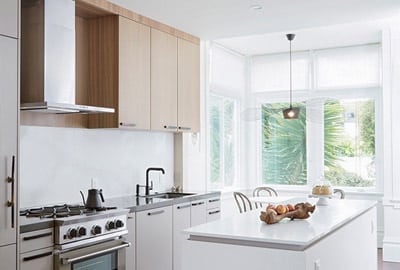 If you have been wondering how to make your kitchen — big or small — look more stylish and comfortable without any super spending, this article is the right place to start off your path to the goal. A renovation or remodeling project is a task that needs to be approached with thorough preparation. Prior to comparing the best offers and choosing the best general contractor in your area, you need to have some ideas to implement. Of course, most of the best construction companies will offer to pick one of their completed projects or, perhaps, ask you to tell your ideas to your project manager in plain terms. However, it is always best to be prepared and know exactly what you would like your kitchen to look like. For this, we have gathered the best kitchen remodeling ideas we could find on the web among the most reliable offers.
Any, if most extraordinary, kitchen remodeling concepts can be easily implemented by the super-professional employees of A+ Construction & Remodeling company. You can get your estimate now by contacting A+ managers and get your kitchen remodeled, timely, and at a fair price.
The first thing that pops up in the imagination of a typical remodeling company customer is to get a view of some other people's ideas. Sure, every single detail in their projects can be shifted to your liking. But still, this is a good way to obtain inspiration.
Another way is to entrust the entire kitchen remodeling process to the highly-qualified employees of reliable construction & remodeling companies.
Whether you are a fan of the more conventional style in kitchen design or you seek modern solutions, you will surely find something amusing in the top list of the best kitchen remodeling ideas we prepared for you.

Cabinetry and counters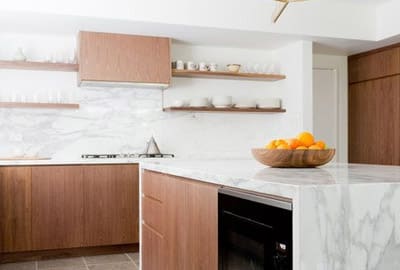 As to the most stunning kitchen remodeling ideas, the first thing remodeling company customers want to have changed for the better is their cabinetry. This aspect of a kitchen is crucial because it has a lot to do with all the convenience and free space in the kitchen in question. While some homeowners cannot boast a considerable kitchen space, cabinetry remodeling is the top option. At times, your weathered and ancient-looking ragged cabinets taking up all the space can still contain some features that would be a mistake to reshape or remove. In this case, you can get rid of the rubbish and keep the charm of some old stove or a fridge, which will only add chic to your kitchen's new look.
You can simply determine the scope of your future remodeled areas, leaving some room to maneuver. Add a new coating or refresh your counters with a bright color touch, use marble countertops in big kitchen spaces to highlight the most important parts of the kitchen.
If you are thinking of having your cabinets entirely renovated, you should pay attention to the materials used. Kitchen cabinets, as well as tables and counters, are really frequently used, which leads to their quick deterioration unless you apply strong and long-lasting materials.
You can also opt for some ready-to-assemble cabinet options, which is a great option for those who seek cost reductions and good quality produce. Beautiful and durable as they are, they still come at reasonable prices.
Among the strong materials, we would highlight hardwood, solid-wood panels, melamine, and others.

Backsplash renewal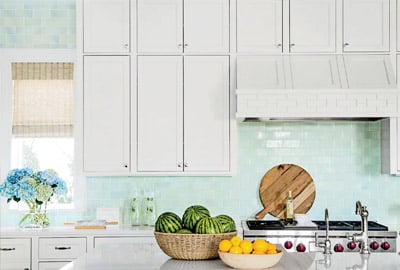 Another thing to focus on while remodeling your kitchen is changing the look of the backsplash. This measure blows new life into old kitchens, and it is fairly reasonable in terms of the price. However, having only the backsplash remodeled will not be the end of a remodeling project, unless you want to leave it just like that. Anyway, it can be a good start for a more considerable remodeling journey.
There are several key points to consider while getting ready to renew your kitchen backsplash:
First, you need to understand if you want to have your backsplash removed or renewed. If your budget is limited, we recommend spending it on a renewal project. However, if you have a little more money in your pocket, opt for something better than just recreating your old backsplash.
Consider the materials needed. You can play with eclectic styles and get to your own inventions in kitchen remodeling style, if you do everything right. CHoose several colors in your design: add up some contrast. Otherwise, pick single-color variants of satin or gloss and pick the materials that suit your view of remodeling your kitchen and your spending limits.
Flooring recreation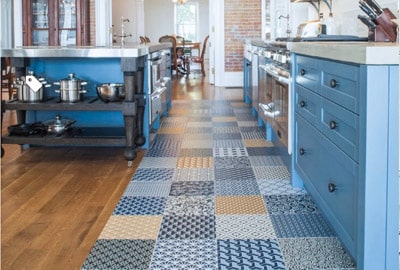 The process of new flooring implementation is among the most time and energy consuming ones in kitchen remodeling. However, a new floor will undoubtedly give your kitchen a better look!
Use hardwood as the material for your future kitchen floor. It is reliable and strong, and there are plenty of variations available: from bulky planks to thin pieces. However, any kind of hardwood is super durable as it is natural.
There are also kinds of hardwood floors that come with an extra layer of hardwood on them. THese are generally called engineered flooring options.
Another great material is oak or walnut. These two are really often chosen by homeowners who want to give elegance and style. It looks so natural and can be so well-priced.
Ivory, maple, ash, and hickory are great material options for your kitchen flooring, too. They fit anyone from lovers of natural grains up to those who value efficiency and longevity of use.

Kitchen Islands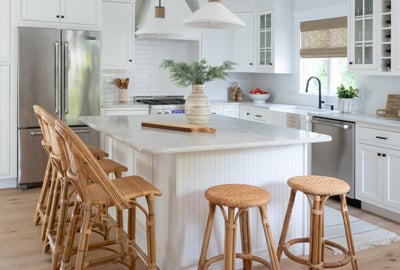 Whether you have a grand kitchen area with a prolonged table to serve 15 people or you can hardly fit your family at your kitchen counter to dine, you can still consider having yourself a kitchen island installed. These are made of natural stones and engineered with the ergonomy and style in mind. You can store your kitchenware inside the island, while your family can get their seats for the dinner around one. Don't think of too bulky kitchen islands: they will be too heavy to move about and too costly to install, though. The purpose of your kitchen island's use will have a say in its size and materials applied.
Do not forget about the leg room, and make sure that AC sockets are around for the best convenience. Add a speaker to be able to listen to your favorite tunes dining, or you can keep all the kitchen stuff if you own a big kitchen and consider getting a large island.

Luxurious FIxtures and Appliances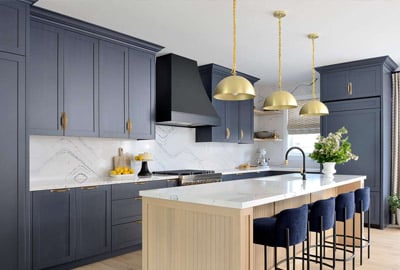 Among the most crucial factors of a successful kitchen remodeling project, the right choice of equipment is a must. In your kitchen, there are no more valuable things than kitchen appliances, for it is they who actually help you cook, freeze, or wash things. It is no secret that top-class equipment can be rather costly; however, there is still a vast range of options to pick from, without the huge loss to your wallet.
It is advised that you focus on the most efficient equipment, as well as the one that fits your visual preferences. However, their functionality must prevail over the shape, when it comes to the right choice of equipment. If you really want to give your kitchen a fresh look, focus on the modern appliances in the first place. A new fridge or an oven, looking perfectly modern, will turn your dated kitchen into a luxurious place.
Open Shelves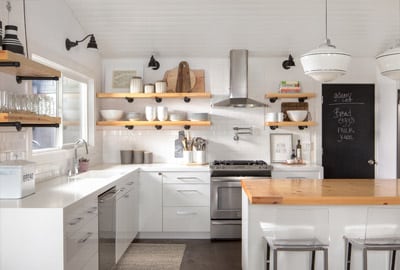 In the old days, open kitchen furniture would cause dissatisfied looks; however, these times are long gone. Nowadays, more and more individuals turn to using open shelving in their kitchen spaces in order to give them new looks and visually enlarge the room.
What is also of importance is that you should place illumination under the cabinet: it will up the overall impression of your kitchen, giving it better functional capabilities as a result.
Illumination Options
Among the bestest ways to keep the convenience features of your kitchen intact and, at the same time, let it look beautiful, try different lighting options. One of the most popular among them is combining LED lights with differently-shaped fixtures. LED lights are eco-friendly and cost-effective. Besides, there are so many options available!
You can also combine old options with new ones, by mixing dated chandeliers with dimmers to be in full control of the light in your kitchen and be able to adjust the light to your particular needs anytime.
New Cabinet Doors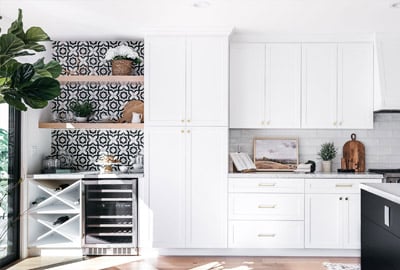 If you want to add your kitchen a fresh look without indulging in high expenditure purchases, we recommend trying to install new cabinet doors. Very often, hinges wear off or the surface gets cut and dented, so it is a good idea to refresh your cabinet doors once in a while. If you have a bit more money to spend on your remodeling project, you can opt for cherry as a material, which will leave you totally satisfied with durability and looks.
New Wall Paint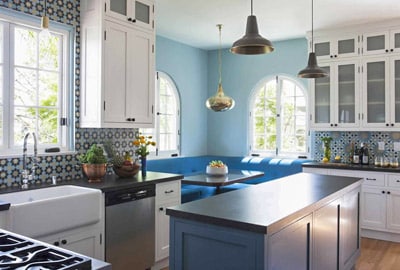 When you change the color of your kitchen walls or simply refresh the old ones by adding some new layer of coating, this will make your kitchen look better immediately! Besides that, you can go change your kitchen's small fixtures, like knobs and all, to give your central room the best appearance. As the walls of your kitchen are constantly under attack by the processes going on there, pain on the walls gets deteriorates quite easily. Choose the right color scheme so that it doesn't interfere with the equipment's colors. A few strokes of a brush can really change the entire picture and add freshness to your kitchen look.
Novel Hardware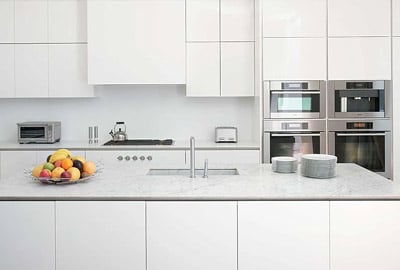 Okay, a new coat of paint will surely do good to your kitchen's look and style; however, hardware is far more important to consider. Opt for metal-made hardware to embrace durability and longevity of use. It can sustain hard knocks and hits, so you will rest assured completely. As another option, pick silver. It is also durable and can last for a really long time.
Remodelers Takeaway
All in all, there can be far more options to contemplate while thinking over your future kitchen's redesign. We have gathered the most effective ones, both in terms of efficiency and cost-effectiveness. Another thing is how you will implement this knowledge in your remodeling project. You also might have your own great ideas to bring to life. Anyhow, choose materials and instruments wisely, and don't fret about being creative!
×
Get extra 12% off