In 2022, when humanity mainly learned how to live with Covid-19, the idea of a "house" changed dramatically. A house is no longer a place where people sleep after work. A house now is a place, where many working people spend day by day, doing the job.
The kitchen in particular has developed an association with both work and daily routine. A kitchen is a place where you work in front of the computer, and it is also a place where you have coffee breaks or practice your hobbies.
How To Get Your Kitchen Perfectly Renovated?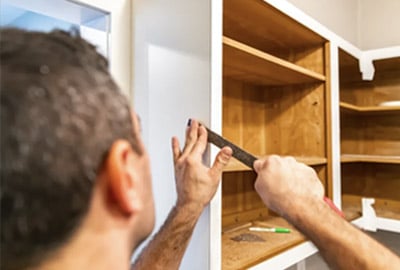 A key to success in kitchen remodeling is basically in the materials that you apply. Under materials, you should, however, understand not only the material that, for instance, your kitchen furniture will be made of (say, some sort of specific wood). You should also remember about the type of furniture itself (cabinets, countertops), the lighting, the walls, and doors, the windows, and some other small things that create the notion of 'kitchen'.
To receive a high-quality final result, you should consider everything in advance. In this article, we will take a closer look at which hints and tips you might memorize before you start the renovation process.
Tip number one is, obviously, contacting professionals that will not let you fail while remodeling your kitchen. The main advantages of dealing with remodeling contractors are:

The experienced team has already made all possible mistakes while working on the previous projects. Your project now becomes the manifestation of skills and knowledge
You save your time and nerves as there is no need to control the process of renovation
Eventually, you save money too as you avoid mistakes: you don't buy too much material, neither do you waste money if some materials were applied incorrectly due to the lack of experience
Safety is guaranteed: your kitchen will be a safe place after a team of professionals works here
These and other benefits are already available to you too. All you have to do is contact ADU Builders California — one of the leaders in the construction and reconstruction industry at the time.
Kitchen Renovation: Material Tips
Now, let's proceed to the real hints on choosing renovation materials for the kitchen.

The Floor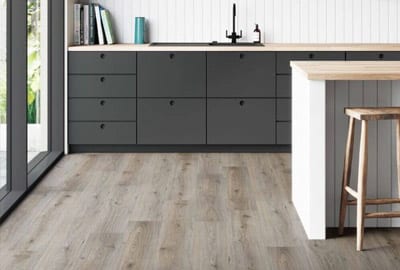 The floor is the basis. Both literally and figuratively. If you want your feet to feel comfortable with every step they make in the kitchen, you should consider the material for kitchen flooring carefully.
In 2022, there are several trendy and convenient options for the flooring in the cooking (and not only) space:

There are different wood options that you can choose for this purpose — oak, walnut, pecan, and a series of other woods. All these woods have pros and cons. In general, wood is a uniform choice for any kitchen design. It is always trendy, it is stylish, and it will last forever.
Linoleum is widely used in kitchens all over the world. It is made of natural materials, which makes it an attractive option for those who do care about the environment. Linoleum is one of the cheapest options, that is why it has been the choice of Americans for decades now.
This is definitely the most environmentally-friendly material for your kitchen flooring. It looks luxurious and trendy, especially in collaboration with proper wall treatments and furniture. But, it is slightly more difficult in installation — this is where you will need the help of masters.
The Wall Treatments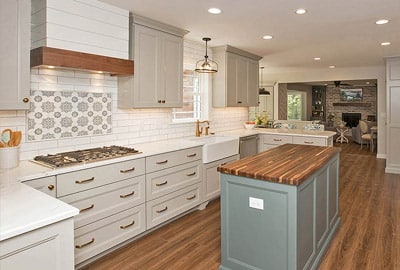 When the flooring is chosen, you can consider the wall treatments. Keep in mind that not every flooring is compatible with every option of wall treatments. If you doubt, you should better call professional designers from ADU Builders California — these guys can navigate throughout the way.

There are three main ideas for wall treatments for the new kitchen:
Your kitchen will certainly benefit from wood paneling if you select the proper color for your particular size of kitchen and local lighting. This is a tasteful and neat solution for people interested in something simple yet unique.
This is the easiest way to make your kitchen look different. But, pick the colors and paint materials smartly: some of them simply do not fit the purpose.
This is a new, unique way to update the kitchen walls. Try not to confuse wallcovering with wallpapers, as the latter ones are less durable and frequently less stylish. In 2022, a trendy solution will be to stick to the historical style.
The Lights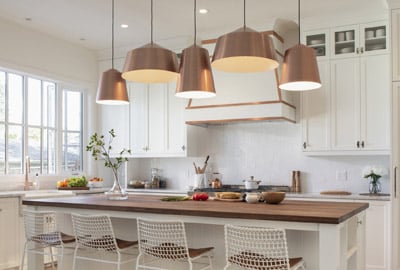 A real tip: do not even underestimate the power of lighting. If you have never tried remodeling before, you probably have no idea how much proper lighting can change.
What to consider when picking the lights:
The type of lightning: would you prefer cold or warm lightning? Why?
The lighting fixtures: the fixtures in colored glass and halothane lamps will produce really different effects on the kitchen space
Space organization: which purposes will a particular fixture serve?
When you come to the hardware store, keep in mind that every lamp you see was probably developed to perform a particular task. Some lamps are simply decorative, whereas others are directly functional. In order not to get lost, ask professionals to help you make the right choice.
The best decision will thus be to contact ADU Builders California: we will not only explain how the lighting works, but will also help you pick the fitting options for your particular kitchen.

Doors and Windows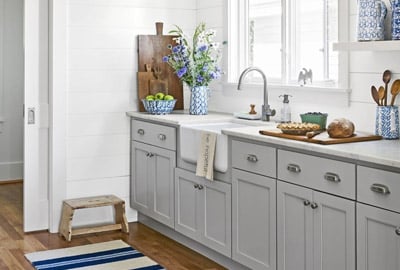 Although from a certain perspective doors and windows perform similar functions, the process of choosing the materials for them should be treated differently. While the situation with doors appears to be simple: you have to pick the material that a) fits your design needs, b) will last long, and c) will not destroy your wallet, in the case of windows, the things are slightly more complicated.
Windows can be functional and decorative, windows can be made of very different materials, and, what also matters is that depending on the above-mentioned qualities, the installation process also varies.
In order not to make mistakes, ask professionals to provide you with step-by-step instructions on how to set the new windows properly. Or, pick the simpler and cheaper option: call ADU Builders California.

The Furniture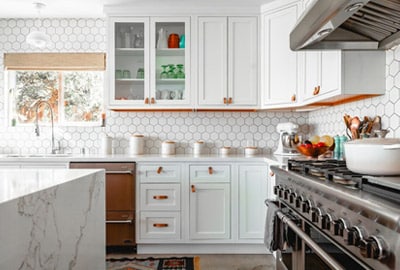 Now, when the rest is done, it is finally time to consider the furniture. Remember that the properly chosen furniture not only demonstrates your individuality, but it also increases the functionality of the kitchen.
When considering the cabinetry for your kitchen, remember about the exterior and interior parts. If your kitchen is rather small, large heavy cabinets will destroy the general look. On the contrary, picking too small cabinets means permanent problems with storage. The idea, in this case, is to find a middle ground.
Depending on your needs and the general design of the kitchen, you can pick the fitting material and color of the cabinetry. Darker options usually make the kitchen look more traditional yet elegant, whereas light colors are a uniform option for the majority of kitchens.
Try to pick the material that is easy to clean. It is a well-known fact that matte cabinets are easier to maintain: they are "undemanding" and do not require any special cleaners.

Kitchen Renovation Materials Takeaway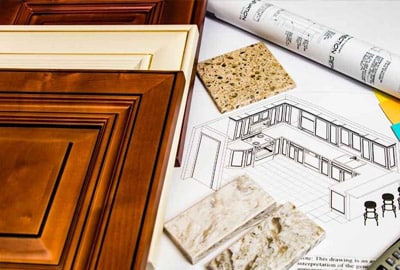 Keeping your kitchen updated is essential in the modern world. The more time you spend in it, the more ideas for the renovation you might come up with. But, the kitchen remodeling process should always be treated seriously. This is time-consuming and requires your participation.
But, you can simplify your life by asking professionals for help. That is why ADU Builders California is always here to answer your questions and support any crazy kitchen remodeling idea of yours.

×
Get extra 12% off