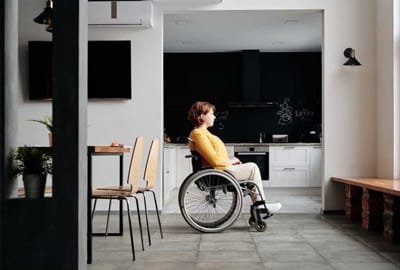 Most Accessory Dwelling Units built these days will serve their homeowners as versatile housing options throughout their whole life. It is usually the case that your Accessory Dwelling Unit will act as long-term rental housing, a dwelling for your elderlies, a place for your hobbies, and even as a small house for your kids.
Hence, homeowners should design an Accessory Dwelling Unit in a way that allows them to use it without any changes for as long as they can so that major remodeling projects would not be necessary every few years.
In this article, we will discuss universal design principles for Accessory Dwelling Units so that your future ADU project can be used by people with different abilities, allowing them to be aging in place of complete comfort!
Incorporating wheelchair accessibility in ADU design
Probably one of the first things that you will think about when learning about universal design principles and accessibility features is wheelchairs. Yes, many of us might need to use them at least once in our lifetime, which is why wide doorways and hallways are definitely a must for any type of ADU that you plan to build.
Here is the list of some of the cases when wheelchair compatibility might be needed by you:
Renting the ADU to people with disabilities;
Using the ADU as a living space for your aging parents;
Moving into your ADU after some serious injuries.
Wheelchair accessibility is, first of all, connected with the width and height of the doors and rooms of your new dwelling. Hence, you will want your designers to make an ADU that is as wide as possible, with the smallest amount of stairs and a big front door present as well. All of these features are going to be discussed by us in greater detail later in the article.
Designing ADUs with wider doorways and hallways for accessibility
As we have already mentioned, the width of your ADU is an important feature that will ensure the comfort of any dweller who will live there.
Therefore, wider hallways and doorways are definitely a feature you want to see in your new living space. As for the measurements, your designers and contractors should build an ADU that has 32 inches-wide doorways and 36 inches-wide hallways at least, especially in the rooms that people access with little to no help from others, such as bathrooms.
Installing grab bars and handrails in ADUs for universal design
An accessible bathroom is something that everybody thinks about and tries to create in their own ADU projects. And although adding grab bars near your shower and toilet is a good idea, it is even better to implement the same grab bars or handrails in bedrooms and living rooms as well.
That way, you can create spaces safe enough for anyone to access and use not just inside one room but around the entire house as well. An accessible ADU with universal design features is more than just about the width of your doors and access to your bathroom.
Choosing flooring materials that are safe and slip-resistant for ADUs
An accessible ADU is not only about safe switches from a wheelchair to other surfaces. It is also about secure movements around the ADU in the wheelchair itself. Hence, you also need to think about non-slip flooring that will be convenient both for those using wheelchairs and those without them.
The best case scenario is implementing flooring materials that are smooth enough for the wheelchair to easily ride through but rubbery enough for others to walk around without falling down. In our practice, the best accessible ADU is the one that uses large tiles with the thinnest grout lines for the floors.
As for the non-slip flooring materials, vinyl is the perfect one for accessible ADU spaces. Try to implement such materials not only in the shower or around the toilet but also in all other spaces of your ADU.
Designing ADUs with zero-step entries for accessibility
People with disabilities or those who have temporarily limited mobility will definitely appreciate an ADU with a zero-step entry near the main doors. That way, anyone could easily go in and out of the dwelling units that you will build!
A ramp near your entry doors can also be a good idea, especially in cases when the weather conditions of your region or the peculiarities of your land still require at least one or two steps added to the entry.
Installing accessible switches and outlets in ADUs for universal design
When building an ADU without any universal design principles implemented, the lighting switches will usually be located at 48–52 inches. And although this is not a bad solution for universal ADU development, we can do better!
Place your lighting outlets at 42 inches and make sure that all of the switches are large in size, making their use much more accessible to any aging family member, a kid, or people with disabilities!
Designing ADUs with open floor plans for accessibility and universal design
An open floor space is also a great idea currently implemented in all types of houses! Small ADUs will benefit from this type of floor plan more than any other kind of dwelling, as they will allow everyone to move around more freely and create a feeling of a much bigger house.
Hence, try to implement an open floor plan at least once in your ADU building plans. For instance, you can combine the living room together with the kitchen, therefore making the space of your dwelling ADA-compliant.
Incorporating adjustable-height countertops and cabinets in ADUs
When it comes to ADA-compliant kitchen space, custom furniture is a definite must! All the countertops and cabinets should be at a lower height. There should be enough space included in the kitchen design so that a wheelchair can easily rotate without the need to constantly pull back and forth in order for a person to change position.
In our experience, 32-inch counters are ideal for ADA compliance. And it will be even better if you also install a kitchen island with a space where no lower cabinets are located so that a wheelchair could be rolled under the counter a bit.
Designing ADUs with ample space for mobility aids like walkers and wheelchairs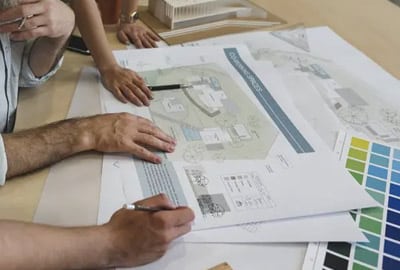 We have already mentioned that an open space floor plan is ideal for those using different mobility appliances throughout the day, and by now, you also know about the importance of a wide front door and big kitchens.
But we also should not forget about the bathroom of the future ADU as well. In order to create an accessible bathroom, you will need to install a roll-in shower, lever door handles, and at least one grab bar near the toilet and another one near the shower.
All in all, despite the fact that an ADU is restricted in its size and can not be as big as you need it to be. You still need to try your best to provide the dwellers with as much space in each room as possible.
For that purpose, you can use the following features:
open floor space plans that would allow for better movement;
built-in furniture, which will help with saving as much free space as possible;
pocket doors that would not take any additional space from your accessible ADUs;
proper design plan of the project that would allocate all the furnishing and appliances in a way that would provide you with enough space in all parts of the rooms.
Installing accessible lighting in ADUs for universal design
Accessible light switches are not only the ones that are located at a height that is accessible for people that use mobility appliances throughout the day; they are also the ones whose location is convenient for the dwellers.
For instance, do not put light switches only near the lever door handles of a bedroom. You also need to place them near the bed as well, so that a person can turn the light on and off whenever he or she is currently sitting. The same works for living rooms: ensure that the room is equipped not only with the upper light with a switch on a wall but with floor light near the sofa as well.
Dimming switches are also features that you need to implement in accessible ADU so that the lighting can be adjusted during the day. And not only for the comfort of the eyes but also for the overall safety of a person with disabilities or low vision.
Frequently Asked Questions – FAQ
Is universal design the same as accessibility?
Almost the same. Living spaces with universal design features are made in a way that makes them comfortable for almost anyone to dwell in. Accessible designs also share such a property, but they are made in a more personal way so that the space can accommodate a particular person or family members in accordance with all the specific needs that they have.
What is the difference between the ADA and the universal design?
The principles that underlie both approaches are quite similar: both ADA and universal design help to create property spaces that can accommodate people with different abilities. However, while ADA is a regulation that state spaces should follow, universal design is more of an approach that can be used by all homeowners who want to create more functional houses for anyone to dwell in.
What is ADA universal design?
It is an approach used by many homeowners, contractors, and designers that helps them to create functional homes that would be convenient enough for anyone to use, regardless of size, age, ability, or disability. There are plenty of practical benefits of applying such a design for ADU projects. From allowing your family members to age in a place where they would be most comfortable to creating appealing, accessible ADUs you can rent out to anyone.