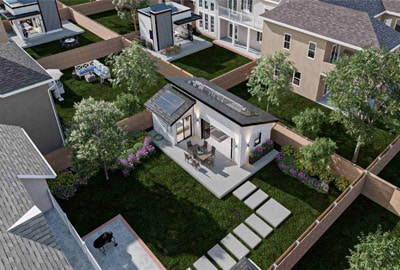 Without a doubt, building an accessory dwelling unit on the lot is a wise decision and a great option for any homeowners seeking long-term investment options. With a variety of possible ways you can use your ADU to the maximum, it turns out to be a useful living space that everyone is simply bound to have in the backyard. However, it is not always our budget that big to create an ADU of our dreams that would be as large as possible; hence many homeowners have to pay attention to small ADU designs.
Small accessory dwelling units are all about compromises, and you must approach the creation of one really carefully and consciously. Where to store clothes? Which bed to choose? How to create the illusion of space? These, as well as many other questions, you have to answer while preparing the ADU plan by yourself or with a specialist.
In the following article, we will examine closely the necessary elements of small homes, key ideas of how you can get some extra space, and necessary steps in the creation of floor plans. By taking these elements into consideration, you will get the most out of your tight budget, narrow lot, or tiny house. Without further adieu, let's get started.
Maximizing space efficiency in ADU design
In order for you to use every square meter of property efficiently, there are some key factors that you need to keep in mind. However, the most important ones are maximizing the functionality of your main living space and maintaining a comfortable environment in which you wouldn't feel like you're a refugee. But how can this be achieved? It's time to figure it out.
The following elements are essential in the design of your backyard cottage:
Even though you may like luxurious furniture and abundance in everything, small house plans cannot provide you with it, so you have to pay attention to only essential elements of your furniture. It means that every excessive design element or useless furniture has to be left in the catalogs of furniture stores.
In this matter, transforming furniture is your friend, as it allows you to use it in a variety of different situations, economizing your living space. Examples of such furniture are Murphy beds or extendable tables for your dining room.
Another key element is open floor plans. They allow homeowners to create a feeling of a spacious place which also plays an important role when your accessory dwelling unit doesn't have that much living space.
Last but not least, plenty of light entering your modern ADU through large windows is another important factor in creating a spacious look. In this way, your house will look like a more inviting apartment for the guests on condition of limited space.
Incorporating natural light and ventilation in small living spaces
As we have said earlier, light and ventilation play an important role in creating spacious spaces in an accessory dwelling unit.
There are several elements that you can add to your ADU plan in order to achieve the sense of a vast space:
Natural light
Mirrors
Energy efficient ventilation
As for the first design element, natural light, it can make space appear larger and more open, which, according to the homeowners with such elements incorporated into their accessory dwelling unit, significantly increases productivity and mood. To achieve this, you can add large windows, sliding glass doors.
The next design element, mirrors, is also used to create an illusion of extra space or, sometimes, of extra room. The designers can tell you how to place them strategically in order to reflect light and amplify it.
Energy-efficient ventilation is another important factor. While not contributing directly to the sense of vast space, it provides homeowners with access to fresh air, which reduces humidity that usually appears in a small accessory dwelling unit.
Utilizing multifunctional furniture and storage solutions
Multifunctional furniture is another important tool in enlarging storage space for a tiny house. Right now, they are definitely on top, with the incessable desire of modern people to bring home as much stuff as possible and try to find space for it. Moreover, multifunctional furniture is valuable in the ways to achieve the transformation of a living room into a small kitchen or into a bedroom.
Multifunctional furniture
As you can figure out from the name, such furniture has the ability to serve a variety of purposes; as the main example of such elements of the main living area, homeowners like to name a sofa that turns into a bed or a coffee table that also can serve the functions of a dining table. They are ideal for tiny apartments that require extra space or any rooms in a guest house that have to serve several purposes.
Storage solutions
We are sure that you don't want to see unnecessary items all around your small dining area or living room. Hence incorporating clever storage solutions is essential for you. Thank God nowadays, everyone can buy affordable elements like drawers underneath the beds in the bedroom or wall-mounted shelves.
Creating an open floor plan for ADUs
Open floor plans have been a trend in ADU floor plans for some time and mean that you eliminate all the unnecessary walls to create a unified space. However, as with other tasks, this one requires a thoughtful approach.
The following steps are essential to create open floor plans:
Measure the existing space and take some notes about essential characteristics like the direction of light, current structures you want to save, placement of electrical wires, and many others.
Create a plan of what necessary areas you want to create, like an open kitchen, bathroom, or bedroom.
Create a rough plan of the placement of the elements. Don't forget that there will be no walls, so you have to take into consideration how one space will flow into another. Here visual elements like colors, tiles, or rugs are your best friends.
Open ADU floor plans are created to save space, so think more about the needed multifunctional furniture and smart solutions to enlarge the storage space.
Finally, when you have finished the previous steps, it is high time you start the construction. Use the plan, your knowledge, and skills, and bring your plan to reality in the best possible way!
With these steps in mind, everyone is able to create open floor plans for an accessory dwelling unit. The earlier your start, the better, so waste no time here!
Incorporating outdoor living spaces in ADU design
Your property is your property, and we are sure that you want to use it to the maximum. If having a garden or a small patio outside is not enough for you, and you want them to be the extension of your ground floor kitchenette or living room, there are ways you can incorporate the outdoor spaces into your main rooms.
One way of doing so is by installing sliding glass doors between indoor and outdoor areas. They can help you by taking a couple of steps, easily leaving the room at the ground level, and going outside. Another way of doing so is to install windows that will provide views of the outdoor area and therefore create a sense of continuity.
Yeah, that's great, but what about privacy? Well, as you can imagine, this element will be a bit lost, but it can be brought back if you place your ADU strategically or use other elements like screens, walls, or fences. This will help you achieve the much-needed sense of calm and stability while still being able to enjoy the view.
Using light colors and reflective surfaces to create the illusion of space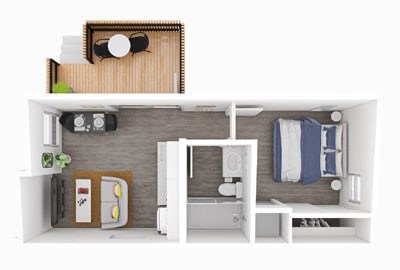 Every element in the small house plans is important, and design features are not the elements to overlook. One of the most popular solutions to the lack of free space is light colors and reflective surfaces. Let's figure out in what way they may be helpful.
Light colors
The physics lesson starts here! Everyone knows that light colors like whites or neutrals are bad light absorbents, but rarely do we use this info in the living room, bedroom, or open kitchen design. However, this can bring the much-needed airy feeling as the light will bounce freely. Use these shades on large surfaces like vaulted ceilings or the floor to achieve mesmerizing results.
Reflective surfaces
The lesson continues, and the question is to you: what reflective surfaces do you know that can be used in the ADU floor plans? For sure, mirrors or finishes! The key here is, again, the light. Such surfaces reflect the light particles that make the rooms appear brighter and larger. Moreover, they create an illusion of depth via reflection and can make one bedroom look like two bedrooms.
Incorporating minimalist design principles in ADU design
The word "minimalist" speaks for itself. The main idea here is that you have everything, from the foundation to the roof, at minimum, that is necessary for an accessory dwelling unit with a compact footprint. This approach has many benefits, one of which is saving your family budget. But how can this be achieved?
Well, there are a variety of elements you need to incorporate into your new ADU to keep the minimalistic approach, no matter whether you have a two-bedroom building with a second level or prefer an affordable property with a tight budget. First, you have to reduce clutter, and to achieve this; you can use the pieces of advice mentioned before. Then, maximize the light in your building. Big windows and large glass doors are your friends here. Lastly, choose furniture with clean lines that bring a sense of order and simplicity.
By doing so, achieving the minimalist look for your modern ADU is not in question. Remember, the spacious new ADU will be more inviting for both your guests and long-term rental.
Creating a sense of privacy in small living spaces
We all know how difficult it may be to find a quiet corner in a small apartment with a compact footprint when an ADU plan doesn't require providing private time to the dwellers. However, even in such extreme conditions, it is possible to create ADU plans with the feeling of comfort for everyone in mind.
First, think about ways to divide, for example, the master bedroom from the bathroom. It can be something not that intricate, like curtains, or something a bit more fun, like a shelf with plants. This will provide clear visual separation for all the tenants and guests, who will be able to see where they should better not go.
Next, the last thing the dwellers want to hear is sounds coming from another room or another part of the open apartment. To enhance the sense of privacy, consider installing soundproofing elements like rugs that will absorb noise. Moreover, insulation is your friend in the crusade of fighting unnecessary noise, so pick it up.
Using modular design elements to maximize flexibility in ADUs
Remember the main rule of any tiny building that will accommodate a family or guests: every square inch weighs gold. This has to be taken into consideration when you design an ADU or just plan to have a backyard cottage. Many designers use certain modern tricks that allow them to fit in ADU floor plans everything they need, no matter whether there is one bedroom, two bedrooms, or a full bathroom. One such trick is the usage of modular design elements, which will certainly maximize the flexibility of your ADU.
The most popular modern modular elements in the house are the following:
Modular furniture
Modular walls
Modular storage
Modular lighting
Everything we have mentioned has the key idea: elements of it are pre-fabricated and can be easily assembled or disassembled. The functions allow owners to reconfigure them at any time in order to suit the changing needs. Having these elements will help you in different areas of your house, including the bathroom, bedrooms, or even the backyard.
Incorporating sustainable design principles in ADU construction and design
People talk about saving the environment and ecological ways to live anywhere we go, but is it possible to use such elements in the construction or design of an ADU? The answer is yes! There are many ways you can use sustainable principles in your new house.
For example, many owners opt for eco-friendly materials. Others try to kill two birds with one stone and use modern insulation and effective appliances. This also helps them to spend less of their income, cut the cost of amenities, and save the family budget a bit. The third group tries to spend less water when they go to the bathroom and use modern fixtures and rainwater harvesting systems.
It's up to you which way to go. Consider your income, the cost of going eco, and the necessary elements when building an ADU, and we are sure you will find the right solution!
Frequently Asked Questions
What rooms are necessary for an ADU?
Normally, every ADU in your backyard has one bedroom, a bathroom, and a living room. The foundation of the future ADU can be installed in the backyard, next to your main house in California, or near the garage. However, you can change ADU plans to have two-bedroom units, an additional bathroom, or a patio installed.
How can an ADU be used?
A modern ADU can be used in different ways. For example, it can accommodate your friends and relatives and work as a guest house/guest suite, or you can find tenants that will live under this roof and, in this way, return the money for the cost of an ADU. Moreover, it can substitute a garage and become a modern building under which roof you can practice your hobbies.
How can ADU plans be changed?
In our country California, the ADU plans can be varied as long as they fit the law. You can have an additional bathroom or bedrooms installed or a patio in front of the building. The roof can be changed, and something like vaulted ceilings can be added. The way you modify your ADU, be it your new house with a bedroom and a bathroom or a guest suite, depends on you only!