There are some painful truths that no one can deny, and one of them is that our bodies and homes age with us. We may require modifications to our living space to protect our independence or to have extra income to pay our bills. Building an accessory dwelling unit, granny flat, in-law apartment, or converting an existing garage is one option to do so.
Accessory dwelling units provide a separate living space on the same property as the main house, offering many benefits for aging parents, seniors, friends, and even adult children. ADUs offer a perfect solution, allowing your aging mom or dad to live separately and close by for assistance as needed.
But before starting the construction of an ADU, you need to consider the financial implications of the arrangement. In this review, we will cover the expenses and financial considerations for aging in place, including home modifications, local building codes, healthcare, and insurance.
Budgeting for home modifications to support aging in place
Planning for an accessory dwelling unit or other arrangement to you or your parents requires a thorough budget.
When making your budget for an ADU construction, pay attention to these things:
Identify areas of your house that need changes for accessibility and safety. Whether it's Detached, attached, granny flat, or a garage conversion.
Consult an occupational therapist or geriatrician to review your house and recommend practical modifications.
Find quotes from multiple contractors. This reveals the cost range for each modification.
Create a budget and prioritize changes based on importance and cost. Implement the most important, affordable changes first. Drop or delay less important changes to keep expenses down. Adjust the plan as needed.
Research financing options like loans, credit, and grants to fund your construction. Balance the pros and cons of the options that work for your situation and goals.
Consider future requirements. A stair lift or wider doors can last for decades and accommodate mobility aids if you plan to age in place.
Evaluating the cost-effectiveness of home modifications versus assisted living facilities
While many seniors prefer the comfortable features and lifestyle of assisted living facilities, most families want to stay where they live in the future. They want to age in their homes for life and a familiar community.
Assisted living facilities ask for monthly charges that can run into thousands of dollars. Continuing your independent living at home comes with one-time expenses for safety upgrades like grab bars, wheelchair ramps, and wider doorways. During a lengthy time frame, the aggregate expenses of assisted living are notably higher.
Understanding the financial impact of caregiving on family members
Being a caregiver for a family member you care about can have a significant impact on your financial obligations. The cost of care can add up quickly, and as a homeowner, it's essential to be aware of that:
If you are a caregiver, take into account these expenses:
Travel Charges: Providing ongoing support and assistance to a loved one can involve considerable expenses if it entails transportation and lodging during medical obligations.
Meals: Caring for a family member's nutrition can come with a hefty price tag, especially if that person has diet limitations or needs customized fare.
Gas: Medical appointments require fuel for your car, which adds to your gasoline expenses.
Medical Expenses: Even with insurance, medical expenses can be a noteworthy expense when caring for someone, your seniors, and your grandparents. This can include medications, medical equipment, and home health care services.
Home maintenance & House Cleaning: If your family member is incapable of keeping up their residence, you may need to employ someone to assist with chores, for example, cleaning, yard work, or fixes.
To cover these expenses, you may need to make adjustments to your own funds. This may include reducing your spending or saving less for retirement. It is crucial to be mindful of your finances and make adjustments as necessary to ensure that you can continue to provide the best care possible for your loved one.
Planning for long-term care insurance and its associated costs
Long-term care insurance helps people with permanent health conditions or disabilities, such as Alzheimer's disease, who need assistance with the duties of daily living. Here's how to benefit and plan for it:
Genetics: Evaluate your family's health past to decide if you want long-term care. Think about lifespan and any genetic dispositions. Also, assess if you could fund care without insurance.
Age: Premiums tend to decrease when you purchase when you are young. As time passes and health issues develop, insurance can become more expensive or even denied.
Health: Insurance firms frequently check your medical history and fitness to calculate premiums. Present health difficulties can make coverage hard to get or require higher premiums.
Cost: Premiums vary vastly based on age, health, desired coverage, and policy attributes. Make sure the price suits your finances, and you can certainly afford it for many years.
Retirement: Long-term care insurance can be part of retirement planning. Getting it in advance can protect retirement funds from being eaten up by long-term care expenses.
Considering the costs of transportation and mobility assistance for aging in place
It is still important for aging seniors to remain self-sufficient and wellness with access to reliable transportation. When driving is no longer an option, there are alternative transportation methods. Here's what to expect:
Volunteer programs: Some communities offer free or affordable rides via volunteers.
Rideshare: Taxi apps provide on-demand trips at reasonable rates, though expenses accumulate for frequent use. Taxis tend to be more expensive but potentially more predictable financially.
Senior transportation companies: Services specializing in transporting seniors and those with medical needs offer features like lifts and tie-downs but at higher rates.
Public transportation: Public transit agencies provide wheelchair-accessible options for those unable to use standard buses, often subsidizing expenses to make them the most affordable option for regular needs.
Mobility equipment: Expenses vary widely for equipment like wheelchairs, walkers, and scooters. Home modifications like ramps and lifts can be expensive initially.
Before deciding, compare the features, expenses, and reliability of each option to determine what best suits your transportation needs as you age.
Exploring government programs and subsidies for aging in place
There are several government assistance options to help offset the expenses for seniors and their families to maintain living at home as they age.
The following are seven of the most popular programs our government provides for aging-in-place:
Medicare: Health coverage and some coverage for home health care, with low-income seniors qualifying for Medicare Savings Programs to cover premiums.
Supplemental Security Income (SSI): Provides monthly payments for seniors with limited income and assets, which can cover housing costs.
The Administration on Aging (AoA): Oversees a network of organizations that offer seniors in-person assistance accessing programs and services.
The Department of Veterans Affairs (VA): Offers health care services and long-term care services for qualifying veterans and spouses.
The Americans with Disabilities Act: Requires universal access for disabled individuals, while the National Institutes of Health provides informational resources.
Medicaid: Covers long-term care and home-based care services for qualifying low-income seniors.
Calculating the financial impact of downsizing or relocating to a more manageable home
Moving to a smaller house or building an accessory dwelling unit can help cut housing expenses and simplify your life. A smaller mortgage, lower bills, and cheaper insurance from a smaller house can save you money, freeing up money for retirement, debt payoff, or kids' college. However, selling and moving expenses can offset savings.
Besides finances, downsizing can also reduce stress, declutter extra things, and save time by making daily activities. Downsizing may need less upkeep and generate income if you sell or rent your existing home.
Understanding the costs of in-home healthcare services and support
In-home services allow older or ill people to stay in their houses without moving to assisted living or nursing homes. While these services preserve a sense of independence, they generate expenses. Understanding these expenses helps make the best decision for you or a family member. Caregivers assist with everyday tasks like bathing, dressing, cooking, and cleaning. They commonly provide continuous upkeep in their accessory dwelling units.
Programs like Medicaid and Medicare cover some in-home services and equipment, but limitations like income restrictions require additional insurance or out-of-pocket payments. Generally, limited short-term care remains cost-effective versus full-time live-in care. However, needs often increase over time, pushing expenses upwards. Weighing financing options alongside medical, community, and independence benefits determines the optimum plan to support you or a loved one.
Planning for end-of-life expenses and funeral costs
There are basic transitions in life—college, marriage, parenting, retirement, and death. Unfortunately, planning for deaths and associated funeral expenses often escapes notice because it is so difficult to cope with.
The fact remains that leaving this life involves an expense. Despite the inconvenience that arises when planning for the end of life, planning can ease the burden on you and your dear ones by ensuring that they are able to pay for your last rite expenses.
Here's how to plan for end-of-life expenses:
Be sure to state your wishes clearly in a legal will, detailing financial accounts, cremation or burial plans, and who gets your property.
Opening a separate savings account dedicated exclusively to funeral expenses can prepare your family members financially and fund expenses.
Buy life insurance to help provide financial support for your family after your death, with part of the death benefit covering funeral expenses.
Collect and compare estimates from several funeral service companies to help determine the best value for your needs.
Purchase your own urn or casket to reduce the expense of purchasing one through a funeral service provider.
Evaluating the financial impact of aging in place on retirement savings and income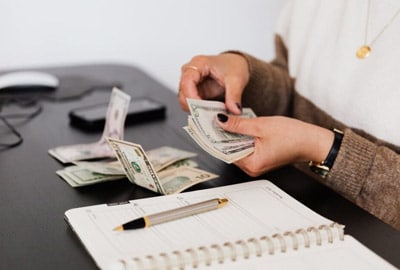 Ensuring your money is invested wisely requires evaluating the benefits and challenges of maintaining your current home. Consider the following factors:
Housing: Aging in place often means continuing to live in and maintain your existing home. This generally results in ongoing expenses for utilities, property taxes, insurance, and general maintenance and repairs. These expenses tend to rise over time as homes age, so factor them into your retirement income and expense projections. But when building an ADU, the property value also increases.
In-home care: Seniors need assistance with daily activities like cooking, cleaning, bathing, and managing medications. In-home caregivers or services represent an added expense that should be factored into retirement planning.
Healthcare: Healthcare expenses also tend to rise with age due to more health conditions and service utilization. Copays, prescriptions, medical equipment, and procedures need to be included in income planning for aging in place.
Safety: Some homes may require changes to accommodate safe and accessible living as people age. Improvements like wheelchair ramps, non-slip flooring, adequate lighting, emergency call systems, and wider doorways may be needed, adding to expenses. Evaluate the potential expenses for these types of home modifications.
Property maintenance and taxes: Physically maintaining a home and yard and ongoing property taxes become more difficult to handle over time. This may require outside help, representing an added expense that must be considered in income planning.
Frequently Asked Questions — FAQ
How can I save money on ADU?
Think about using a prefabricated or manufactured unit rather than building from scratch. Use cost-effective material options. Connect the unit to the main house's plumbing and utility systems instead of installing separate ones. Opt for a compact unit under 500 square feet. Apply for required permits as early as possible to avoid expensive modifications later on and research if your municipality offers any financial incentives for constructing accessory dwelling units.
Financing an ADU can be done through a home equity line of credit (HELOC), any form of financing loan. Homeowners can expect additional expenses and responsibilities associated with managing an apartment on their property, but the benefits can outweigh the challenges for those looking to expand their living space or provide housing for their kids or tenants.
Does ADU increase property tax in California?
Adding an ADU to a property in California will likely increase property taxes. However, only the taxes on the ADU itself would increase, not the primary residence. The value of the ADU would be added to the total value of improvements on the lot for tax purposes. County assessors would determine the build cost to calculate the ADU's taxable value.
Be aware that certain property tax exclusions and constraints may apply to ADUs. For instance, seniors or disabled property owners potentially qualify for property tax relief on the ADU if they reside there as their main house.
Does the attached ADU count as square footage?
Yes, once you build accessory dwelling units or granny flats, you can count them as part of the property's total square footage. An ADU is actually designed to operate as a separate housing with a separate entrance. But the square footage of the connected ADU is included in the property's total square footage when calculating the property value or the amount of property tax.
What considerations should be taken into account during the design phase of an ADU?
During the design phase of an ADU, there are numerous considerations you should take. The floor plan and square footage of ADU must match its purpose and available land space. Local building codes that set size limits and safety rules should guide design for obtaining permits.
In addition, the layout of the ADU must allow access for older or disabled users, such as wider doorways, flush thresholds, and grab bars. Also, consider the energy efficiency, sense of privacy you need from neighbors and from the main home, and landscaping so ADU blends into the property.