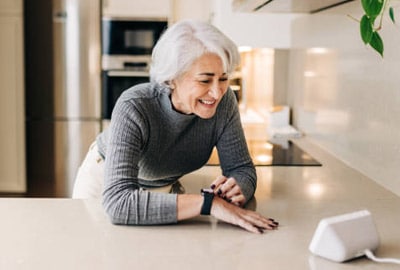 With age, an ordinary living space can begin to bring inconvenience; for example, the risk of accidental injuries in the kitchen or bathroom increases. In the old days, people had only two solutions, namely, to constantly look after elderly parents or relatives or send them to special institutions. However, these are not the best options in terms of comfort.
The development of smart technologies brings new opportunities for aging in place. Today, every homeowner can install a Smart Home system inside the ADU or main house, which will bring the quality of life of seniors to a new level. Smart technology package designed in such a way that elderly people can master all the functions in the shortest possible time.
In this review, we will talk about all the smart technologies that are necessary for a safe and comfortable life for older adults, share useful information about how to integrate innovative technologies into existing space, as well as what aspects you need to pay attention to match suitable technologies with the needs of pensioners.
Voice-activated smart home technology for aging adults
The older people get, the more they lose independence and due to various physiological changes. Even 20 years ago, in a similar situation, a homeowner would not hesitate to hire a nurse. However, innovative technologies, in particular the Smart Home, revolutionized this issue.
Today, the voice assistant is an integral part of the smart home because it is capable of the following:
Full autonomy. Smart technology devices, in particular the Voice Assistant, allow age-related people to control all life support systems, e.g., heating, air conditioning, or lighting, without getting up from the chair. Some smart systems even include control functions for various accessories, such as a TV console.
Enhancing personal safety. There are many smart technologies for ensuring security, and we will talk about them in more detail below. However, it is important to mention that the voice assistant can also perform this function. Using this tool, you can display surveillance cameras on the screen, activate or deactivate the alarm, as well as lock the door.
Communication with friends and relatives. Most older adults have vision problems, so using a phone with a small screen is not an easy task. The voice assistant solves this problem because it can be used to launch video calls and conferences.
Simple interface. Architectural and technological interventions in the life of older people are not the easiest step for them. Fortunately, the user interface of voice assistants does not require any skills, which makes it number one for retirees.
On the whole, the smart home modification process is best to start by installing a voice assistant. This is an indispensable element that will not only provide old people with the convenience of living but will also become their faithful friend in performing any household tasks.
Smart home sensors for fall detection and prevention
The most important goal of promoting smart technologies is to ensure security. In this regard, the questions arise, what is the most frequent injury that pensioners receive in the house, and can the Smart Home system prevent it? Most often, the threat to health comes from accidental falls, and, yes, applying smart technology can save a person's life in this situation. There are a huge number of fall detectors in the format of a floor station or a sensor built into clothing. However, the principle of operation of all models is the same and consists in the fact that if a person of retirement age falls, then in a few seconds after, he can contact the next of kin or ambulance.
If you want to surround elderly residents with care, but you cannot constantly be present in the house, then the decision to install fall detection sensors will be a win-win option for everyone.
Smart lighting systems for aging in place
The design and construction phase of a Smart House cannot be imagined without the installation of a smart lighting system. The right light will not only create comfortable conditions for performing household tasks, such as cooking or cleaning but will also have a positive effect on the health of older adults.
Here are a few more main advantages of the smart lighting system:
Comfortable, light background. Bright light is not a friend for pensioners because it can cause migraines and high blood pressure. In this regard, a smart home can create a subdued and cozy atmosphere in the existing house by setting up matte lighting on a single voice request.
Motion sensors. Modern wireless sensor technologies can detect the approach of a person and turn on the light without using a switch as soon as the person crosses the threshold. After the person leaves the room, the sensors turn off the light, and all this also significantly simplifies life.
Energy efficiency. Many older adults are extremely sensitive to the issue of saving electricity, and the smart lighting system fully complies with this principle. In your living space, there will no longer be a situation of burning kilowatts to empty, which means that utility costs will also be reduced.
Customization for specific needs. Advanced technologies allow you to customize each component for specific needs, and smart light is no exception. You can set a timer to turn on or off the light, choose different types of lighting for different moments of the day, and much more.
On the whole, lighting refers to basic architectural elements, so if you set a goal to provide older adults with maximum comfortable living in an ADU, then you can't do without this component.
Smart thermostats for temperature control and energy efficiency
Technology progress allows us to create an ideal indoor climate control, which has a very positive effect on mental and physical health, which is especially important for cities with a sharply continental climate. Smart thermostats are special devices that, having studied the needs of residents, can regulate the temperature regime and create an intelligent interactive care environment.
Smart thermostats have a number of advantages, such as ease of use, energy savings, versatility, and self-learning. Moreover, if you want to sleep in a cool room, but are out of the house, then 5-10 minutes before arrival, you can remotely set the desired temperature.
Smart home security systems for aging adults
More than one smart home design research has shown that the most in-demand component for the majority of homeowners is security. On par with this, home security systems are the most variable and multifunctional among others.
It's very difficult to mention all the elements of a security and supportive physical environment system, so here are the most necessary ones:
Smoke and gas leak sensor. Very often, there is a situation in which elderly people forget to turn off the stove, and if it is not equipped with a special locking function, then sensors against ignition and gas leakage will protect them from fire.
Cameras monitoring the perimeter of the house. In case of suspicion of interference on the territory, pensioners do not need to go outside to check the situation. To do this, they can use cameras. They are responsible for your security, are displayed on the monitor, and track any movements. At the same time, not all external devices are visible to the human eye, which makes them even more reliable.
Automatic lighting of the territory. Any violators of your peace of mind can always be scared away by light, and integrated robotic devices can perform this function. Moreover, unlike outdated models, they do not react to every speck of dust but come into action only in cases of real danger.
Simulated presence. If elderly people have a habit of leaving home for a long time but also worry about safety, then you can install a life simulation system to create a presence effect.
Emergency services and security call systems. If there is still a real threat to the safety of your smart homecare environment, then with the help of a voice assistant, you can call a specialized security service, and in cases of smoke, fire, or flooding, contact the emergency stations.
All in all, the advantage of security systems is that you can integrate them during all smart home modification phases, change models, and combine different devices. With the help of these security components, your smart home independent residing will become an impregnable fortress, which means you will be one hundred percent calm for your aged relatives.
Smart home medication management systems
It is impossible to complete a smart home system without devices for medicine management. Someone may think that healthcare is the prerogative of doctors and nurses, not a mechanical robot. However, a smart environment can also cope with this task.
Smart Medication Dispensers
With age, each person develops a personal first aid kit with a unique set of medicines to maintain health. However, due to a busy and active life, as well as a large number of household tasks, people forget to take pills on time. Fortunately, among smart home devices, there is a special medicine dispenser in which you can store pills, measure out the necessary doses, and set a reminder about the reception.
Smart diagnosis of atherosclerosis
Adding smart technologies to the life of older adults can save them from the most common reason for going to the hospital, namely, a heart attack. A smart gadget for diagnosing atherosclerosis will tell you everything about the condition of your blood vessels, help keep them in shape, and control the pressure inside the arteries.
Smart Wristband
Regular health monitoring is the key to a long life, and special smart wristbands will help you with this goal as they measure the level of oxygen in the blood, pulse and respiratory rate, temperature, and many other health parameters. If your elderly relative suddenly became ill, then with the help of this device, you can easily determine which indicator has deviated from the norm.
In sum, smart architectural components aimed at ensuring the safety and comfort of living are good. However, there is nothing more important than health, so creating smart home environments is impossible to imagine without medicine management systems.
Smart home entertainment systems for aging adults
Smart technologies are introduced into the life of older adults not only to perform vital functions but also for simple human entertainment. Smart assistive devices can bring a lot of positivity, energy, and cheerful emotions. If you don't believe it, then judge for yourself; firstly, with the help of a Smart Home system, pensioners can easily find the content they are interested in. They don't need to switch channels, catch a radio wave or wait for a new magazine because, with the help of a single phrase, they can find their favorite episode of a TV series or a basketball broadcast.
Secondly, we all know that all smart technologies have the function of remembering the history of views and requests, which means that after a few weeks of use, pensioners will create a list of recommendations for their preferences. Finally, do not think that only young people like to listen to music loudly; pensioners also do not mind turning on their favorite songs of the Scorpions, U2, or Linkin Park so that they can be heard in every room.
Smart home communication systems for staying connected with loved ones
For all older adults, without exception, it is very important to communicate with relatives, children and grandchildren, neighbors, as well as with friends and former colleagues. In the old days, communication was reduced only to talking on the phone; however, modern information and communication technology, integrated into a single Smart Home system, significantly expands the range of possibilities. Firstly, smart devices allow elderly people to organize video calls to communicate at a distance while launching a conference using a voice assistant.
Secondly, deploying smart technologies permit pensioners to create unique postcards that they want to send to their loved ones. Finally, adjustable smart components for communication can work in all rooms in the house, which means that an elderly person will never miss a call and can accept it from anywhere.
Smart home appliances for ease of use and accessibility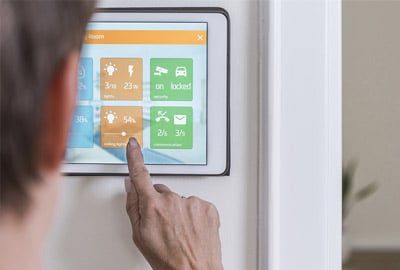 Smart technology applications cover such important aspects as health, safety, or communication, without which it is impossible to imagine a comfortable life in the house. However, sometimes the use of home assessment tools concentrates on inconspicuous household tasks, e.g., boiling water or brushing teeth. In this part, we will talk about such appliances.
We highlight three interesting and advanced home appliances. Firstly, smart kitchen stoves, which are not only an ideal solution for cooking delicious dishes but also the best defender against fire or smoke. Secondly, smart vacuum cleaners, which belong to the category of unobtrusive smart technologies. You may not even pay attention to them while they clean the floors and carpets. Thirdly, smart coffee makers will pick up the best recipe based on your preferences.
In sum, you can choose more than one accessory, as combining smart technologies will allow you to create the most functional and practical living space.
Smart home virtual assistants for aging in place
Virtual reality techniques are the latest development in the world of innovation. Ten years ago, assistive technology implementation in virtual reality format seemed fantastic; however, today, it is nothing more than one of the components of a Smart Home. Virtual reality technology is the brain of the supportive living environment because, with its help, pensioners can manage all the devices described above. There are numerous virtual assistants, each of which has a unique set of functions. Before making a final choice, firstly, study the needs of those who will live in the house or ADU, and secondly, conduct a compatibility test between the virtual assistant and the rest of the devices.
Frequently Asked Questions — FAQ
How can smart technologies make the life of older adults more comfortable and practical?
In the last decade, smart technology development has boomed and created a lot of opportunities for a comfortable life for pensioners in the existing housing stock. Now older adults can remotely control all household appliances, create an entertaining, smart home environment, as well as solve any life and household tasks in a couple of minutes. In addition, smart home systems ensure the complete safety of pensioners and even save lives in emergency situations.
What technology is available for seniors aging in place?
Today, pensioners have access to any smart devices that are part of a single Smart Home ecosystem because they are very easy to use and do not require special knowledge. Even the most complex home automation systems have a simple interface and are controlled by voice; that is, pensioners do not need to take glasses and try to figure out how to turn on a particular component.
What rules should be taken into account in designing smart home environments?
There are three main rules. Firstly, smart technology requires spaces for the installation of complex systems, sensors, and devices. Secondly, integration of smart technologies requires matching both the needs of pensioners and the technical capabilities of the living space, as well as compatibility between components to create a single, smart device chain. Finally, the usual home renovation is not equal to smart technology implementation; it is a more complex process that can be successfully completed only with the help of professionals.