Accessory dwelling units (ADUs) are complete independent living facilities located on the same parcel as the main residence. Such an accessory structure can serve the purposes of generating more existing space for family members, providing financial assistance (rent and increasing property value), or housing guests.
When it comes to permanent housing, accessory dwelling units often become shelters for older adults who need constant care and supervision but prefer to stay in a familiar environment. Granny flats are convenient for many reasons, including lower expenses in the long run and the opportunity for the care recipient to stay close to their family. And also the caregiver's ability to keep an eye on their loved one's state.
This article will tell you about the significance of care coordination and what benefits it brings to caregivers looking after sick or immobile loved ones.
Importance of coordinating care and support services for ADU caregivers
Care and support coordination is managing the part of your loved one's life that is related to their health and well-being. It includes adherence to diet, taking medication on time, making doctor's appointments, transporting the immobile person to any place they need, helping them with their daily needs like dressing up and cooking, and so on. This is informal care coordination.
On the other hand, professional coordination of care implies special programs developed for seniors to both connect medical and care specialists with care recipients who need it and mitigate the number of work relatives and close friends have to do in order to manage the care recipient's health.
Thus, a well-composed schedule of care services, detailed planning of daily activities, and the transfer of some care tasks to specialists will positively impact the cared-for senior and relieve the in-home caregiver of their constant stress.
Strategies for effective coordination of care and support services
How to coordinate care in the most efficient and safe way? The main task is for all participants in care (caregivers, loved ones, nurses, doctors, care workers, etc.) to share vital information and rely on each other.
In this regard, there are several main strategies to be applied in frames of care for an ADU resident who needs extra attention:
Drawing up an elaborate care plan;
Awareness about skills the other caregiver can apply and methods they tend to use;
Unambiguous distribution of tasks between participants;
Establishment of clear communication and contact (exchange of health information, notification about the need for certain procedures, weak points that demand special attention, etc.);
Regularly revising the care process and analyzing successes;
Involving the patient (care recipient) in the process of their health and care management.
In that way, to achieve the best results, a caregiver should find out the individual needs of their loved one. They should build a schedule that is convenient for themselves and for them, and involve additional help from the outside in order to minimize their lack of time or knowledge.
Challenges faced in coordinating care and support services for ADU caregiving
The primary challenges that an ADU caregiver encounters when planning in-home care for their close people encompass a number of issues, such as:
Lack of financial resources
The thing is, low-income households may struggle with their commitment to their project because they need to pay for the assistance of expensive specialists as well as for adapting the new construction (the ADU) for their temporary housing. Participating homeowners generally have to attract additional resources, getting into debt.
Limited time period available for choosing and planning care
Care and support activities, as well as the development thereof, require time and effort. If a caregiver doesn't have sufficient knowledge of where to look, it may take a while to find a reliable auxiliary caregiving service. After all, a caregiver has to search for the right care service combination and make sure they are accessible at the right times. Let alone they have to finish all preparations, such as reequipping existing ADUs for the new needs.
Difficulties with cooperation between several caregivers
Since family members and paid caregivers can have different views on what is best for the care recipient, disputes and misunderstandings can arise during the caregiving process. These sporadic approaches can, in the end, negatively impact the state of your loved one.
Best practices for coordinating care and support services for ADU caregiving
So, how do you overcome these problems and ensure your close relative receives the best care possible? Here we've found several effective solutions:
Apply to the government's or community members' program for extra financing
Property owners can apply for an ADU program that provides partial compensation for expenses. For example, for low- and moderate-income property owners, there are state and local programs that provide grants or loans at a lower rate. Also, eligible individuals can make use of diverse programs for elderly or disabled people, like programs for the transportation or delivery of products to those who themselves cannot do without help.
Contact an ADU building company that will take on the accessory dwelling unit that is both suited for your aging relative and for housing temporary care workers
ADU planning and construction are their forte. So, let a building specialist advise you concerning ADU type (attached, detached ADU, junior accessory dwelling units, basement apartments, etc.) and take care of the permitting process. Get your new ADU built with consideration for city zoning codes, development standards, and setback requirements. Also, you can consult them about safety features and advanced technologies suitable for older adults and those in need of supervision. As well as about privacy considerations for a hired temporary caregiver. This way, you can create an accessory dwelling unit (ADU) that is perfect for keeping your loved one safe and cared for.
Access community resources that help with the search for information and specialists
Your local department, the agency on aging, or another entity can consult you about ways to find suitable specialists at affordable prices and how to procure financial resources for these endeavors. Depending on the situation, they may connect you with lawyers, doctors, volunteers, and many others who may be of use in your particular situation.
Delegate your obligations effectively
Estimate the weaknesses of the current care plan and share tasks with other family members, and hire professionals according to their strengths. For instance, you take care of doctor's appointments because you do have a driver's license, while another family member with a good memory or understanding of pharmacology is responsible for your loved ones' medicines. And, of course, it's better to entrust more complex medical issues to a professional doctor.
Role of Technology in Coordinating Care and Support Services for ADU Caregiving
Modern technologies play a significant role in reducing the number of tasks that a caregiver must complete. Besides, some of these technologies provide an opportunity for the care recipients to take more control of their own lives and become more independent.
The technologies that enhance the effectiveness of care and support for the care recipient encompass the following ones:
Voice and sound control
Voice assistants like Alexa or Siri can answer questions and perform some commands, like turning on music. At the same time, some smart technologies can turn on and off lights when the resident claps their hands.
Health monitoring
It allows the caregiver or other person involved in caregiving to be aware of their loved one's state even if there's a significant distance between them. Such technologies use different detectors and sensors as well as remote data analysis. If tools notice a change in the care recipient's condition, they instantly notify the caregiver. For example, you can install fall detectors in your accessory dwelling unit (ADU), and in case of an emergency, the notification will come to a family member.
Assistive devices
These are personal-use technologies that can partially compensate for deteriorated hearing, eyesight, or mobility. Smart glasses can assist people with poor vision with navigation inside the accessory dwelling unit. Hearing technologies can give a person with a hearing disability a chance to recognize sounds they were previously unable to. And power-driven wheelchairs help people move around the room.
The technologies that improve coordination in particular are:
Patient data sharing technologies, such as electronic health records;
Applications for the simplified search of specialists and making digital appointments;
Remote diagnosis when care recipients stay at home;
Applications for individualized care plans.
These can reduce medical and care errors, ease the process of information exchange, and thereby positively affect the care recipient's life.
Collaboration between healthcare providers and community resources in coordinating care and support services
Speaking of institutional care, patients rarely face problems with coordination between different healthcare establishments. But is that the same with in-home care? As for home caregivers who tend to their loved ones, they usually don't have the same organized systems of data that have been built into the healthcare system for years. It is where community resources can come in to help.
Community resources include different programs of financial assistance, volunteer organizations, and specialists. The first ones offer funds for vulnerable segments of the population (including seniors and disabled people). The second one assists with information searches or finding people who agree to provide their services for free or at a reduced price.
All in all, when healthcare providers such as clinics, hospitals, health centers, pharmacists, and social community services join forces, it leads to more effective task compliance.
Family involvement in coordinating care and support services for ADU caregiving
Family members are typically the closest people to the ones in need of care, so they understand their needs like no one else. They offer emotional support and act on behalf of the care recipient, helping to defend their interests.
In this regard, ADU caregiving enables the best opportunities to combine their own physical involvement in the caregiving process. This manifests itself in property maintenance, helping with daily routines, and furnishing their single-family residence with self-sufficient accessory dwelling units that are specifically designed for the care recipient's needs.
Moreover, ADU property owners/caregivers contribute to it indirectly by hiring professional nurses and caregiving professionals, scheduling their arrivals and departures, providing them with information about patient coordination, and advocating for their needs.
Training and education for caregivers in coordinating care and support services
Despite the fact that so many people are currently involved in caregiving, only a scarce number are willing to receive at least some education. The thing is, training programs for caregivers provide clear answers to the questions caregivers will inevitably have, as well as introduce them to skills and effective practices. Point out difficult moments and offer solutions. All of the aforementioned significantly simplifies the further process and relieves the stress caregivers face.
So where can you find such a special education? These can be state training courses about basic medical treatment and medication, particularities of some diseases, and methods of personal and daily care. Several states offer education in financing as well as caregivers' psychological states.
Consultation and support groups operate on a social service basis. They can provide both helpful advice and a sense of understanding for people struggling with similar issues.
Funding and financing options for coordinating care and support services for ADU caregiving
There are numerous local initiatives that provide partial money coverage or a free pre-development stage, as well as other bonuses and benefits, to encourage the building of accessory dwelling units (ADUs) on the same lot as the single-family dwelling.
Governmental programs include such proposals as:
Plus one ADU program for a particular state (there is such a program, for instance, in New York or in cities in California). In the framework of such a program, property owners with low or moderate incomes can get financing from the fund for ADU pre-development stages such as assessment, drawing up plans, designing, and permitting;
The ADU program can provide eligible property owners with grants that can be used to improve conditions in an ADU, not just build a new one;
Property owners who have an ADU construction that doesn't fit within official ADU development standards and want to bring it into compliance can receive comprehensive assistance from several cities (For instance, Milpitas and Pasadena);
Banks issue forgivable loans for those property owners who will rent out their ADUs at an affordable price for several years in a row. Such loans can amount to $75,000.
Evaluation and assessment of coordinated care and support services for ADU caregiving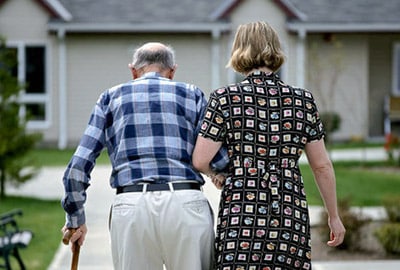 Generally speaking, we shouldn't underestimate the role of coordinated care and support. ADU caregiving has many advantages, starting with saving money and ending with leaving your loved one in a familiar, comfortable environment with people who truly care for them.
Yet, it can still feel tedious. So combined and coordinated care can alleviate the burden on the caregiver by distributing the tasks among several responsible people who work together for the sake of the care recipient.
Frequently Asked Questions — FAQ
What types of ADUs are most suitable for home-based care?
One ADU is different from another, but there are still similarities in their construction that allow us to categorize them. These are detached and attached ADUs. Both detached and attached ADUs occupy the same lot as single-family homes. But the first ones are separate constructions, while the second ones share a wall with the house.
Moreover, an ADU can be a new ADU structure or a conversion unit, with a difference in the way of construction. As well as full-sized ADU and junior ADU with the difference in size.
For people needing constant care, it's preferable to pick the ADU that is easier accessible.
How to prepare ADUs for in-home care?
An ADU is a living place, so it has to have permanent provisions for sleep, eating, and hygiene procedures. Yet, in-home care may be constant, and demand assisted living. In this case, take care of privacy and comfortability issues. For instance, decide if you want to have separate sanitation facilities or don't mind sharing sanitation facilities. If the room needs to be occupied by two individuals, you can equip it with privacy features such as property barriers like bookcases or a canopy.
Why is ADU housing for your aging relative a wise solution?
Generally, you can take care of an ADU development yourself and organize the environment in the ADU as well as unit dweller routines with regard to a personalized approach. Thus, you can structure their schedule, find the best specialists yourself, and balance their communication time with loved ones with necessary procedures and health-related issues.
Just add the necessary parking place if the paid caregiver has to arrive from the city. And heed the advanced technologies that your in-home care ADU project can afford.