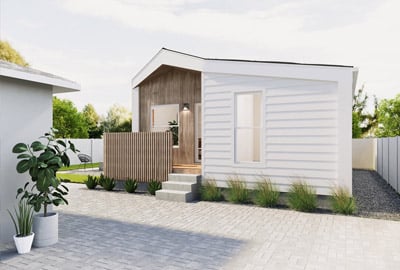 Building custom homes and ADUs is always a creative process. Every homeowner has an opportunity to reveal all their ideas while implementing a design project.
No matter what kind of accessory dwelling unit you need, you can always apply your fantasy and customize the space according to your preferences.
In this article, you will learn about inspirational resources which will help you organize beautiful spaces.
Online design resources for ADU inspiration
If you wonder where you can find a source of inspiration in ADU design, surfing the Internet may become your best decision.
You simply need to Google the trendy ADU pictures designed by modern architects and designers.
Here is the list of the most popular websites where you can always find striking ideas.
Pinterest: the best storage of custom homes ideas
We assume that this is the leading service when it comes to searching for design ideas. You can filter the type of space constructed, the style, and the budget available. After you look through several pictures, the mechanism of the website conducts a special offer of pictures according to the ones you have previously liked or disliked.
An important advantage of Pinterest is that it can be downloaded in the form of an application. So, you can look through the inspirational pictures everywhere you want. Moreover, all the saved pictures of the room or landscape design are automatically uploaded to your cloud storage, which means you will never lose access to the selected ideas.
Google Lens: a perfect room design resource
Google Lens search is another interesting option for homeowners. If you have noticed an interesting style of an accessory dwelling unit, you can simply take a picture of it and upload it to Google Lens search. The search engine will analyze the given picture and provide you with the best results according to the key criterion found in the initial example. For instance, if you took a picture of a converted garage sided with tile, Google will show you some ideas on how a garage can be designed with the usage of this specific material.
Houzz: will substitute an architect and will inspire you with enthusiasm
Houzz is a good website that provides the best design areas for all types of buildings. Millions of homeowners use this service to find inspiration and implement a dream project. You are free to install an app or work directly in your browser. The mechanism of search is based upon a local filter, which will allow you to choose dozens of parameters applicable to your own project. Mind that the more criteria you choose, the more effective the result will be. For example, if you are looking for small family house design ideas, you should specify the square footage, the number of floors, the area, the style, and the number of bedrooms and bathrooms.
Install all these apps right now and start creating the project of your ideal secondary unit!
Utilizing Pinterest for ADU design ideas
Pinterest is doubtlessly one of the leading services for homeowners who are looking for design ideas and want to be inspired. Now we are going to describe the process of working with this service.
Here is the full algorithm of actions:
Install and open the Pinterest application or launch their website.
Sign up using your Google or Apple account. You can also use any of your Emails and create a password.
After registration, go to the search panel and insert your request.
Look through several pictures and sort them out. Add the ones that you like to your favorites and hide the pictures which do not suit you. The service will automatically adjust the list of results to your preferences.
After you have saved several pictures, we highly recommend that you save them to your phone. You will have access to your ideas even offline.
After some period of time, search for some other variants and find some new ones.
In most cases, it requires more than 50 pictures for a homeowner to understand what their future design will look like.
So, do not put off the process of searching for the picture and themes on Pinterest and install their app right now!
ADU design books and publications
You might wonder whether the Internet is the only source for those who would like to be inspired. Below, we are going to describe to you some other resources where small home design ideas can be found.
Here is the list of the most prominent ones:
The Accessory Dwelling Unit handbook is one of the most popular books containing hundreds of design ideas. One of its main features is that it provides detailed descriptions of any design concept. You can find information about the philosophy and history of this or that design, the materials involved, and the typical difficulties in the construction process.
Accessory Dwelling Units: Design and Construction is a book used practically by every experienced ADU designer. This is the source of the best ADU design ideas, showing you quality pictures and exclusive descriptions.
Small Homes: The right size is a handbook describing all the stages of ADU construction. Designs are usually analyzed from the point of view of their functionality.
Do not hesitate to start using books and publications while searching for small house design ideas. Along with beautiful pictures, you will also get acquainted with a lot of useful information that will increase your literacy levels in construction issues.
Visiting ADU showrooms for inspiration
Another effective way of finding inspiration in ADU design is visiting numerous showrooms. Big building shops are always ready to welcome homeowners willing to check whether a specific design scheme is comfortable in real life. In order not to waste time, you should first understand what kind of style you are looking for. You should keep in mind the basic features of your future ADU before going to a showroom.
After you decide on the basic design features, including the style, materials involved, square footage, and budget, you can head to any local showroom you like.
We advise you to ask their managers to assist you since it is not always easy to find a required design model if you visit a showroom for the first time.
Do not forget to ask any questions to the managers since the design issue always demands the highest possible level of clarity.
Collaborating with ADU design professionals for inspiration
It is always a good idea to cooperate with a professional in the sphere of design to understand how to create a perfect accessory dwelling unit project. You should find out whether there are any professional communities in your area. Contact the specialists who have great experience and positive feedback.
After you decide on the designer and start a collaboration with them, feel free to fully describe the details of the design you are looking for. We understand that many homeowners might not have a full image of what they want. In this case, try to formulate the feelings that you would like to experience while spending time in your ADU.
In order to avoid much stress, you should choose a person whom you can fully trust in the design process without the necessity to check every single step of work.
Online ADU design communities for inspiration
Another important step in choosing your dream design of a small home is attending Internet design communities. You can check Instagram or Facebook and find miscellaneous community accounts where users share their design experience and the designer's expert opinion.
You can just scroll the feed of Searchlight communities under look through the most trendy designs chosen by homeowners.
But do not forget that you are always free to write directly to users in order to ask them about their experience in ADU design.
Don't forget that modern Internet communities are a great source not only for inspiration but also contain useful information where homeowners frequently share their mistakes and ways of overcoming difficulties while building an accessory dwelling unit.
Attending design events and workshops
When it comes to small interior units, including cupboards, shelves, small chairs, or vases, many homeowners tend to include DIY things in their designs.
This is because dealing with the design details is usually a final step of a building, which means that all the most responsible stages of work have successfully been completed.
Choosing or creating some small cute things for your ADU will certainly inspire you and will let you reveal affection and devotion to the new dwelling unit.
Involvement in such things will prevent you from burning out after a monotonous building routine.
Utilizing social media for ADU design inspiration
Social media are great tools for helping homeowners build their dream houses. On Instagram or Facebook, you can find real-world homeowners' feedback on their collaboration experience with different contractors and design teams.
You can also follow some bloggers who share interesting educational information about ADU construction.
Using hashtags will allow you to find anything you want on social media. The advantage of them is that you can directly contact the author of a post In order to clarify some issues.
Dealing with websites, and chatting with real people is not always available and is not so convenient.
Incorporating sustainable design practices into ADU design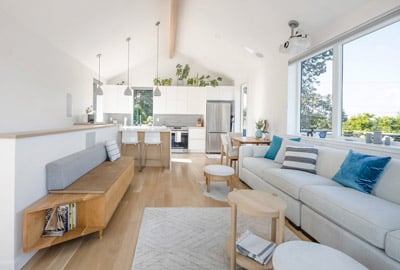 While implementing a design project, you should always keep in mind some important technical and safety issues. For example, building an additional kitchen or bathroom. You should elaborate on the plumbing system which will provide you with a stable water supply.
Before choosing the materials for the floor, we advise you to consider implementing an insulation system. It will prevent you from heating and will let you feel comfortable in cold winters.
Check designing communities in order to find out more aspects to consider!
Designing for multifunctional use in ADU design inspiration
Nothing can let a homeowner enjoy the design process more than a multifunctional design. The lack of space pushes us to create complex architectural projects presupposing that a single space will serve differently in different life situations.
For example, while building a garage extension, you may think about the possibility of designing a small car wash.
Besides, while making a project for a children's playground, it would be great to consider adding some sports equipment so that all your family members could do physical exercises.
Designing a multifunctional space will free you from the necessity to move out of your lovely place, so do not deny the possibility of implementing such projects!
Frequently Asked Questions — FAQ
How much does the design process of small spaces usually take?
If you are looking for a perfect small space design, you should be ready to spend a day or two analyzing interior photos on architects' and designers' websites. Sometimes you may start a collaboration with architects of a general contractor who will perfectly shape your bedroom space within a couple of days.
How much does it usually cost to delegate an interior space organization to designers and architects of a general contractor?
The cost of your interior design will obviously depend on the type of spaces and the type of ADUs you would like to modify. For example, generally, such ADUs as guest houses or outdoor rooms will cost three times less than building a main house design project. At the same time, even in such small spaces as ADUs, you can ask for unusual styles and interior ideas that may cost you the same price as a full house design project. When ADU plans to presuppose a typical work where architects do not have to deal with numerous boundaries and exterior issues, you may be sure it will not cost more than $1000.
What are the benefits of creating rooms or ADU plans yourself?
If homeowners want to fully customize homes, including all the small spaces, we advise you to create your own projects. This is why, looking through different exterior and interior projects' photos, only you can fully understand what styles are more suitable for your small space project. Only you can fully create a general image of how your ADUs will look like. So, do not hesitate to think about your floor plan and shed roof or large windows installation process. Working by yourself, you will create the best space for your life that all people will admire.
What is presupposed by landscape design projects?
Apart from bedroom or floor plan building, organizing a spacious landscape will be an important task in the sphere of design and architecture. You should think about the kinds of spaces existing outdoors. Think about the configuration of paths approaching your house. Elaborate on the relaxation zone where you can enjoy nature. Such things as ground quality, as well as other surroundings' configurations, should also be taken into account.
What is the focal point in the ADU process?
We believe all aspects are important when it comes to the ADU process or different spaces renovation. You should start by working on reliable resources which, for example, will provide you with information on how to create a spacious additional bedroom design. Then you will have to find a reliable team and an architect who will help you overcome all the designing boundaries and provide you with the best additional room project in the modern world.