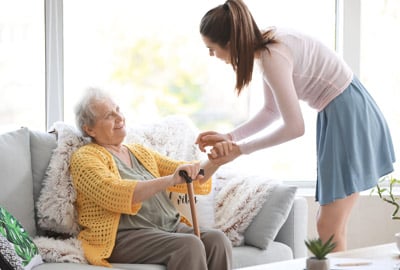 An accessory dwelling unit is a good affordable housing option for a family member who needs to combine independent living with constant attention on the part of caregivers. Accessory dwelling units (ADUs) are secondary units located on the same lot as the primary dwelling.
There are many benefits to planning and building an ADU on your property lot, such as extending your living space, temporarily housing guests, or having the opportunity to arrange short-term rentals that bring extra income. Yet, one of the leading incentives for ADU construction is providing additional housing options for aging loved ones.
Learn about the main factors that make ADU living arrangements the perfect solution for your loved one in need of care!
Designing ADUs for maximum privacy and independence for care recipients
ADUs allow seniors to stay with their families and remain attached to their community. So, how to develop an accessory unit for your retired family members to age in comfort?
Both main house owners and ADU residents win from mother-in-law suite construction, and here are a few reasons why:
Granny flats are self-sufficient units with all amenities, such as a small kitchen, bathroom, and sleeping area. So, even if the number of people on your property increases, you still don't have to stay in line to take a shower in the morning.
Typically, an accessory dwelling unit is a separate structure with a separate entrance. That's why nobody is going to invade someone else's personal space without permission. And such simple knowledge can very positively affect a person's dignity.
Accessory dwelling units allow the elderly to avoid moving to permanent assisted living facilities. Not only is it consistent and creates a big distance between families, but such communal living also inevitably deprives a senior of their independent living, which they could do by staying on the family's land.
Ensuring privacy in shared living spaces for care recipients and caregivers
Even though ADUs usually offer enough privacy, there may be times when a caregiver needs direct access to an ADU. For instance, if we talk about the very poor condition of a care recipient, it makes sense to organize an ADU conversion in an attic or create an attached ADU with a shared space.
Are there any ways to preserve some privacy in such a case? Of course, they are. First of all, try out the following:
The minimum thing you can do is set up various dividers. For example, if you need a caregiver to be present when a care recipient takes a bathroom because of the risk of fainting, a curtain or an aesthetically designed bathroom screen;
Make latches and locks that homeowners can use when necessary;
Agree on whether to knock on the care recipient's door before entering their private space or to touch things without permission;
If constant care is needed, allow the cameras to do some of the work or allocate time for independent pastimes without supervision, with the possibility of quickly calling a caregiver in case of an emergency situation.
Incorporating assistive technology to promote independence and privacy for care recipients
There are many factors that affect seniors' well-being when they need constant care, and one of them is the opportunity to perform as many actions as possible on their own and have control over their lives.
A family can help their close ones by providing care recipients with such technological resources as various remotely controlled gadgets, smart home systems that allow switching light and heating/cooling systems on and off, artificial intelligence assistants, systems that remind them to take meds, and systems that track their overall health condition.
All of these provide more freedom of choice and autonomy to seniors and people with disabilities and allow caregivers to have more free time on their own.
Balancing privacy and safety concerns for care recipients living in ADUs
The good thing about granny flats is that they enable such a living arrangement that combines the need for privacy with due security measures while family members are not keeping an eye on their aging relatives.
To incorporate both of these features into an ADU, homeowners can build it with consideration for extra safety features like grab bars, non-slip floors, fall sensors, or sensors that notify a family member if a person in care suddenly feels worse.
Even though the costs for some of the smart decisions and programs may not be the cheapest, you'll still pay less than if they stayed long-term in an assisted living facility.
Providing private outdoor spaces for care recipients in ADUs
An ADU project is a great chance to add a private garden to your new home and increase the amount of open space!
When planning your ADU, think about enticing privacy features that not only protect from prying eyes but also complement your surroundings design. Your accessory dwelling units may have the following:
Outdoor spaces surrounded by many plants
Are you interested in gardening? In this case, such natural barriers will not only fence off your house, creating a relaxing private area but also become a source of a new hobby. You can arrange picturesque hedges around the resting zones, plant flower bushes, or grow trees.
Outdoor spaces with pergolas and gazebos
For owners of larger plots, a massive structure with climbing plants, curtains, or straw walls is what will protect you from the heat on a sultry day and allow you to relax on your own.
Decks with a rocking chair
This is almost a classic symbol of a successful retirement. If you build a cozy, rustic deck with garden furniture, a blanket, and pots of flowers, it becomes a safe haven for escape.
Strategies for maintaining privacy and independence for care recipients with dementia or cognitive impairments
People who suffer from memory problems and other cognitive impairments may occasionally forget to take their medicine, pay their bills, or even certain events, routes to home, and so on. That's why, depending on the number of impediments in their daily life, they may need more careful attention.
The most appropriate ratio here will be letting them do what they can do on their own and helping with the rest. For instance, a caregiver can make up a product list for a shop and do the cooking but allow a family member to pick the products and eat on their own.
Caregivers usually take on tasks that require memorization and more difficult calculations. These can be leading checkbooks or medication reminders. Yet, in many instances, these things can be replaced by special apps, tools, and other methods to make the elderly with memory problems more independent. Thus, you can make up schedules and put them in a visible place (on the fridge, for example), put on labels with reminders, and furnish the accessory dwelling unit with a large clock and calendar where important things will be marked. In terms of apps, you can install applications that will emit a signal when it's time to take medicine on their phones.
Addressing privacy concerns for care recipients who share ADUs with family members or friends
Unfortunately, sometimes building an ADU near an existing single-family residence is not enough. This happens when the need for care is constant. In this case, homeowners usually opt for internal ADU construction so that caregivers and care recipients are always within a few steps reach.
However, this leads to privacy issues for both parties. What can be done?
If you live in one room, create in-room barriers. It can be a bookcase between two beds or a canopy over the bed. Or a fashionable folding screen that obstructs the view when you're dressing up;
Let there be a personal nook for each of you. To illustrate this point, a caregiver may like a game console and spend time alone near the TV set, while a granny enjoys knitting in the armchair or gardening in an ADU outdoors area;
Divide the space so that most of the things belonging to one person are in one part of the room. In this way, no one will rummage through other people's things to find their own.
Promoting independence through accessible design features in ADUs
How can accessory-dwelling units promote more independence for family members in need of care? There are several features you can add to your ADU design to do that. They include:
For wheelchairs: build ramps and create wider hallways and door frames so that people with disabilities could have freer access to every room of their mother-in-law suite;
For people with other mobility and balance issues: equip the necessary areas with grab bars, railings, and walk-in showers so that they can use them on their own;
For people with poor eyesight: buy voice control features that can switch on and off lights, heating and cooling systems, TV, music, or other devices.
Monitoring systems for all care recipients who need constant supervision without interrupting their daily routines.
The role of caregivers in respecting and promoting privacy for care recipients in ADUs
Along with providing care and compassion, you have to heed your loved one's dignity and humanity. Thus, if you visit them in an ADU or come into their room, don't forget to knock, don't take other people's things, and don't invade the bathroom without necessity, even if it's out of pure love. Also, you should avert your eyes when they dress up, and if looking is absolutely unavoidable, try to avoid the most private parts.
Aside from that, care recipients can be too shy or embarrassed to ask for help themselves, but pushy questions will only embarrass them even more. So if you need to ask something, try to be more subtle about it.
Unlike institutional care, accessory dwelling units provide more opportunities for fostering privacy. As they can receive personalized care with more deliberate respect for their needs. They can stay in a homey setting and preserve more autonomy thanks to personal arrangements with caregivers. As for ADU design features, you can supply the living space with as many life-easing tools as the elderly and people with disabilities can use on their own.
Balancing the need for privacy with the need for social interaction and support for care recipients in ADUs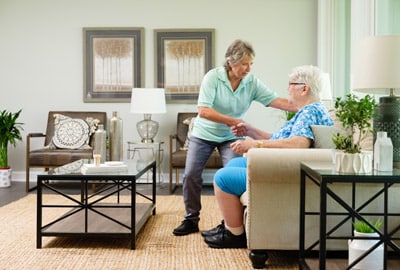 Even though personal time and space are vital for creating a healthy environment, homeowners shouldn't forget about their loved ones' need for social interaction. Thus, carriage houses (another ADU name) are good in the sense that you can install doors with locks or latches inside them to preserve private spaces unattainable to others. As well as in the sense that they are small and leave room for more outdoorsy spaces around them.
What are the benefits of building outdoor spaces in relation to combining healthy distance and communication?
Homeowners from the main house will see if their loved one searches for interaction if they're out sitting on a sofa or a garden bench at the deck or resting in a pergola on a sunny day;
Outdoor space development provides residents with an opportunity to connect to nature and relax, far from the stresses of a big city. It's a place where multiple generations can spend time together while each is engaged in their own activity;
Open spaces in homes and apartments are typically associated in our minds with socializing, while closed ones are associated with a need for more privacy. So if a caregiver, before having it discussed with the caretaker, makes sure that their loved one spends enough time both in and out, it will eliminate the problem of imbalance.
Frequently Asked Questions – FAQs
What is the best ADU type for housing your aging relatives that need care?
When we talk about ADU types that can be built nearby the existing home, there are several construction options: a detached ADU, an attached ADU, and conversions (garage conversion, attic conversion, or basement conversion).
If your seniors can fend for themselves, then detached ADUs and garage conversions are great options as they offer more privacy. In cases of constant and vigilant care, the less property land that separates you, the better. So, the internal construction is the best option.
What stages does a typical ADU development and building project consist of?
The benefits of hiring an ADU building company in your community are that the specialists will take on everything, including the most difficult services. ADU developments start with cost and resource estimation, where the client explains what they want to see on their land, and the company makes up a plan of what the project must include.
Next, they draw up construction blueprints and apply for the necessary permits from the local governments. And, if they comply with all local regulations, they get an ADU development program permitted and start to build the house.
How much will my ADU cost, and where to find financing?
ADU development costs depend on the type of ADU, materials used, square footage, and many other factors. In any case, building a mini-house on your property will be about twice or three times cheaper than the main residence cost.
Due to the poor, affordable housing supply in several states, cities, or communities, you can stumble upon certain ADU expense benefits. For instance, in California, there is a governmental grant program for any single-family home where an ADU can be built under the condition that the family has a low or moderate income.
But aside from this one, other states, cities, and communities provide financing benefits such as renovation loans or other grants that cover part of your ADU building cost.