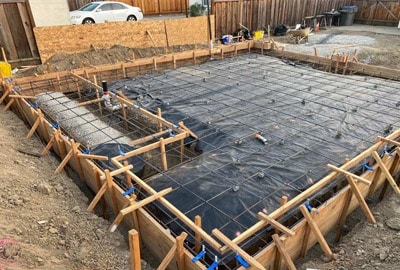 An accessory dwelling unit (ADU) has recently seen an increase in popularity among homeowners all over America, and there are reasons for this. Hardly can we imagine a new construction that can be used in a variety of ways, would be cheaper than building a new house, and could incorporate the wildest ideas of the owner. However, to build an ADU, there are important elements that you should consider.
A wise man once said – theatre begins in the cloakroom. In our case, any ADU construction project begins with a good foundation. While any general contractor should know what the construction process should begin with, not many homeowners understand what work needs to be done on-site in order to have a foundation that will serve you well for years, will withstand events of any sort, and will get the needed building permits.
If you have always wanted to know what site preparation and foundation work consist of and what is done before the construction begins, read the following article. Without further adieu, let's dive into the topic!
Site evaluation and preparation for ADU construction
As you may have figured out, various factors contribute to the overall site preparation work, and none of them can be overlooked. Your entire ADU depends on how well you assess your backyard. This will help you understand what work should be done on-site, how soil quality will affect your foundation, what inevitable changes your lot will face in the future, and how to avoid undesirable consequences of season change.
The main factors that professionals look at while considering preparing the ADU project are the following:
Site location is an important factor. What if your future ADU breaks the building code? What will you do with the zoning laws in your area? Will the construction get proper permits? An ADU expert from the company will have to answer these questions for you before commencing building an ADU.
In order to work on the site, amazingly, the team of builders has to access it. Any obstacles you have there should be removed beforehand in order not to interfere with the process. Moreover, the experts will have to assess whether the dimensions of the diggers fit and can reach your lot.
Soil has to be properly evaluated before you do anything on the site. Soil types act differently under different weather and consequently can influence the choice of material needed for the foundation as well as the construction process.
With the abundance of different drainage options, installing the right one is crucial in the ADU construction process. The incorrectly chosen system can lead to foundation damage and make you pay for further remodeling. Do you need it? We don't think so.
Utility connections are the element that will let the dwellers feel themselves home. For sure, you must have the existing ones, like electrical connection or plumbing lines, available to connect to your new ADU, but they should appear in the plan too, and it is pure art to fit them into your new granny flat.
We will examine the above-mentioned elements further in our article, so to get a closer look at the actions that need to be done in order to get the perfect on-site construction, continue reading.
Soil testing and analysis for foundation work
Before we start digging and grading your site, the analysis of soil is a crucial element that may determine the building plans. What will happen if it is estimated incorrectly? Well, in certain cases, the soil will not be able to support the foundation, and your unit will slowly heel over like it is standing in quicksand.
The following stages are crucial to any soil analysis:
Determine soil properties
Even though we see it every day and some of us even have the chance to walk on it, scarcely do we know about what it contains. But there are certainly many surprises that specialists can determine. For example, soil classification, density, compressibility, or moisture content are all necessary characteristics that property owners need to know.
After a careful analysis, specialists can take a look at the soil problems that will influence the process of building an ADU. High water tables or expansive soil carry a huge risk of your future foundation is unstable. And you definitely don't want to receive an ADU that will deteriorate in a year or two, don't you?
Settle on the foundation design
Having finished the above-mentioned procedures and completing the final inspection of your soil, you can decide on the design for your foundation. Specialists will take into consideration all the available info and create the ADU design that will avoid all the possible pitfalls. In the design process, they decide on the possible dimensions of the foundation, its type, depth, and suitable materials.
These measures may seem unnecessary, but in reality, the check of every square foot of your soil is vital before building an ADU.
Excavation and grading of the building site
Who of us hasn't played with excavators in our childhood? We know that excavation is fun, but it becomes useful, too, when you have prepared for it correctly. After assessing your soil, this fun parts come into play on the job site. As with everything else, the entire process consists of vital steps that we would like to examine closely. The whole process can be divided into several parts.
Digging preparation
Before the professionals start working on a digger, it is advisable that you prepare the site. First, mark the boundaries of your future foundation in order to make sure that the site work is done in the right place. You can use anything you want, including markers on the soil or small flags.
Next, if your lot is full of unnecessary elements, they need to be removed. The most popular activity done on the site is tree removal, as their roots can damage the equipment and make further advances impossible.
The digging
The digging process itself also carries some intricacies. For example, in the ADU process, the specialist will have to follow the construction drawings and find the right dimensions and depth. Next, they will have to do the soil grading that will allow proper drainage to be installed in the future. Moreover, erosion should be taken into consideration. This nasty process can deteriorate your foundation in the future, no matter how good it is. So the builders have to ensure that your water is away from the foundation and nothing can harm it.
After digging
Well, you have excavated some soil from your backyard, and now you have a hole and a small hill. The question arises: what to do? In the final phase, the excessive soil has to be taken care of. It means that you have to dispose of it somehow. Ideally, you should find a way to somehow reuse it on the site, but if that's impossible, check the local laws and regulations to figure out what you can do with it. Maybe you will be able to get some extra money from selling it to a farmer?
Installation of drainage systems and utilities
Having completed the digging process, it's time to switch to another task – drainage systems and utilities. Every ADU project requires rooms like a kitchen, bathroom, and certain amenities are crucial to have to make ADU function as it should. As for any other element of site preparation, this one also includes several steps that you have to know about.
The installation of drainage and utilities incorporates the following steps:
Site survey and permits
Electrical, water, and gas connections
Drainage system
First, builders will have to understand how exactly they will work on the excavated site. This site work includes the evaluation of the existing utility infrastructure that you have in your existing structure and figuring out ways to connect your main house with the independent living space. Another thing they have to keep in mind is building permits. In every city, there are different building codes and environmental regulations that no general contractor can in any way overlook when building a new ADU. Moreover, the permitting process may take some time, so it is also important to keep abreast and schedule it properly.
Next, the connections leading from the existing structures should be made, and there are certain intricacies to each element. For example, electrical design should ensure normal power supply and consistency in distribution, pipe materials and fittings should meet the plumbing code to guarantee water access and adequate pressure, and gas lines have to follow the guidelines and be in accordance with the local requirements.
Last but not least, the star of the show is the drainage system. Did you know that there is no drainage option that would fit all the households and every time, the builders have to figure out which one would fit better? Well, now you know! The key factors that it should match are the plumbing code and the soil type, which we already know, thanks to the previous stages.
Having considered these factors, the contractors' team will ensure the proper utilities connection and drainage system.
Foundation design and engineering considerations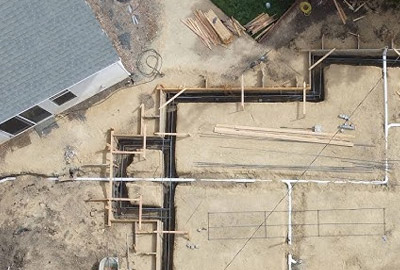 The foundation is the cornerstone of any accessory dwelling unit, and before you build an ADU, it is vital that you decide on the foundation design. Moreover, normally there are some engineering issues to consider.
For example, soil testing will show how big the structural load on your lot can be and, consequently, what your foundation design should look like. What materials to choose? What should the initial design of the ADU look like, and can we build over two stories? What dimensions of the concrete foundation are possible? Many questions, but only careful assessment of the structural load will help you answer them.
Moreover, the previous analysis may find out the specific conditions of your soil that will ensure certain measures. There are projects in our schedule when we had to build a custom ADU in the area with sloping grounds. In that case, we had to install additional metal and concrete elements deep in the ground in order for the accessory dwelling unit to stay in one place and bring joy to the homeowners for many years afterward.
All in all, a great foundation means that your ADU will last long and tens of thousands of dollars were not wasted down the drain. Order a free consultation so our managers can provide feedback concerning the cost of building an ADU.
Types of foundation systems for ADUs
It's time to discuss the different types of foundation systems available on the market, and believe us – there are things to choose from before you start construction. Let us examine the most popular picks of our customers closely.
Slab-on-grade foundation
The main element of this foundation is a single fat slab of concrete. The production process of this slab is simple – we form it from a mold that is set to the ground. The next step is pouring the liquid concrete into the mold, which will leave no extra space between your lot and your ADU. Normally, this foundation system is in a warmer climate without harsh fluctuations in temperature during the year, which could damage the concrete and require extra insulation.
Pier and Beam Foundation
On the contrary, in areas with unstable soil conditions, the pier and beam foundation is a real savior. All it needs is several piers or concrete posts with the floor placed on them, and this may resemble a stick-built ADU. Even though they cannot withstand as much weight as the concrete foundation, they will be enough to hold your new ADU. However, you should be careful and pay attention to the insects that may find new homes in the crawlspaces.
Grade beam foundation
As you may have already figured out, concrete beams will be the main part of this foundation. It will distribute the weight along the ground under the ADU and form the perimeter foundation around the building. This foundation allows you to use much less concrete in comparison to other options, which will eventually cost you less money. However, it is impossible to bring to life in hilly areas.
Pouring and curing of concrete foundations
Foundation doesn't forgive any mistakes, and in this case, every square foot matters. Not only does the composition of the concrete matter, but also the way you pour and cure it, and in reality, it is pure art.
In the case of pouring, layering is the key. It should be layered evenly in order to exclude any possible air pockets in the mix. If you notice any of them forming, the necessary measures should be taken. Having poured it, it is of utter importance that you also level it properly. In the end, the surface has to be smooth and consistent in order to withstand the weight of both your ADU and the weather conditions.
Poured it all and layered correctly? Let it rest! Another important action that has to be done is curing. Normally it takes between 30 and 60 days for the concrete to dry completely. Remember that no work concerning the ADU build should be done until the concrete dries off.
A clear understanding of these processes allows you to create a foundation that will last for years.
Framing and reinforcing of foundation walls
ADU foundation is a complex structure that, if built properly, can withstand many years and several owners. But building one is just the first step. Next, it has to be framed and reinforced. To do so, builders need to use studs. They allow us to space the future frames correctly and layer them in the right way.
As for the reinforcement, the steel bars are a must-have in this matter. They are placed in a pre-approved way by the project manager and provide extra strength to the already-built structures. What is more, the correctly used steel bars can also protect your foundation against cracks and vulnerable spots in it.
Waterproofing and insulation of foundation walls
Two elements will ensure your comfortable living in the ADU:
Waterproofing using drainage, waterproofing membrane, and drainage board
Quality insulation
As for waterproofing, we have discussed it in detail earlier. But it is worth adding that you can enforce it using a special membrane that will keep the foundation walls from the water. Also, the drainage board will protect the very membrane from any possible damage so it can carry out its functions longer.
It is not necessary to install insulation if you live in a warmer climate like, for example, the San Francisco Bay Area. However, for those for whom winter brings frosts and snowfalls, it is important that your ADU is properly insulated. It won't let heat transfer through the walls, floor, or roof, and you won't spend a fortune on the amenities.
Backfilling and compaction of soil around the foundation
Many homeowners with whom we have worked on ADU building have never heard about the process of backfilling, but it is an important step of the construction and should be on any ADU checklist. After you have removed the soil and built the foundation, it is important to replace the parts around the foundation to stabilize it.
Here the compaction of soil comes into play. Professionals also call it soil stabilization. The builders compact the soil around the foundation, ensuring it stays there firmly.
All the elements that we have discussed in the text are vital to the quality of the ADU, and the compaction of soil, being the final one, also is the cherry on top.
Frequently Asked Questions — FAQ
What ADU types can you construct?
With the variety of ADU types on the market, a standard ADU cannot surprise anyone. Among the most favorite picks by our customers remain accessory dwelling units like an attached ADU, detached ADU, prefab ADU, or garage conversion. For example, we can transform your existing garage into a guest house to accommodate anyone you want there.
What is the building process after the foundation is made?
No matter what ADU you own, be it a detached unit or an attached ADU, the next steps are usually similar and focus on the interior finishes. According to the construction documents and ADU design, we install everything needed, from furniture to light fixtures. Moreover, we can install, for example, solar panels on the roof if you need some. The important element is checking for fire safety to ensure that your unit will pass any checks.
Why do I need an ADU?
Homeowners order an ADU project for many reasons. Some of them want their own ADU to practice their hobbies there. The others organize the business and get rental income from the tenants. For those who are not seduced by extra money from the rental income, the increase in property value in case they want to sell the whole lot plays an important role.
https://text.ru/antiplagiat/6484f71ea6d34