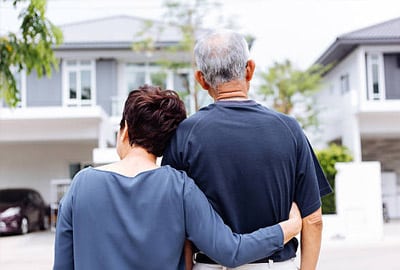 When considering the construction of accessory dwelling units (ADUs), some homeowners might doubt the outcome of such projects. With plenty of legislation regulations, engineering specificities, and design choices, it might be overwhelming to even think about such a form of housing for property owners.
However, with the skyrocketing popularity of secondary units, the fear of not knowing what will happen is eased a lot. The community of homeowners often shares exciting stories, both successful and challenging ones, about the experience of building accessory dwelling unit (ADU) housing.
To encourage you to start the project, we recommend taking a look at the different sides of the ADU creation process that we will discuss here.
Successful ADU Designs for Aging Adults
Adding an ADU to the existing structure on your property can be especially beneficial if you have an idea of moving your elderly loved ones closer. To simplify everyday care for aging adults, have them live nearby, in a smaller housing unit, like ADU.
Great granny flats are designed to match multi- or single-family homes and provide extra space for tenants. Properly designed ADUs can help families reduce the costs of traveling far away to take proper care of older people who need help with everyday tasks and medical supervision.
Building an ADU in your city for your aging family members can be useful in a variety of ways:
Your elderly will be glad to have company and will not feel as lonely;
You will not have to pay for extra help, like the ones provided by nurses or caretakers;
You can check on their health and provide urgent support during emergencies;
Both an elderly tenant and your family can continue to live in private, comfortable conditions despite living nearby.
Lessons Learned from ADU Design Failures for Aging Adults
If you are planning an ADU project for your aging loved ones, pay special attention to their needs. Make sure to provide a comfortable room design, good ventilation and lighting, and an accessible entrance or parking space, if needed.
For example, bigger windows that let in plenty of natural light can be especially useful for an ADU owner with elderly relatives. As we age, even simple everyday tasks can become challenging with bad eyesight. The development of an ADU with consideration of these small points can make aging residents' lives better.
Success Stories of ADUs Improving the Quality of Life for Aging Adults
The everyday routine of older tenants should be considered in the process of designing an ADU. Many cases show that providing a convenient living space allows such people to live in comfort while still maintaining their independence.
Moreover, aging relatives who live in secondary units get to have constant company. The feeling of loneliness is often experienced by such tenants. However, with a contractor-built ADU, aging residents are provided with a solution for such a problem.
Lessons Learned from ADUs that Did Not Meet the Needs of Aging Adults
When building an accessory unit according to the local laws, consider the following design choices to avoid problems:
Provide mobility support in the form of handrails and other assisting equipment;
Install smart-home technologies to help the elderly with everyday tasks;
Be patient with the process of ADU planning and construction in order to achieve the most satisfying results.
Successful ADU Designs for Multigenerational Living
Those living in single-family households are probably used to their everyday routines. Having a new family member move in can bring some discomfort to both sides. In order to avoid that problem and build a healthy community with your close ones, have separate living units to make sure of everyone's privacy.
According to the law, ADUs can be detached, attached, and junior types. Your ADU project might also consist of a conversion of an existing space, like a garage, for example.
Lessons Learned from ADUs that Failed to Accommodate Multigenerational Living
Generational differences can become an obstacle to peaceful co-living. Backyard cottages provide a good solution for stress-free cohabitation in a city. Many elderly people do not want to be a burden to their families, and living in the same house might cause such problems.
ADUs, on the other hand, are considered to be an ideal option for creating an independent living area for those in need of care. Backyard cottage residents feel better when they have their own space to enjoy their peaceful days while still getting help from family when needed.
Success Stories of ADUs Providing Affordable Housing for Aging Adults
Many cities are now incorporating ADU program solutions for their citizens. ADUs' affordability is considered one of their main advantages. Designing a smaller number of square feet, compared to a whole housing unit, allows to reduce the cost of planning and building.
Moreover, backyard units, on average, require fewer fees for ADU permits and cost less in terms of maintenance. Your local contractor community might also offer such affordable solutions as prefab ADUs.
Lessons Learned from ADUs that Did Not Meet Affordability Goals for Aging Adults
Hiring a professional designer or an architect will help you to consider all of the specificities of your new property. Properly planning the square feet of an ADU will not only save you from re-applying for permits and paying more fees but also allow you to reduce the costs.
Experiences of ADU owners in different cities show that, on average, the budget for ADU's creation can cost up to $30,000 less when professional designers are involved. Planning and constructing program options provided by general contractors will also assist you with law requirements and other points that you may not have considered.
Successful ADU Designs for Aging Adults with Disabilities
Elderly people with disabilities need a special approach when it comes to housing. You should plan your square feet according to their personal needs. Assisting technology implemented in ADU designs is becoming more popular in the community nowadays.
For example, design solutions for people with visual impairments often include tactile guidance all over the unit. Aging relatives in wheelchairs might have special parking requirements that need to be considered.
Lessons Learned from ADUs that Failed to Accommodate the Needs of Aging Adults with Disabilities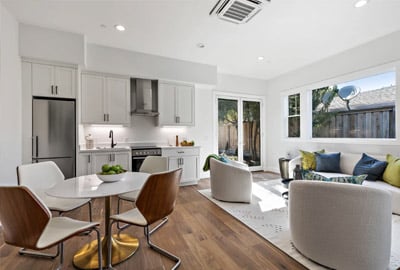 Prior research on how you can make your disabled loved one's life better with a new ADU can really make a change. Of course, you need to ask in advance what design assistance they want to see in their new home. However, the world does not stay still, and new effective solutions appear constantly.
Do not neglect the services of ADU professionals, who specialize in constructing ADUs specifically for aging people with disabilities. Such specialists have better experience, and they can avoid the mistakes that even the most attentive family member might make.
Therefore, making sure that you have considered all the possible options in ADU designing for aging family members is crucial. Successful co-living is guaranteed only when a balance of proper assistance and independence is in place. Remember that the elderly need special care when it comes to accommodating in a new place.
Frequently Asked Questions — FAQ
What are the pros and cons of ADU?
One great advantage of having an accessory dwelling unit next to your primary residence is the extension of the existing living space. ADUs can also become a rent-out asset, giving you an additional source of income. However, you might come across some disadvantages of ADU construction too. This form of housing is usually smaller in size, and there might be some challenges in designing a functional home within such limited space.
Why is an ADU a good investment?
ADU production can reveal plenty of benefits for homeowners. First of all, you get to increase living space without making any drastic changes to the main house. Also, one might want to invite tenants and make them pay rent, which gives the owner of the unit some extra money. And if you want to sell your house in the future, an ADU on your property will add to the housing market price.
What is the most cost-effective way to build an ADU?
If you consider all the peculiarities of the ADU construction process, the best decision would be to hire a general contractor. This way, you and your family can forget about the stress of planning, getting permits, and constructing the ADU yourself. Specialists who focus on ADUs will consider all your requirements and deliver the best result within a short period of time.