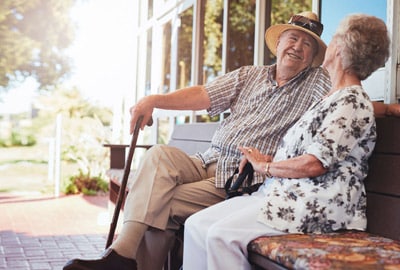 It's hard to argue with the fact that all seniors have gone through a hard school of life and therefore deserve to meet old age in a place with maximum comfort and coziness. Among all housing options, detached ADUs or granny flats are best suited for these purposes.
The biggest advantage of this type of housing is that you live with elderly parents or relatives on the same territory but with the preservation of personal boundaries. So, your family is in the main house, and elderly people are in the detached accessory dwelling unit. At the same time, the living area will be completely safe for the health of older adults.
In this review, we will talk about all the stages of creating a universal design ADU, as well as reveal information about what benefits an age-friendly home can bring.
Universal Design Principles for ADUs
Certain rules underlie at the heart of creating any design, following which will provide the desired result, and age-friendly style is no exception.
We highlight five fundamentals that need to be taken into account when planning a room:
Simple and intuitive mechanisms. If you understand that your aged parents or relatives will live in the ADU, then there is no need to equip it with complex mechanisms; people should get easy access to all drawers, cabinets, rooms, and so on.
Layout flexibility. Initially, the ADU may not be intended for the older generation. However, we recommend organizing it in such a way that, if necessary, you can easily make an age-friendly home and adapt it to specific needs.
Risk minimization. Due to limited physical capabilities, ordinary corners on furniture or unstable structures can pose a danger to older people. For this reason, even the simplest rounding of corners will be a big step toward creating an age-friendly home.
Attractiveness and diversity. When we talk about the rules for creating a safe home environment, it may seem that everything will come down to a monotonous minimalist style, like in a hospital. We recommend doing everything to avoid this scenario. It is desirable to fill the design with comfort and warmth and add decorative items that will delight the eye and give energy to older adults.
The size of the space. We will return to this topic in more detail, in part about doors. However, it is already worth saying that the width of the space in age-friendly homes differs from the standard ones because older people need more room to maneuver. Especially if they use special tools, e.g., a stroller or a multifunctional cane.
Now that you have knowledge about the basics of universal ADU design for aging family members, we can take the next step and talk about specific techniques that will make residents' lives safer, more practical, and more comfortable.
Incorporating Accessibility Features for Aging Adults
Before we move on to age-friendly design solutions for specific rooms, such as a bath or a kitchen. First of all, it makes sense to discuss universal principles that fit into any space and greatly simplify the living conditions of the older generation.
Switches and sockets
It is not difficult for young people to bend down several times a day to the outlet or switch, which is located below the waist. However, for older adults, these are all difficult challenges that cause a lot of inconvenience. Another nuisance can be the wires scattered on the floor, for which it is easy to catch and fall. In this regard, we recommend placing the sockets at an accessible height and hiding the wires under the baseboard.
Type of floor covering
Another potential threat is a slippery floor, so during the planning of the ADU design, take this point into account. Budget options for anti-slip flooring are laminate, linoleum, and carpet; however, if you have access to a more solid budget, then you can opt for natural parquet, cork, or polymer floors.
Magnetic latches
With age, the motor skills of the hands also deteriorate, so complex mechanisms for opening windows or drawers can become another obstacle in the normal course of life. A perfect solution that will help overcome barriers is a magnetic latch. Magnets have many benefits, they are easy to operate, reliable enough to prevent a window or drawer from accidentally opening, and they will never break.
Overall, all these features will help make existing homes more adapted to the needs of aging relatives, and most importantly, the performance of household tasks will become much more practical and simple.
Lighting Design for Aging Eyes
Universal design features always include a step about the organization of lighting in each room of your age-friendly ADU because it is necessary to take special care of the eye health of elderly people. Creating accessible lighting involves four fundamental points. First, make a choice in favor of matte rather than bright lighting inside the building. Bright light from lamps and multiple glares harm the eyes of older people. In contrast, a matte shade softens the effect and has a positive impact on blood pressure.
Secondly, provide additional lighting where necessary, in particular, in the kitchen. These can be built-in perimeter lamps or fluorescent lighting. Thirdly, when planning living space, keep in mind that natural light penetrates into the room as much as possible.
Finally, create the conditions for deep red light therapy. This option relates more to the aspect of the "Smart Home"; it is not cheap, but it has many undeniable benefits. Two to three minutes in a room with red lighting will assist in relaxing the eyes, increasing the tone of the retina, as well as reducing headaches and migraines.
Flooring and Surface Materials for Safety and Comfort
We have already partially covered the topic of flooring that complies with the principles of an age-friendly home. However, for homeowners, it is most important not to lose sight of other surfaces in the house.
The following aspects will help you develop an even safer housing stock that will be suitable for aging in place:
Opt for heat-resistant materials for the kitchen. This will help to avoid accidental burns or damage from hot dishes.
Do not install surfaces made of hard-to-clean materials. It is best to choose porcelain stoneware for countertops and laminate flooring because they are easily cleaned of any dirty and oily stains.
With age, people, due to lack of vitamins, may become hypersensitive to allergens, and to minimize this effect, we recommend buying hypoallergenic materials for open surfaces.
No matter how reliable the anti-slip floor is without a carpet covering, the chance of accidental falling will be preserved. You can cover the most dangerous areas with carpets. Moreover, this will add sound insulation.
In sum, the modern construction industry provides many resources that will help get rid of the most important problem for the elderly. If a young person loses their balance, then his reaction will allow him to stand on his feet; this will not happen with elderly people; however, if you adhere to the above tips, then no one will harm themselves.
Kitchen Design for Ease of Use
In any kitchen, with a cursory glance, you can find a wide variety of resources threats the health of the elderly. So, to prevent unpleasant situations, you can, firstly, lay a non-slip floor covering and lower the height of cabinets and countertops so that a person can cook while sitting down. Secondly, it does not hurt to equip drawers and lockers with a door closer function, as well as add magnetic latches instead of uncomfortable handles. Thirdly, if the furniture has sharp corners, then you can ask wood artisans to smooth them out or paste felt patches. Finally, all doors should open to the side and not to the top so that the person does not pull his back.
Bathroom Design for Accessibility and Safety
More than one research shows that the bathroom is the place of receiving the majority of household injuries among the population of all ages, especially elderly people. In this regard, to create a bathroom with a universal design, first, you can install grab bars in the bath to provide the ability to take a shower without fear of falling. Then you can mount additional handrails next to the toilet and sink; they will definitely not be superfluous.
The next stage will be the creation of a step into the shower or bath, as well as the installation of a special folding chair. Do not forget about the insulation of all sockets, the accessible distance to hygiene items, and the use of special anti-slip rubber coatings.
In the future, you can also install cold and hot water sensors to avoid the risk of burns. If, at the planning stage, you realize that the new home will be designed for aging in place, then an additional 10-15 square feet in the bathtub will level out limited physical capabilities.
Lever Handles and Door Widths for Mobility
Agree that it is very difficult to imagine accessory dwelling units without doors, and exactly this element among all barriers for age-related people can cause the most inconvenience already in the course of entering the room.
You need to approach the development of doorways with full responsibility, and the following tips will help you with this:
The width of the doorway can not be taken from the head. To do this, study the ADA recommendations in your town, as well as the law, so that the ADU complies with all norms.
Think in perspective. The needs of the elderly may change, and this implies moving furniture. In order not to experience problems in the future, provide for the possibility of maneuvering in advance.
Install simple designs. Universal design always implies simplicity, and this applies even to door handles. There is no need to install complex latches, one reliable and easy-to-open lock will be enough.
Overall, these tips apply not only to the front door but also to all doors in your house or ADU. After their implementation, the transition of aged residents between rooms will be simplified many times.
Color Contrast for Improved Visibility
As we noted earlier, vision can deteriorate significantly with age, so one of the hidden points that young people do not pay attention to is the creation of contrasts in the room. The primary task is to use contrasting shades of doors and walls, as well as walls and floors, as it helps to better distinguish boundaries and landmarks. In addition, the contrast of furniture and lighting can play a key role because if they have the same shade, it can end up in an accidental bruise or fall. Finally, create a contrast between the colors of the handrails and the places to which they are attached so that elderly people can easily distinguish them and quickly grab hold of them.
Technology Integration for Aging in Place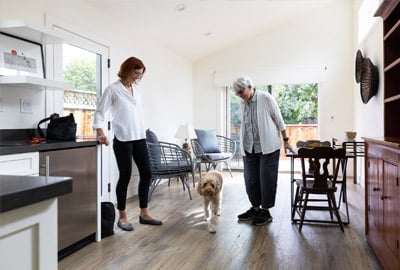 There is an opinion that age-old people cannot establish a connection with modern gadgets. However, it will be much more pleasant to meet age in place with them.
We have collected the top five technologies that will serve for the benefit of every person living in ADU:
Voice thermostat. This gadget will help to establish the most comfortable temperature regime without spending extra effort.
Blocking the stove in the kitchen. If suddenly an elderly person forgets to turn off the stove, the auto-off function will do it.
Online monitoring. If you decide to leave home for a few days, then with this device, you can always monitor the life of elderly parents to be calm.
Voice assistant. All families will tell you with one voice that this is an indispensable gadget and it greatly simplifies life. However, the most important thing is that if there is a health problem, then a person will be able to call an ambulance without the help of a phone.
Doorphone. The elderly do not always have the ability to approach the door quickly; however, with an intercom, this is not necessary. You can find out who came without getting up from the chair.
On the whole, the choice of technologies does not end there, and you can always discuss more options with your developer.
Outdoor Spaces for Physical Activity and Socialization
Up to this point, we talked about universal design features inside your housing unit; however, for good health, elderly people need fresh air, and in this case, you may be interested in the option of an outdoor living area. There are various locations, e.g., you can create a patio with hammocks and a fireplace, a wooden gazebo, or a family room lined with glass, where old people can communicate with each other and play with grandchildren. On par with this, the development of outdoor living areas will increase the value of your property.
Frequently Asked Questions — FAQ
What are the three benefits of designing age-friendly neighborhoods?
The most important advantage of universal design is your peace of mind regarding the safety of living with age-related relatives. However, there are other benefits to this matter. In particular, you can create all the conditions for a good time with relatives; the implementation of the age-friendly home project will increase the value of property in the real estate market, as well as provide the opportunity to receive rental income in the future.
How much does it cost to construct an ADU in universal design?
It is very difficult to name the exact figure because final costs depend on the number and scale of universal design elements that you want to integrate into the current home system. Of course, the most inexpensive options are the installation of individual components and the reconstruction of the entire room will cost more, and the most expensive option is the creation of an age-friendly house with a "Smart home" system.
How can I make my home elderly-friendly?
To do this, it is necessary to understand the needs of the older generation. However, universal options provide easy access to drawers and cabinets, creating eye-friendly lighting as well as implementing a safe kitchen and bath draft. The most important points remain the installation of non-slip floors in the building and sufficient width of space.