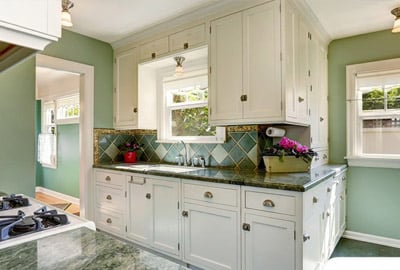 Kitchen renovation is a complex process that requires a professional approach at every stage. Each element of the kitchen plays a role in the final perception of the reconstruction; however, one parameter stands out from the others in terms of importance. We are talking about the color of the kitchen walls because this is the main visual component of this room. The choice of color can make a work of art out of the kitchen or, on the contrary, spoil the impression of what you saw and discourage the whole desire to stay in the kitchen for too long.
When you are considering options for painting walls in the kitchen, you need to analyze not only personal preferences but also such aspects as the illumination of the room or the combination with furniture. So, in general, it's not as easy as it might seem at first glance.
ADU Builders California is always ready to help clients, assist with advice, and take on the most unusual kitchen renovation project. In this article, we will talk about tips that need to be taken into account when choosing a color for kitchen walls and reveal the latest trends regarding kitchen paint.
Features of Selecting the Perfect Wall Paint
Before proceeding to certain shades and trends, it is necessary to introduce you to the universal aspects of the selection of paint for walls, which every person who has decided to reconstruct the kitchen should know.
1. The combination of the Walls Color with the Kitchen Items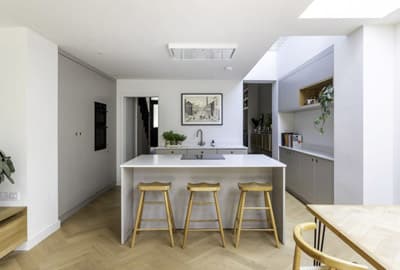 Here we can consider two scenarios. First, if you have not yet purchased kitchen furniture, household items, curtains, and decorative elements since you are going to paint the walls first, then neutral tones may be one of the options. The advantage of such colors is that they do not contrast against the background of other objects, do not hurt the eye, but rather complement the overall picture and create additional harmony. Neutral tones cannot spoil the design of the kitchen and, in extreme cases, attention will be focused on other elements.
The second option is the opposite, when you select the color of the walls, having all the other kitchen items and furniture available. In this scenario, you can try to distinguish a common color pattern among all the objects and try to choose a shade that matches it. The main thing is that in the end, we get a general color scheme in which all the elements complement each other.
2. Illumination and Room Size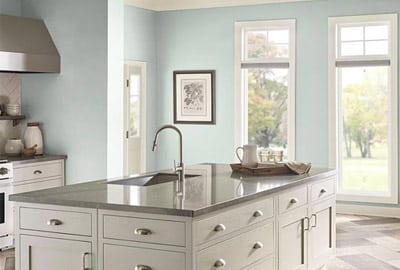 At the initial stage of renovation, when the room is still empty, you can count how many hours the kitchen is illuminated by the sun and how much it stays in the shade. These observations will directly affect the choice of wall paint; for example, very often people make a mistake when picking a black color for a kitchen that faces the north side, since black without a natural feeling can have a depressing effect.
It is also important to remember that light and bright colors create the effect of increased space. Accordingly, if your kitchen is small, it will be an unfortunate decision to paint it dark blue or chocolate brown, because they will reduce it even more, visually. However, the same colors are suitable for a very spacious kitchen, as they will add style to it, and will not affect the visual component in any way.
Overall, be sure to consider these two parameters when picking a color for the walls, because losing sight of them can lead to a failed reconstruction.
3. A Variety of Wall Coverings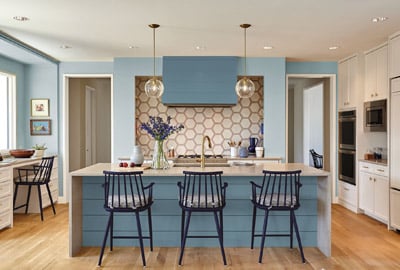 The kitchen is not limited to one wall, and you can always experiment with covering one of them not with paint, but with some other material. It can be tiles, smooth wallpaper, or wallpaper adorned with patterns and textures. Of course, you should not exaggerate and perform each wall in a different format (although if this is your style, then why not?), but you can always add a little variety. Such a decision can be a key moment in the renovation, as it will append showiness and creativity to the design. Every guest who comes into your kitchen will note the unusual approach and your resourcefulness. Thus, the kitchen can become a place for photo shoots and an object of admiration.
4. Think a Few Steps Ahead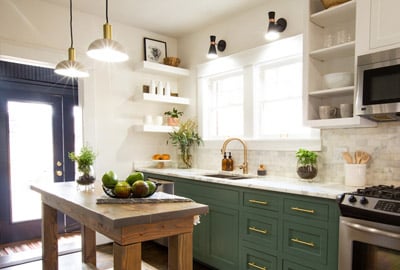 This aspect is important from a practical point of view. We all like impeccable style and beauty, but we should remember that the kitchen is one of the dirtiest rooms, and it must be kept in mind when choosing a color for the walls. If you have small children and a pet, it will be rash to select white paint, which is likely to get dirty immediately after the renovation is completed. It may also be a mistake to choose a shiny black, on which every speck of dust and spot will be visible. There are a number of shades on which dirt is practically invisible, and, perhaps, it is worth considering one of them.
5. Be Flexible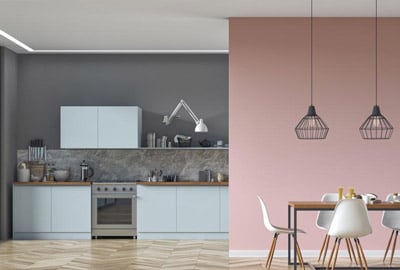 During the reconstruction, most of the plans that you have outlined are likely to change, and the choice of wall paint is no exception. For example, in a store you can't buy the furniture you originally wanted, the pick will change and, accordingly, the set of wall paints will also undergo adjustments. There can be many similar situations, so you don't need to focus on just one color solely. The most important thing is to keep calm, consult with specialists from ADU Builders California, and remember that any difficulty associated with reconstruction can easily be solved. Flexibility in the choice of colors will help to avoid unnecessary emotional shocks and achieve the desired result.
6. Choose A Color That You Won't Get Bored Of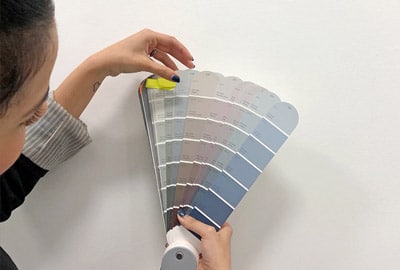 Selecting a color that will match the furniture or the format of the room is important, however, even more essential is your love of color. Any reconstruction is a global project that is designed for long-term use. In this regard, we advise you to pick a color that you will enjoy every day and that will not bore you in two weeks. The color of the walls should please your eye, and give energy and positive vibes. Extremely sad is the situation when a person succumbs to a fleeting impulse, chooses a color based on emotion, and then wants to get rid of it as soon as possible, which will lead to another long repair.
To avoid such a situation, we recommend you seek the services of ADU Builders California, which will always guide you on the right path and help you make the right and beneficial decision.
The Latest Wall Paint Trends
We have prepared for you the top-5 most trending and fashionable wall paints that will add style to your kitchen and will not leave you or your guests indifferent.
Terracotta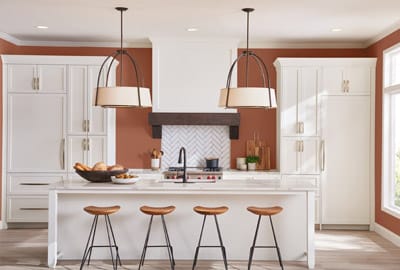 Every new season, terracotta color claims to be the most popular, fashionable, and in demand again. This shade is a combination of red and brown, and many call it "earthen." However, this is not entirely true, since the correct name is "the color of clay bricks". The advantage of terracotta is that it is perfectly combined with all-natural shades, the color of milk and coffee, as well as blue. Terracotta brings balance to the bright colors and adds harmony and depth.
Terracotta is very common in various cultures, so if you want to create an atmosphere of the southwestern states of the USA or mysterious Japan, then this color is a perfect pick for you. Overall, terracotta will help fill the kitchen with warmth and comfort, so it has every chance to get on your shortlist.
Red & White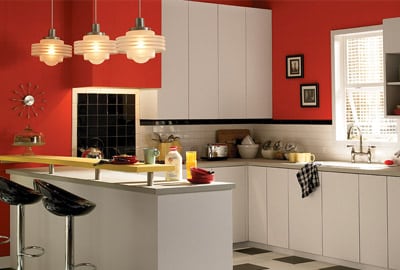 A combination that belongs to the ageless classics. This duet can be interpreted in two paradigms. Firstly, as royal and majestic, because many kings and queens dressed in red and white robes. Since then, these two colors have been associated with power, might, and dedication. Secondly, as festive, red and white are the colors of Christmas, Santa Claus costumes, gift wrappers, and lollipops.
If you feel that your soul belongs to one of two paradigms, then the red-white tone is your choice. Also do not forget that you can experiment with red and pick cherry, raspberry, wine, ruby, or any other shade.
Pink and Peach Tones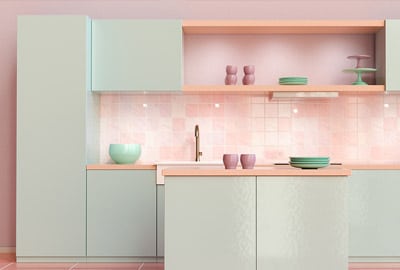 It may seem that pink is too provocative a color for the kitchen, and if we are talking about the color of Barbie, then it is. However, we want to focus on pastel and warm shades of pink and peach, which are perfectly combined with dark furniture. In addition, the peach color has a positive effect in terms of psychological perception.
Here are some examples:
The peach color creates a light and peaceful atmosphere.
Improves productivity.
Visually increase the space.
Supports a festive and good mood.
On the whole, these two shades for the walls in your kitchen can be one of the best solutions in terms of creating home comfort and maintaining positive vibes.
Color of Precious Stones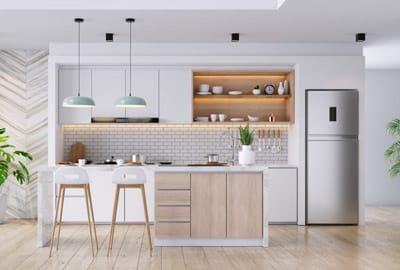 If you want to add l to the kitchen, but do not want to turn the design into kitsch, then such shades as ruby, turquoise, diamond blue, malachite, or emerald will suit you. The advantage of such colors is that there are more than thirty of them in nature and here you can show flexibility, which we mentioned earlier. The fact is that some colors have similar shades, for example, sapphire and lapis lazuli, which are practically no different, but both look exquisite. And if you can not buy a sapphire paint, then you can always switch to lapis lazuli without loss of quality.
Succulent Color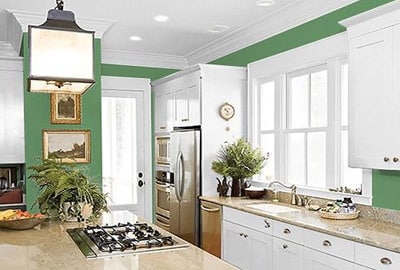 The latest trend in the design world is the color of succulent, a plant that grows in the driest places on the planet and has a calm, but at the same time rich green color. Most shades of green get bored very quickly and go out of fashion, for example, light green or lime color. However, this cannot be said about the color of succulents, which, firstly, will give your kitchen a natural look, and, secondly, will be perfectly combined with almost any color of furniture and floor.
The green color of succulents is associated with life, movement, and freshness, so it is pleasant for everyone to look at it. If you are faced with the dilemma of picking wall paint, then you can safely choose the color of the succulent, which is universal, but at the same time a non-trivial solution.
Professionals from ADU Builders California are ready to undertake the most complex renovation project of your kitchen. They will advise you on any issues and perform the reconstruction at the highest level. The choice of ADU Builders California guarantees an individual approach to each client, the best price, and, most importantly, satisfaction with the result.

×
Get extra 12% off