Museums are the number one destination for almost all visitors to the city and its permanent residents. If there are few museums in the city, then the dilemma is where to go today and where to go tomorrow does not exist. This does not apply to Roseville, because in this city there are many museums on various themes, and it is very difficult to choose a museum to go to in the first place because each of them is attractive and interesting.
Read this article, which presents the top 8 museums in Roseville that you must visit and make your choice. However, we warn you right away, regardless of whether you go alone or with your family, you will want to visit each of these museums without exception.
Maidu Museum & Historic Site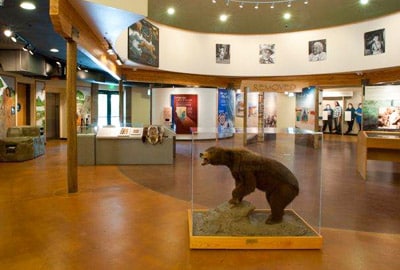 The museum of the Nisenan Maidu tribe is suitable for all lovers of ethnography and history, as here you can study in detail how the indigenous Indian tribes lived, and how their way of life and culture were arranged. The museum will tell guests about the technologies used by the Indians in hunting, subsistence, agriculture, and fishing, for example, the exhibits illustrate in detail the process of basket weaving or processing acorns. In addition, the museum is filled with exhibits of animals and plants that could be found in these places several thousand years ago.
The most important feature of the museum is that it is not limited to one building or a couple of rooms, but spreads over a large area. The beautiful nature that surrounds the museum amazes guests more than the internal exhibits because walking along Indian paths you can stumble upon stones with rock carvings and petroglyphs that were carved by members of the tribe. Through these images, you can try to understand what the Native Americans were thinking, dreaming, and what they wanted to say to future generations.
Each of us knows what modern California looks like, but few people have an idea of what it was like 3,000 years ago. Maidu Museum & Historic Site provides a unique opportunity to immerse yourself in the atmosphere of ancient California, study the history of the state in great detail, and explore the places which the Indians called their home for a long time before us. If you like this museum, then you can always buy a talisman in the souvenir shop.
Roseville Telephone Museum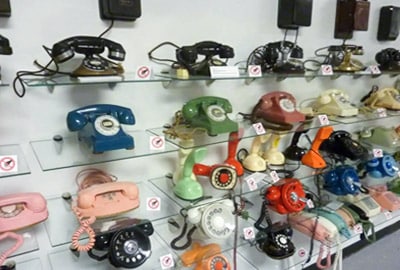 In the modern world, a smartphone is an integral part of any person's life, however, a hundred years ago a phone was a luxury item and ordinary people could not even dream of it. Over the years of the existence of telephone communication, this device has gone an amazing way from a bulky item to a gadget that fits in the pocket of jeans or a jacket. If you are interested in finding out how phones have changed and want to see the rarest specimens, then be sure to visit the Roseville Telephone Museum.
Despite the small area, the museum has one of the largest collections of phones of various models and years of manufacture. Exploring the models, you can study the evolution of the technology of telephone devices and among the hundreds of varieties of phones, you will find one that you have not even heard of. The Telephone Museum should be on your shortlist of places to visit in Roseville.
Roseville Utility Exploration Center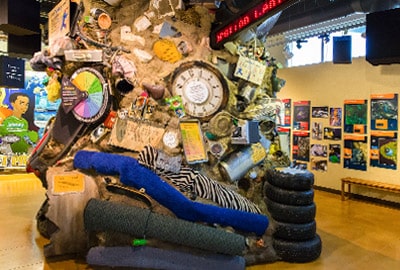 The Utility Exploration Center is not just a museum, it is an ideology that is especially relevant nowadays. Until now, many people neglect the issues of caring for natural resources and proper disposal of human waste, while every year the problem becomes more and more global. For this reason, it is very important that from an early age children know what energy and water conservation, separate garbage collection, and an eco-friendly lifestyle are. Roseville Utility Exploration Center is a great place where not only children but also adults can learn about how they can help nature and make life safe for health.
Roseville Utility Exploration Center is not only exhibitions but also several activities in which everyone can take part. For example, take part in the Utility Tour, become a volunteer, or a participant in a school at the center. In addition, the center's employees constantly publish articles about ecology and world issues related to it, so for personal development, you can subscribe to the newsletter and always be aware of pressing environmental and climate issues and stories.
Roseville Utility Exploration Center cooperates with other museums, for example, the Ocean Museum, which you can also visit if you are attracted by the theme of ecology and nature. In addition, the center regularly celebrates various holidays, for example, Green Day. Each guest can take part in the event, acquire new knowledge and help nature in parallel. Roseville Utility Exploration Center is a unique museum because its guests not only broaden their horizons, but also become part of the team to save the world from environmental disasters.
Roseville Historical Society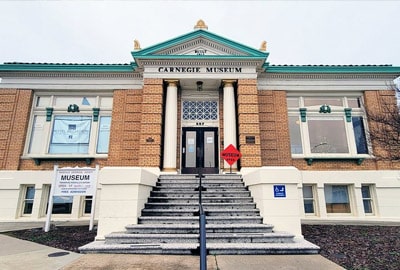 The most amazing story is the museum "The Roseville Historical Society" because more than 100 years ago, the city authorities had to build a parking lot on the site of this building, but one noble family was against it. The head of the McRae family insisted that instead of a parking lot, the city library should be built here and, which has to be expanded soon. The people who took up this case called themselves "The Roseville Historical Society".
Now the library is a temple or citadel of the history of the city of Roseville. All historical documents, books, and stories related to the main events that accompanied the development of the city are collected here. Also in the library, you can find archival materials, interesting notes, and forgotten documents about residents, businesses, and the history of the city. However, the Roseville Historical Society is not just a museum of many books, it is an advanced and interactive platform where various events are constantly organized, for example, a summer camp or a library tour, which make the process of studying history fascinating and interesting.
Roseville Historical Society can attract the attention of both adults and children because regardless of age, everyone will find something that will immerse him/her in the world of the history of the glorious city of Roseville.
Aerospace Museum of California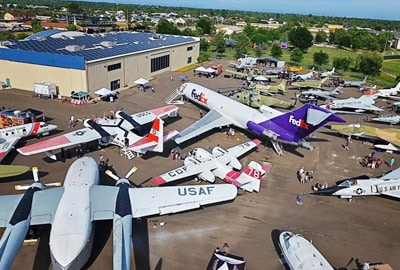 Probably, each of us as a child dreamed of being a pilot and flying super high-speed planes. If you belong to this category of people, then the Aerospace Museum of California should be at the top of the list of places to visit first. The huge room of the museum contains a variety of models of aircraft, both civilian and military. Moreover, among the exhibits, you will find not only American models but also aircraft from all over the world, for example, MIG from Russia.
It is also important to mention that visitors of the museum can see not only the external side of aircraft that performed tasks of various levels of complexity at different times, but also explore their internal components, for example, engines, so that children, and maybe adults, understand how the aircraft works. Sometimes such excursions arouse the desire of young guests to become pilots or car mechanics.
The museum's collection is constantly updated with unusual models, so you can come back here every time you visit California. The museum is interesting for people of all ages because almost everyone is captured by the process of flight and attracts the mystery of the sky.
Western Railway Museum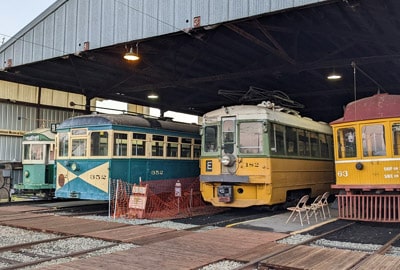 Let's continue our top with the technical topic and talk about the Western Railway Museum. Railways are an integral part of the history of modern America, so it is important to visit this museum both for general development and as entertainment.
Here are three facts for you, after reading which you will want to visit the museum:
The museum's collection is represented by more than 50 exhibits of trains of various models and eras.
The museum gives an opportunity to participate in an 11-mile journey through the picturesque landscape of the Western railway and enjoys the natural views that people contemplated more than 100 years ago.
Every child can feel like a part of history and sit on any train he likes.
The Western Railway Museum is the perfect combination of an interactive excursion and an educational aspect because, after a few hours of staying at the museum, you will feel not only joyful emotions from what you saw but also realize that you have enriched yourself with new knowledge about the railway.
Walt Disney Family Museum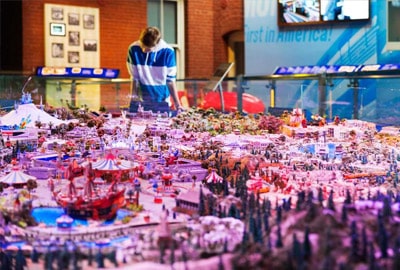 Let's move on to more magical things and talk about the Walt Disney Family Museum. From the name it becomes clear that this museum is ideal for families because there is no difference in how old you are, everyone wants to be in a fairy tale at least for a few hours.
In the museum, you can learn about the life of Walt Disney, how he created the largest multiverse, what story is behind each character, and how, from a technical point of view, animated paintings were created, which are now considered iconic. The museum's exposition is constantly being supplemented with new artifacts from the life of Disney, so you can visit the museum more than once, especially since there is an opportunity to watch films from a large library, and it definitely won't be possible to do it all at once.
The most important thing is that visiting the museum gives both adults and children the feeling that in real life there is a place for a fairy tale, something magical and mysterious. The experience of this museum can awaken creative feelings in every person and encourage him to create the masterpieces.
Sacramento Children's Museum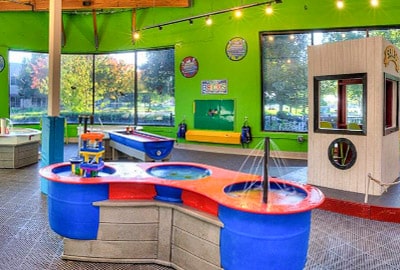 We conclude our top with a museum for the youngest visitors. Sacramento Children's Museum is an ideal platform for learning about the main natural phenomena.
In an interactive form, children will get acquainted with the following natural elements:
Water. Under the guidance of curators, children will experiment with water flows, install boats on the water, and arrange races.
Air. More interesting than water flows will be air masses and an illustration of how air can affect the surrounding objects.
Gravity, movement, and acceleration are also learned through games.
However, the most significant thing is that all these activities take place in the format of team interaction, which allows children to understand how important it is to appreciate teammates and friends, how important it is to help each other to achieve results, and that it is harmful to be selfish. Sacramento Children's Museum reveals to children not only natural but also humanistic and universal values.
Of course, there are many more museums in Roseville than in the presented top, however, if you have not yet decided where you will go with your family first, then you can look at one of the presented museums. Nevertheless, it is better to visit each one in turn. In any case, it is safe to say that every museum will give you unforgettable impressions and emotions.
×
Get extra 12% off