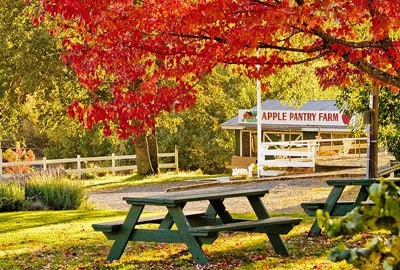 When fall comes around, it is always nice to get outside and enjoy the crisp smell of falling leaves. And although residents of California and its visitors barely even experience the change of seasons, there is one place in the Golden State that can give you the ultimate fall atmosphere.
Apple Hill is one of the best destinations to visit with your friends and family all year round. As the harvest season approaches, the area attracts more and more fans of apple ciders and pumpkin pies. If we were to describe Apple Hill briefly, it is an area of Camino, California, that includes a variety of farms and ranches, as well as orchards, vineyards, and bakeries.
Visiting Apple Hill, CA, is the best way to get into the fall mood. Wander around beautiful gardens, go vegetable-picking, or spend a day trying out local fresh food. Drink lovers will also enjoy their time at Apple Hill, as the place has some authentic breweries and wineries to explore.
Want to know more details about places to visit and things to try out in Apple Hill, California? Read further and get to know the best destinations to visit all year round in Apple Hill.
When Should You Come to Apple Hill, CA?
Some places look good only during a particular season, and there is nothing more disappointing than coming somewhere and realizing that you should have come another time. Luckily, no such problem will occur with your visit to Apple Hill. Farmers welcome visitors from all over the country and abroad any time of the year, and you will surely find something to enjoy whether you come in spring, summer, fall, or even winter.
Many would agree that the most exciting and spectacular part of the year to visit Apple Hill is fall. There is nothing better than a sunny day full of apple and pumpkin picking, cider tasting, and enjoying all the bright colors of the trees. Local farmers also provide a yearly schedule of the harvest season, so you can make sure in advance that your favorite fruits and vegetables are ready to pick when you come.
September is full of apples, and it is not hard to guess where Apple Hill got its name from. If you are a fan of everything apple, including pies, pastries, donuts, drinks, pancakes, and other desserts, then come right at the start of autumn. To have the most authentic farm experience, go apple picking and enjoy the delicious smell of ripe apples.
When October comes around, Apple Hill starts to get ready for Halloween and all the spooky stuff. Visiting a pumpkin patch with your family sounds like a nice idea; just keep in mind that many other people come during this time as well. If you do not like big crowds, it is better to come to Apple Hill in November, which is just as fabulous and bright-looking.
As we have mentioned, Apple Hill is open all year round. So if you happen to be in the area, you can come for wine tasting or walks around vineyards and orchards. Delicious food made out of fresh produce is also waiting for you in Apple Hill any time of the year.
Apple Hill Activities to Enjoy
Whether you have come to Apple Hill, CA, for a couple of hours or several days, there will also be something to try out. Farms and ranchos, shops and cafes, fruit gardens and vegetable patches – all of this is waiting for you in Apple Hill.
The great thing is that this place is not only for family weekends. You can come with a group of friends or with your other half, and you will have the best time either way. Not sure how to plan your day? Let's take a look at some of the best ideas for what to do in Apple Hill.
1. Vegetable and Fruit Picking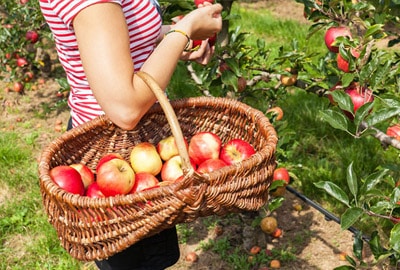 Who does not like having some freshly picked fruits and vegetables on their dining table? If you would like to get the best products and have a fun time filling up your basket, go to the Apple Hill farms and orchards. A wide variety of produce is available to pick from the beginning of summer to the very end of fall. What is more, you can even get your own Christmas tree from the end of November and all throughout December.
Here are some of the fruit options that you can pick with your friends and family in summer and fall:

Cherries;
Peaches;
Nectarines;
Plums;
Blueberries;
Raspberries;
Blackberries;
Apples of many kinds.
Apple Hill farmers kindly provide all its visitors with a harvest calendar that has approximate dates of when each kind of fruit and vegetable is ready to be picked up. You will even find some herbs there!
So, if you are looking for a particular apple variety or a specific type of fruit, you can check the schedule in advance and come right on time.
2. Delicious Food Tasting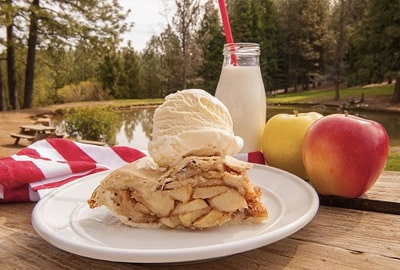 Apple Hill, CA, is also known for its exceptional variety of food options. People from all over the country come to the farms to taste the flavorful apple donuts. It is also a must to try out some homemade apple pies made from freshly-picked fruits. And if you would like to experience the ultimate fall atmosphere, head straight to the stalls that serve caramel-coated apples.
However, do not be fooled by the name of the place and mouthwatering descriptions of all the apple meals. Apple Hill farmers also serve many other appetizing food options that you can find in small food trucks and good restaurants. If you need something to get all the sweetness out of your mouth, then local food trucks are the best idea. They have a varying menu that changes each day, meaning that you can try out different local dishes each time you visit Apple Hill.
For those who prefer to sit back and enjoy their meal, there are several restaurants and cafes that are perfect for checking out with your friends and family. Although there are not that many spots like this on the site, you can visit them on your way home in Placerville or Camino.
Food in Apple Hill is something that every visitor has to try. Come in different seasons and see how the local menu changes. Choose some of your favorites and enjoy the best time in Apple Hill, CA.
3. Wine and Cider Tasting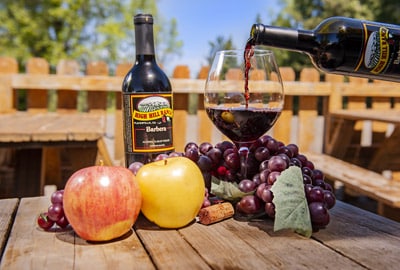 Another fantastic way to spend your day at Apple Hill is to go wine and cider tasting. Unique wineries that produce some of the finest wine sorts in the state have their doors open for anyone of age all year round. Thus, you can come even when it is not harvesting time yet.
You can dedicate a whole day to exploring vineyards and degustating various drinks, or you can end your long vegetable-picking adventure by relaxing with a glass of wine. There are several wineries to visit, so there is a chance to try out a new one every time you come to Apple Hill.
Another fantastic drink that just screams fall is apple cider. Of course, in a place where apples are the focus of attention, it would be impossible not to produce some sweet and sour-tasting cider. Breweries all over the site sell this fantastic drink made of different apple varieties.
The great thing is that you can also try out some other brewed drinks at the stalls where cider is sold. Whether you are a fan of craft beer, ale, IPA, or any other beverage of such type, you will definitely find something to sip in Apple Hill's breweries.
4. Attending Events and Concerts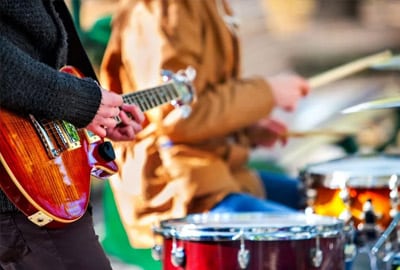 Who would have thought that you could find so many entertainment opportunities in a farm area? Apple Hill is full of surprises, one of them being regular events hosted on local stages and right on the farms. What is more, there are different types of activities, so you can choose something to attend with little kids during the day or come with friends in the evening to chill and have a fun time.
The program changes every year, so it is better to check the official schedule that Apple Hill kindly provides in open access for all visitors. You should learn the dates and time slots in advance, so you can plan a day full of activities and Apple Hill exploring.
Some of the most anticipated events include the following:
pumpkin and apple picking contests;
trail passing;
barrel tasting;
trick or treating, and others.
Apple Hill also hosts concerts and festivals regularly, especially during the summer months. You might even stumble upon music competitions from time to time. Nothing sounds better than enjoying live music with a glass of local wine and freshly baked apple pastries!
5. Relaxing in a Hotel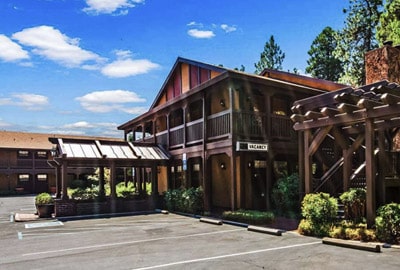 Last but not least, you can always book a stay in a luxurious hotel and have a relaxing night after exploring Apple Hill. This way, you can dedicate a whole day to trying out delicious food and drinks without worrying about a long drive home.
Hotels in Placerville and Camino, which are located just near Apple Hill, are great both for a romantic stay with your loved one and for a comfortable family getaway. Whether you are visiting Apple Hill with your kids, friends, or even alone, there are some great staying options.
Although the hotels might not be the cheapest option, they are surely worth it. From spa and freshly made meals to outside fire pits and fabulous views, hotels near Apple Hill have everything you need to experience the most relaxing and pleasant time.
Why You Should Visit Apple Hill, CA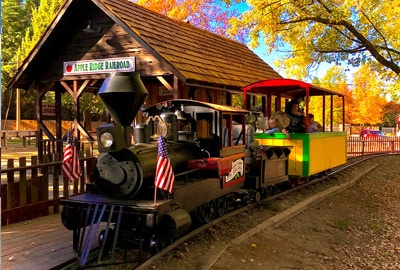 As you can see, there are a lot of opportunities to make the warmest memories with your family and friends in Apple Hill, CA. Visit some of the best farms in the country and have the best time exploring around. You can slowly walk through a wonderfully smelling apple orchard or try out the farm life yourself and pick some fruits or vegetables.
Getting hungry after a long time in the fresh air would not be a problem at all. Apple Hill is full of shops, cafes, restaurants, and food trucks that sell delicious meals made of freshly picked produce. Whether you are a fan of sweet pastries or you prefer some proper meals to fill your stomach with, Apple Hill will surely offer you plenty of options.
Adults can also have a fantastic time trying out local drinks. Wineries that are open all year round produce some of the best wine in the area. And infamous Apple Hill breweries will provide you with the finest brewed drinks, like apple cider and beer. Such a selection of drinks makes Apple Hill a great location for celebrations and group events, such as weddings, birthdays, and anniversaries.
Speaking of events, you can also attend some of the locally hosted functions. Apple Hill has something for kids and adults of any age, so you will not get bored even while your kids have a great time playing around. Each season has its own type of events, and during the year, Apple Hill hosts concerts, festivals, fruit and vegetable picking competitions, trail passing, tasting sessions, and other exciting activities.
No matter what time of the year you choose to visit Apple Hill, CA, the place will surely meet you with a warm welcome. The authentic atmosphere of local farms is perfect for a getaway from noisy cities and some fun time with your loved ones. Choose the activity you would enjoy the most and have an unforgettable experience of visiting Apple Hill!