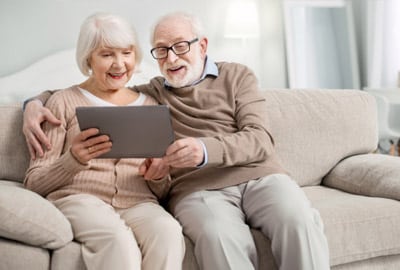 Accessory dwelling units (ADUs), which are sometimes called granny flats or backyard cottages, have recently become a real trend in the world of construction as they provide enormous options for flexibility and versatility. Many homeowners across America have already installed this affordable housing option on their lot next to their primary residence and do with them whatever they want. Some of them decided to find tenants to generate rental income, while others transformed this living space into their home office. However, nowadays, the option of creating an accessory dwelling unit for your aging parents seems like a perfect solution to provide care to the elderly.
Accessory dwelling units are great options to be turned into assisted living facilities if you want to keep your family members close to you. Moreover, you can install any elements like handrails and grab bars to avoid any inconveniences while navigating around the house or level up security measures. But people who take care of the health of your relatives, the caregivers, also need certain resources and support.
The following article will help you find out more about financial assistance for caregivers, caregiver support services, coaching and counseling services, and much more.
Government-funded caregiver support programs
Thanks to the government, nowadays, it is much easier to find the needed money and personnel that would take care of older adults and help them deal with physical and psychological demands. The list of government-funded support programs is quite long, and it doesn't cease to grow, with different options added every now and then. Let us take a closer look at some of the most popular programs.
National Family Caregiver Support Program
This program is considered one of the most popular and helpful to people who want to take care of their loved ones at home. With the help of this program, you or the state can receive info about services, special training, or even individual counseling. All this will be extremely useful to the caregivers caring for retired adults.
Older Americans Act
Being the first federal program focused on the support of the elderly, this act hasn't lost its usefulness ever since 1965. Every now and then, it is reauthorized to make sure that it fits the current world and can provide special services to people in need. The benefits of this program are grants and social and nutrition services to a wide range of caregivers all around America. Training, research, and demonstration services are also included!
Veteran-Directed Care Program
Taking advantage of this program, you will be able to take care of veterans of all ages by providing special resources while giving them the opportunity to live at home and not fall out of the community. Being adopted by various states, there are differences in the application of the acts, so you better check out which program works in your state.
Non-profit organizations offering caregiver resources
For people who are not looking forward to interacting with government programs and bureaucracy, there is a wide range of non-profit organizations that can provide support to caregivers.
Here you can see some of the examples of these organizations:
The Alzheimer's Association
As you can tell from the name, this organization mostly works with people suffering from Alzheimer's disease and different forms of dementia that can seriously affect brain functions. It has chapters and communities all over America, so if it fits you, you can contact the local office.
The Caregiver Action Network
The main goal of this organization is to provide educational opportunities and advocacy to caregivers working with older relatives. On their site, you can find more info about possible webinars or useful newsletters.
The National Alliance for Caregiving
If you have been looking for the opportunity to improve the quality of life of family caregivers or families working with the elderly, this is the community you have to visit. They provide special programs and technical assistance for such families so they can improve their skills and get some more knowledge.
Online caregiver support groups and forums
Family caregiving is important for the nation and your community alike, so getting as much knowledge as you can is essential to provide proper care. To make knowledge more accessible, there are special sites organized to connect lecturers and caregivers all around the world. The main benefit of such sites is the possibility to connect from home, removing the necessity to visit other places. Moreover, you will be able to keep your privacy and not participate in such meetings offline.
The most popular online caregiving platforms are:
Caregiving.com
Agingcare.com
The caregiver space
Parkinson's Foundation
My caring plan
Visit these sites to find valuable online resources for family caregivers.
Professional caregiver training and education programs
For caregivers, special training is as important as empathy and industriousness. But where to get this necessary knowledge? Thankfully, there are professional caregiving training and education programs provided to caregivers to make them well-prepared and face the challenges of the profession with ease.
The most popular special training programs are the following:
Certified nursing assistant training allows everyone interested in getting basic nursing skills. Don't expect extremely deep knowledge from this program as it covers only the basics, but despite this fact, everyone who passed the training is able to work in a nursing home or assisted living space.
Home health aide training offers the necessary knowledge for caregivers living in the same property as the care recipient. ADUs offer great opportunities to be involved in close interaction with the adults who need care, so this training, apart from necessary medical skills, provides knowledge about nutritional support and meal preparation, both being valuable skills.
Dementia care training allows easy access to everyone involved in the care for people with memory loss or dementia to get special knowledge and skills. The most important factors here are emotional support and assistance.
As you can see, with the wide variety of senior network services, it is easy to get special training for day-to-day care to people involved in caregiving.
Respite care options for caregivers
People built ADUs so they could be located next to the main house, and all the relatives would live close to each other. For certain people, it allows them to generate additional income, but for others, it is the opportunity to take care of their loved ones in person. However, all of us have to work daily, and sometimes we don't have this opportunity. That's where respite care comes into play.
This option means that people working for care facilities will take care of your family member in your existing home (ADU) only for a certain period of time, for example, when you are out of town or at work.
Care facilities control the needed quality level of the services and provide the same benefits as therapeutic activities or medical monitoring. A great option for everyone who needs to take a break from their responsibilities!
Financial assistance for caregivers
The cost of caring is not cheap; everyone understands that. For sure, there are many additional expenses when taking care of your loved one, and homeowners somehow have to get this money. To ease the burden of caregivers, there is various financial assistance that is bound to compensate a bit for the money spent. We would like to give you a quick look at the most interesting ones.
Overall, financial assistance programs carry all kinds of benefits. First, Medicaid Waiver Programs cover expenses like medical equipment, personal assistance services, and even home modifications. Who knows, maybe they have money for ADU development for your loved one? Second, Social Security Disability Insurance provides support for family members who cannot work anymore on the basis of their disability. However, the previous work history should be considered. Lastly, Veteran Aid and Attendance obviously, provide support to the veterans to help with daily living.
As you can see, the choice of the program depends entirely on your needs and the level of disability of your loved one. You can always check other accessible programs on the Internet.
Legal resources for caregivers, such as the power of attorney and guardianship
Even though most of the relationships are built on trust and confidence, local governments do not believe in such measures, and if you want your loved ones to get the needed care, it is better to put everything on paper. Usually, there is a list of documents that would remove any allegations concerning incorrect care. Next, we will discuss the necessary documents that both caregivers and care recipients need to possess.
Power of Attorney
The main document that should appear in any caregiving issues is POA. It allows caregivers to act from the position of the care recipient. Also, individuals will appoint someone as the agent in order to handle issues in case they are incapacitated.
Guardianship
In case a family member cannot make their own decisions or act sensible, there should be another person who will make all the decisions. That's where guardianship comes into play. Not being a document but rather a process, it also participates in all legal maneuvers concerning care recipients.
Other measures
For sure, there are other documents specific to certain cases. First, Healthcare Proxy allows you to legally make medical decisions for the disabled relatives of the homeowners. Then, Living Will states what can and cannot be done in case of a terminal illness or incapacity. Next, to guide you through the pitfalls of the bureaucracy, there is Resource Referral which will connect you with attorneys and legal aid organizations.
Support for caregivers of individuals with specific medical conditions or disabilities
People receiving care in granny flats can suffer from different kinds of illnesses. In living quarters, it may be impossible to find knowledge about the costs of that care or even get access to this info. However, one of the many benefits of the Internet is accessibility to information. We have decided to tell you more about support programs for individuals with specific medical needs.
In the following list, you will find the most popular programs:
Autism Speaks
ALS Association
Alzheimer's Association
American Cancer Society
National Multiple Sclerosis Society
No matter what age the care recipient is, finding the right community is both important and easy. Use this knowledge to ameliorate their life!
Caregiver support services offered by healthcare providers
Building an ADU is an essential step towards creating space next to your main property to give your relatives access to medical services and services from caregivers. However, the apartment building is not the only thing that needs to be done. More important are the support services offered by healthcare providers. Among them, there are some that definitely need your attention.
First, caregiver training programs allow them to discover the best practices and necessary skills for caregiving. Next, Home Health Care Services focus on working on your property, transforming your living space into some sort of nursing home by providing care to your loved one.
Moreover, Care Coordination Services will help caregivers to navigate the health facilities, schedule appointments, and manage medications — necessary skills for any worker!
Caregiver coaching and counseling services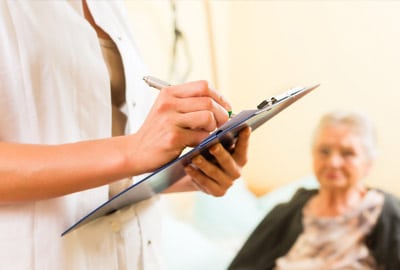 Caregiving is not an easy task and is paired with many inconveniences. For sure, someone has to take care of caregivers themselves. To maintain their physical and mental health at the same level, there are special services ready to help.
Talking to friends and getting therapy this way is great, but special services can teach you stress management much better. Moments of crisis come to every one of us, and it is necessary that you know how to get help from the community or manage it by yourself.
Also, everyone needs financial assistance to manage money in the best possible way. You can invest them to get rental income or spend on your adult children; the possibilities are endless. The advisor will get you the right way of managing finances.
Last but not least, legal advice. Every now and then, there are single families that will want to take advantage of your lacking knowledge of the law. One of the many benefits of the law advisor is helping you avoid the pitfalls of modern legal institutes.
Frequently Asked Questions — FAQ
How many projects have you already completed?
It is almost impossible to count how many accessory dwelling units we have already built as the working area of our company is truly enormous. We have provided housing options to people living in California cities, Bay Area cities, Humanity Monterey Bay, San Jose as well as Santa Cruz. Having built both single-family ADUs and multigenerational housing, we surely know how much independence costs and what homeowners and their family members need.
How long does it take to build a unit?
The process of building an ADU may be quite long, but overall it depends on the complexity of the project, your community, homeowners, and family budget. For certain families, the cost of building a unit is just a regular expense, while other families take loans to build one. To avoid this, it is better to choose a unit that won't be that big but which will be built faster.
What can an ADU be used for?
One of the many benefits of an ADU is versatility. Both single-family or some adult children for whom it is the first housing option will find a way to use it after building an ADU. To keep the family close, you can let them live in your ADU. Or if you decide to sell your main home, selling the house with the unit will increase the cost of the property. Be it San Jose or the Bay Area, every family is sure to find a way to use this unit in the right way so the cost of it would pay off.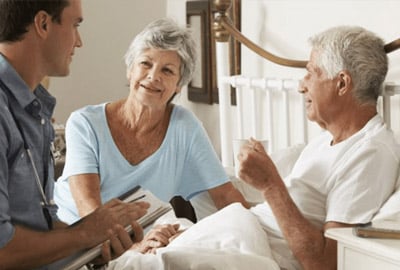 Providing care for seriously ill people, for example, cancer patients is a very difficult task. Many people prefer to transport their family members to special institutions that specialize in palliative medicine. However, specialist palliative care in a nursing home will not replace the atmosphere that you can create in your living space and which will fill a person with energy and delay death.
The primary dwelling unit is not the best option for this purpose, unlike ADU, which you can equip by all the needs and desires of the patient. Moreover, the decision to build an accessory dwelling unit has a number of other positive outcomes, e.g., the opportunity to increase the value of the real estate and receive rental income in the future.
In this review, we will tell you how ADU for end-of-life care is better than a traditional hospital, what stages advance care planning consists of, and also share useful insights on how to create a high-quality living area that will be comfortable for the patient and practical for the caregiver.
The benefits of having an ADU for end-of-life care
There is clear evidence that ADU is many times superior to a traditional hospital in terms of providing comfortable conditions and appropriate treatments for terminally ill adults. Here are some examples of the benefits of ADU advanced care planning. Firstly, ADU keeps all the principles of personal space because it has a separate entrance. Secondly, when a patient is surrounded by close people, he will feel emotionally better because the number of home visits is unlimited. Thirdly, shared decision-making by close people guarantees that a patient will get all amenities.
Finally, home support reduces the cost of maintaining a patient in a specialized institution, which means you can spend these funds to improve living facilities in ADU.
Design considerations for ADUs used for end-of-life care
The living spaces intended for social care have a number of cardinal differences in the aspect of the organization design due to the specifics of the needs of patients. Accordingly, if you have decided to equip an ADU for your family member for end-of-life-care purposes, then you should know a few basic points.
We identify five fundamental factors:
Install large windows
If you have visited hospitals, you have probably seen that all patient wards are equipped with large windows so that fresh air constantly circulates in the room. It helps to reduce the risks of viral and colds, and also adds clarity of mind and simply refreshes.
Avoid fluorescent lamps
One of the conditions of appropriate care is the selection of the safest light because bright, cold, and flickering lamps have a very negative effect on health and cause migraines. In contrast, a warm light that does not shine into the eyes is the most advantageous option, as is natural light, which in addition carries vitamin B.
Create mobile corridors
We cannot imagine a healthcare setting without space for movement; for example, nursing homes have corridors so that doctors can turn the bed with the patient 360 degrees. Accordingly, it is best to follow these rules in your ADU, as this will greatly simplify the performance of social care tasks.
Improve the interior in a positive way
Emotional support can delay the moment of death and bring a lot of positive emotions to palliative care patients. To achieve this effect, we recommend adding more decorative elements to the room, not using dark colors, installing speakers with good music, or decorating the space with favorite posters or paintings of the patient. All this will help to overcome distressing symptoms and fill a person with positive energy.
Optimize storage space
To achieve mobility, it is not necessary to expand the space because it is enough to optimize storage spaces. In particular, you can take advantage of floating shelves, hidden surfaces, space behind the door, and, in principle, all vertical areas that people often underestimate.
Overall, the list does not end there because you can learn about a specific person's wishes and continue to improve ADU. In any case, a properly organized ADU will greatly simplify the daily living of both patients and older adults or young people who provide care.
Legal and financial considerations for building an ADU for end-of-life care
In most cases, the so-called granny flats or mother-in-law-suite ADUs are the most preferred options for providing palliative care, and completely different legislative norms apply for such projects in comparison with the construction of a main unit. In particular, before the builders laid the first brick of the building, you need to study the zoning rules, the maximum allowable area and height, the distance between units in the yard, and the wording regarding the parking area. An ordinary person does not have enough knowledge of legal formulations, so it is best to cooperate with a lawyer. To get access to the construction, you need to send the final draft of the ADU to the local authorities for approval.
Regarding financial decisions, the range of choices is also wide because ADU is an affordable housing option. The variant of spending personal funds is not a priority because families who carry out palliative care already face many challenges. In this regard, you can consider such options as a personal loan, home equity loan, home equity line of credit (HELOC), cash-out refinance, or you can borrow money from friends or relatives.
The Role of Technology in ADU end-of-life care
Advanced care plans are continuously connected with technological progress, which makes it possible to maintain human health and life at a good level; this also applies to people dying from incurable diseases.
If you incorporate the following technological features into your ADU, you will make it even more upscale:
Adjustable thermostats. The basic factor of health care coordination is the creation of a good temperature regime and smart thermostats that analyze people's preferences to cope with this task.
Controlled bed. It is essential to maintain good physical health against any disease, and a smart bed will help in this, as it can change positions and massage atrophied muscles.
Voice assistant. Among the different types of smart systems, the voice assistant is indispensable since if the patient is unable to do something, then he can perform most household tasks using his voice.
Medication reminder. In the hustle and bustle of life, adults forget to bring medicines to patients. However, smart reminders will take the management level to a new level, and you will not have to keep thoughts about medicines in your head.
Entertainment functions. When we talk about deadly illness, we do not mean entertainment; however, every patient wants to distract himself, and various settings of the smart home system will help him in this, e.g., people can easily find an interesting video or audiobook.
In sum, even a superficial assessment will show that no palliative or clinical care in the hospital will provide the patient with such a high-quality level of comfort. So, there are all reasons to make these multiple services part of your living area.
ADU modifications for end-of-life care
Not every ordinary living area is designed for home care, so if a homeowner needs to maintain the health of patients, then it is necessary to resort to basic care settings. These steps may include assessing the accessibility of the area, freeing the room from unnecessary things, installing a specialized bed, creating conditions for the penetration of natural light and good air circulation, as well as installing handrails. Of course, this is the minimum that you can implement asap, and future care will require more modifications.
The impact of ADUs on end-of-life care costs
It's no secret that prolonged treatment and subsequent palliative care for a person who suffers from serious illness are large expenses that can become an insurmountable burden for the whole family.
However, different research have recently appeared on the topic that ADU is a more profitable option for providing palliative and primary care:
Saving on distance. A very large part of the expenditure is the movement between public health institutions and the home. Sometimes receipts for taxis and gasoline reach hundreds of dollars, and if you place patients in ADU, you immediately save a decent amount of money.
Variability of treatments. The money that you could spend on a place in a nursing home, you can spend on more effective treatment options.
Extra income. The main benefit of ADU is the possibility of using it for long-term or short-term rentals, so investing in real property for end-of-life care is guaranteed to pay off and cover all the costs of treating the patient.
On the whole, the treatment process of seriously ill patients is always associated with large transport, medicinal, and closing costs. However, the construction of an ADU from all sides is a profitable option that will help you not only save money but also implement a more effective end-of-life care service provision.
The role of caregivers in ADU end-of-life care
The role of family caregivers in providing support for dying people is hard to overestimate. They provide out-of-hours services and spend a lot of energy and emotions to ensure a good standard of life for palliative patients. Fortunately, technological and modern ADUs greatly simplify the implementation of social care and management of all tasks, especially the Smart Home system; e.g., if informal caregivers do not have sufficient knowledge to do something, then the voice assistant will share with you all the necessary information.
The importance of communication in ADU end-of-life care
Effective end-of-life support is impossible to imagine without well-established communication, and, in principle, the possibility of direct communication is one of the reasons why homeowners refuse care homes.
Regarding this component of creating an ADU, it is important to consider several vital points:
Firstly, if you have a connection with the patient, then in case of unforeseen circumstances, he can call you using a voice assistant.
Secondly, if you are doing your business in the main house, and the patient is in the ADU, then you don't have to worry about his safety since you can monitor activity through screens.
Finally, if we are talking about personal communication, then according to various resources, dialogues with both children and adults bring a lot of positive emotions and relieve a dying person from negative thoughts.
ADU end-of-life care and hospice services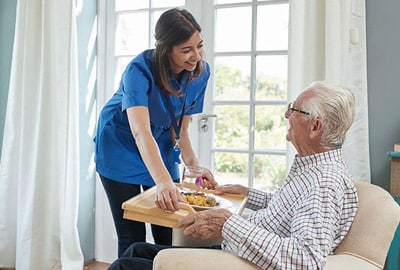 We can say without any exaggeration that no hospice, hospital, or national institute of social care service delivery will replace ADU, and maybe for this reason, patients call it the most preferred place. ADU can be designed for a concrete patient, which means it will meet all his needs and desires, thereby giving life energy.
The impact of ADUs on end-of-life care quality of life
Summing up all the outcomes of our review, we can say that ADU is an ideal place for patients. It is as technological and practical as possible. However, the most important thing is that you and close relatives will surround the patient, thereby prolonging his life and giving him positive emotions. You can also use the article share feature because community-based help is invaluable in the improvement of the life of palliative patients.
Frequently Asked Questions — FAQ
What are the main steps of creating an ADU for palliative supportive care?
To provide comfort for people living in ADU, we recommend installing large windows, getting rid of bright cold light, creating mobile and spacious rooms, installing a Smart Home system, as well as conducting further research to identify specific needs to increase patient satisfaction.
How can a Smart Home help in health support and treatment?
Smart Home greatly simplifies the implementation of most care services. Patients can use the voice assistant to fulfill basic needs; the smart home adjusts the ideal temperature regime, as well as ensures safety, and monitors health indicators.
What is the average cost of ADU for palliative elderly care?
Each project is unique, and its cost is influenced by many factors, e.g., the number of square feet. However, without any research, we can say that a detached ADU or ADU conversion will cost more than a tiny house that is attached to the house. In addition, we recommend choosing optimal timing for construction because the construction of ADU in the summer will cost much cheaper.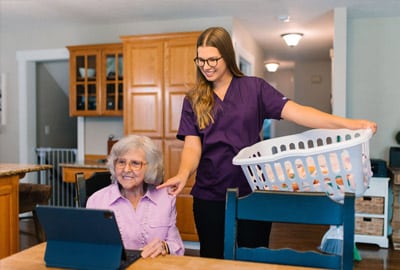 Accessory dwelling units (ADUs) have been built on the lots of many Americans throughout recent years and used for a variety of reasons. Some of them prefer to boost their rental income, some use secondary units to provide living space for their adult children who start their own families, and certain people like to set up their own home office. However, among these options, one of them certainly stands out: many homeowners use their granny flats to provide care for their aging parents.
Family caregiving has always been under heated discussion, and it doesn't seem that the situation will change in the near future. There is an ongoing debate on whether we have to take care of our family members on our own or confide this responsibility to professionals. By using an ADU in this way, you will combine both these approaches. Your family members will live nearby, and you will be able to invite specially trained caregivers to fit the caregiving needs of your relatives.
However, as you may have already understood, there are some legal and financial considerations and other regulations that you have to take care of before building an ADU that would later be useful for caregiving. In this article, we will discuss the previously mentioned moments as well as insurance options and tax implications. Without further ado, let's start!
Understanding the legal responsibilities of a caregiver
It may seem that being a caregiver means that you will only take care of the care recipient and nothing else, but in reality, there is a number of legal responsibilities, and they cannot come down overlooked. As caregivers are responsible for the well-being of your family members, you have to be sure that they are well-trained and follow the rules that are set up by the government. Let us examine them closely.
Legal Requirements
Normally, there is a set of rules that every person who wants to take care of other people has to follow. These rules include obtaining special certificates, following the laws, and finishing special training courses. All this means that this person will provide the care needed for your family member according to modern standards, and it will allow them to avoid any possible inconveniences that may occur.
Legal Authority
There will be moments when the family caregiver will have to make the decisions. In these cases, legal authority is an important step towards a more formal way of taking care. It may come in three ways: through power of attorney, through surrogate laws, or through guardianship. You have to verify which one is your way of taking care of and whether you really need it.
Care Agreement
If you want to avoid any serious local regulations concerning health care, at least a formal personal care agreement should go through consideration. Here all the rights and responsibilities will be stated so family caregivers will have security and understanding of what they can and must do. This is a great way to avoid any possible family conflicts in the future.
Financial assistance programs for caregivers
Everyone understands that being a caregiver is not the same as being a businessperson – you will not make a fortune on it. And it is great that local governments, as well as the federal ones, understand it and try to make life easier for professional caregivers by introducing different assistance programs. On this basis, they all serve one need – to offset the costs of caregiving.
The most popular financial assistance programs are:
It's unlikely that you have not heard about Medicaid at least once in your lifetime. Being the most popular government program in the US, it provides health insurance for people of all ages who need assistance. For us, it is also useful, as seniors and disabled people are also included in the program. However, the amount of money you will receive depends on the family income and the needs of the care recipient.
This is another national program that will allow you to compensate the cost of caring for and maybe the cost of ADU construction to the homeowners. Normally suitable only for people aged 65 and older, it also can be used by younger people with certain disabilities. Both Medicare and Medicaid insurance programs can be found in specific centers with the same name, so there, you will be able to see which one fits your care recipient more.
Social Security Disability Insurance may not be that well-known, but it also can provide substantial benefits to disabled people who need care. It gives away monthly benefits to people who cannot fulfill their work duties, i.e., cannot work because of their condition. It is also possible for the caregiver to get a portion of the benefits if the care recipient successfully qualifies for SSDI.
Tax implications for caregivers
Not only is it possible for caregivers to get direct assistance from the government, but also they can have certain tax implications. Normally, it means, among other financing options, guaranteed tax deductions and credits available to caregivers.
First, the dependent care tax credit is a great example of such support from the government. Based on your expenses, you can claim from 20% to 35% of your money spent back. However, the maximum is $3000, so any sum above it will not qualify for compensation.
Second, if you have been looking for ways to reduce your expenses, health savings accounts are another thing that needs to be considered. Having one allows easy access to the money you have set aside to pay for medical expenses. Moreover, you will be able to deduct them from the taxes you pay. All this seems like significant benefits toward having such an account.
We have mentioned tax deduction, but we have almost forgotten about the real deal here – medical expense deduction. Obtaining one doesn't need you to own a health saving account, but you will be able to deduct only those medical expenses that exceed 7.5% of your adjusted gross income. Yes, the interest is not that big, but it can give substantial support to all families, especially a single family taking care of older adults.
Estate planning considerations for caregivers
For us, death seems like a matter of the distant future, but nobody knows when it will come as it is always unexpected. Death may come to the care recipient too, and even though it seems like a difficult idea to get along with, there are certain precautions that have to be taken.
Apart from care during the lifetime, the following estate planning considerations should be considered:
You have to discuss with your aging parent all their thoughts concerning the will. Who will take possession of the existing home? How will the heritage be divided between the family members? What can and cannot be done with tiny homes? It is better to answer these questions before it's too late.
Another important step of estate planning is healthcare directives. For sure, there are wishes from your loved one concerning end-of-life decisions and medical care prior to this moment. Nobody wants to disobey the last will of older homeowners, so solve these issues now.
Another "powerful" document is a power of attorney. Apart from deciding on who will be the successor of the housing and other assets, there should be a person eligible for decisions on behalf of another person, which is stated in a power of attorney. So, this will help you solve any housing issues that may take place.
As you can see, like in any other sphere of our society, legislation is important to pay attention to. Without some acts, it may be impossible to control the assets of your loved ones in case of their death.
Medicaid eligibility for caregiving expenses
Even though Medicaid is the most famous and useful program for caregivers, the government cannot give it to anyone who applies for it. Hence, there are certain requirements that have to be met. The main condition to get the money is the presence of the resident of a certain state in the state where you apply for financial support. Next, there are financial and functional requirements. Let's discuss them closely.
Financial requirements
As a rule, these requirements are different for every state, eligibility group, or monthly income. The amount of money you get depends on the Federal Poverty Level or Supplemental Security Income. However, the upper limit is $2000 for a person. Don't forget that being over the income, you can still qualify for Medicaid. But if you have trouble getting the necessary documents or have questions concerning this aspect, you can always ask for help from professional Medicaid planners.
Functional requirements
This aspect means that the amount of money you get and the sole fact that you get the money depends on the need for assistance. Does the care recipient need help with mobility? Or do they require special meal preparation? All these elements are crucial to consider while making a decision on giving you the assets. As usual, the requirements vary from state to state, and it may be worth checking what factors are taken into consideration in your area.
Legal Considerations for Hiring a Caregiver
It is always better to take care of your loved ones by yourself, especially if you have a granny flat or other housing options on your lot. However, there are situations when it is simply impossible for you. The main way to solve it is to start working with senior network services which provide care to people in need. Among other measures is hiring the caregiver by yourself.
If you want to choose the latter way, there are some legal considerations that you need to remember:
Follow the employment law
Conduct the background checks
Sign a contract
Remember that the person you hire should not only get along with the recipient but also have the necessary skills, and Health Insurance Profitability and Accountability Act should help you with it. It has a list of requirements that the person chosen to take care of the elderly is properly trained and educated.
After completing these steps, don't forget about confidentiality. Discuss this moment with the caregivers and state what personal information is unavailable to them and maybe even sign a non-disclosure agreement. Having completed this step and the ones above, you can be sure that nothing wrong will happen with you and your relatives and that proper care will be given.
Protecting the assets of the person receiving care
While we are in good health, we don't care about the care that we will possibly need when we are old. The same goes for our parents. However, all property owners, especially low-income senior homeowners, have to work out a plan of action that needs to be done to all the assets, including the main house, accessory dwelling units, or just money. Even though you may have been getting additional income from rental housing all these years, paying off the construction loans, and getting zoning approval, you will have to forget about this if you don't take precautions.
First, you have to consider what to do with the assets. There are options like transferring or gifting; check what regulations surround them, and choose the right one. Second, it is possible to start long-term care insurance, which will provide the necessary coverage. What is more, trust is another important element. Check revocable or irrevocable trusts and see which one fits your needs more.
Power of Attorney and guardianship considerations for Caregivers
Apart from asset protection, it is important to consider legal documents that will help you to determine the relationship between the caregiver and care recipient. The whole process may seem long to you, but in the end, it is worth it.
Power of attorney
The main benefit that you get from this document is the authority for the caregiver to make decisions for the care recipient according to the current situation. This document will reduce barriers that may have appeared in case of any possible legal affairs. There are various types of PoA, varying in the levels of power in making decisions. Anyway, it is important to have a PoA of any level in case of difficult situations that may occur with your relative, be it incapacity or inability to make decisions.
Guardianship
If you don't want to get into the law issues concerning PoA, guardianship is your best friend. It can help the caregiver to make decisions for the recipient legally without PoA. Yes, the process is lengthy and quite expensive, but it is a necessary document. This document may include the agreement concerning Medicare care or finances. It is also a safeguard that protects the ward.
Long-term care insurance options for caregivers
Illnesses that poison the life of people for many years are not rare in our life, and in this case, it is important to take care of LTCI. Such insurance is important for most people aged 65 or more as normally unpaid care from the family is great but not enough. There are some programs that provide financial support to the elderly, so you should check them out. But what to pay attention to when choosing a program?
First and foremost, you should check the coverage and benefits these options offer. Next, find out what premiums are available and what they depend on. Don't forget about deductibles and out-of-pocket expenses! Last but not least, the insurance carrier rating is highly important. Read the review from the people who have taken advantage of this insurance to figure out all advantages and disadvantages.
Legal and financial considerations for caring for a loved one with dementia.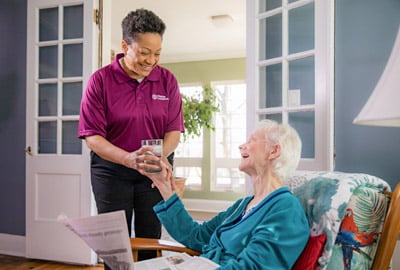 When taking care of people with dementia, it is easy to forget about various important moments. Don't be a failure for your loved one! You cannot joke with the law and the government, so it is important to take care of certain factors.
Many of them we have already discussed before, but the average list looks like this:
Advanced care plannings
Legal guardianship
Estate planning
Long-term care planning
Money abuse preventions
Guardianship and conservatorship
But no matter how scrupulous you are on the matter of legal considerations, you should always remember the person you take care of. Especially people with dementia are extremely vulnerable to the outer world, and all your attention should be directed to them. So you may consider help from the professionals who will deal with legal issues. Choose your own path!
Frequently Asked Questions — FAQ
How much time do you need to build accessory dwelling units?
Affordable housing is the sphere in which we are professionals, as you may have heard from media outlets or homeowners who have got small homes built. We have finished the construction of accessory dwelling units in different timespans. It depends on many factors, like zoning laws, zoning regulations, whether you choose the pre-approved ADU plans or not, and how long it will take to get ADU permits. But all in all, we will try to build an accessory dwelling unit for 6-8 months.
How can accessory dwelling units be used?
Being the best option for affordable housing on the market, there are many ways an ADU can be used after its construction. Certain homeowners like to generate extra income with it and find tenants, which allows them to pay home equity loans off. Other homeowners see it as extra space, and among the benefits, they name a place to practice hobbies. But the best way for a single family is to let the parents live there to provide more care to anyone, be it your mother-in-law or a distant uncle.
How to decrease the cost of ADUs?
The costs rely on many factors, including the interest rate on a home equity loan, the cost of getting ADU ordinances, the choice of pre-approved plans, zoning regulations, and materials used in the construction. However, families can find ways to compensate for the costs after the construction. ADUs as housing options can be rented off to the tenants. As people age, it is better for them to age in place, so your ADU can transmute into a caregiving facility like Humanity Monterey Bay or many others in Santa Cruz.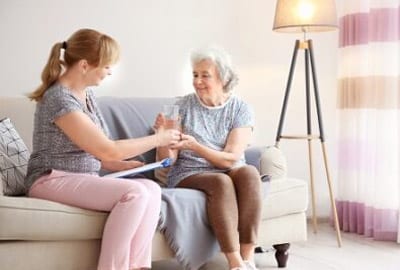 Respite care is a support service provided to care recipients to give the caregiver a temporary break from caring duties. In many cities and communities, there are local home care agents that provide at-home assistance with cooking and sanitation, medical help, or other types of care. But why is ADU respite care considered one of the most favorable options?
Accessory dwelling units (ADUs) are small but independent living facilities located on the same lot as the main residence. So, if the family member that needs care occupies living space in this separate structure, there are several advantages that care recipients get in this instance.
Familiar surroundings, a flexible timetable, a more personalized approach – all of these and many more are available to your loved one if they get respite care in an accessory dwelling unit. Learn what other positive effects such a care type brings forth and how to adapt your accessory apartments for such purposes.
Benefits of respite care for ADU caregivers
Caregivers also need mental resources to provide long-term care to their loved ones. Over time, they tend to experience burnout and need some time for themselves only. In this case, hired respite nurses can come to help.
Hiring an aide to stay at your senior's ADU house will lead to several improvements for caregivers, including:
They can devote time to their own affairs and run their own errands;
They can pay attention to their mental and physical health, which can be overlooked while being busy caring for another person;
They can just relax and refresh after a long period of unpaid work;
Enrich their own lives with new experiences for which they usually don't have time.
All in all, respite care becomes a salvation for caregivers who have to dedicate their whole time to caring for ADU residents. And after having a nice break, relieving their hard work, they can come back energized and calm.
Types of temporary housing options for ADU respite care
Housing choices for respite care professionals, for the most part, coincide with the types of ADUs. Accessory dwelling units can be built in the following configurations:
Detached ADUs
Detached ADUs are completely separate, self-sufficient accessory dwelling units. Having their own entrance, plumbing, and electricity systems, these granny flats are traditional homes in miniature. Property owners have to equip them with all the amenities their existing homes have, such as a food preparation zone, a bedroom, and a bathroom.
Attached ADUs
This type of housing prescribes a certain ADU location: it has to share a wall with the main residence. This ADU type is slightly less independent, as technically, you can extend plumbing and electrical wires to it without creating them from scratch. Yet, such units can have their own separate entrances, which allows ADUs to preserve a high level of privacy.
Garage conversions
In contrast to new ADU construction types, when homeowners opt for a converted accessory dwelling unit, they have to rebuild an already existing structure rather than build a new one. Unused, clattered garages are perfect for this goal.
Upper-floor internal ADUs
You can also build accessory dwelling units inside the house. Just pay attention to ADU ordinances, as the minimum ADU size is 150 square feet. If your attic is larger than that, an ADU can be allowed.
Basement ADU within the primary dwelling unit
Most local jurisdictions permit ADUs on the ground floor of your family house. If you can make it a liveable space, ensuring waterproofing precautions, enough space for daily activities, and enough light, these few "dead weight" square feet can finally come in handy.
How to find affordable respite care and temporary housing for ADU caregivers
There are many ways to find respite care services at a moderate cost. First of all, you can contact your local Agency on Aging or other regional entities that provide informational resources and can help connect you or a family member with interested specialists.
Also, you may apply to a specialized caregiving organization on your own to see what provisions and caregiver support programs they offer. One of the digital tools for this purpose is, for instance, the Eldercare Locator. It can suggest relevant data concerning different types of care services as well as those with more affordable prices or help find elderly benefits and fee waivers that can cover part of the costs.
The role of technology in respite care and temporary housing for ADUs
How can you furnish your ADU with modern features and technologies so that they create a safe and prosperous environment for your family members or close friends in need of care?
There are several things you can implement during the ADU planning stage:
Safety features in ADU design: like anti-slip floors and walk-in showers in bathrooms, grab bars in bedrooms, ramps and wide walkways for wheelchairs, and easy access for people with mobility issues.
Life-simplifying technologies for daily use: like smart house technology with automatic lights and appliance switches depending on the resident's presence in the room or completion of the appliance function.
Technologies for increased physical security: screen monitors or health detectors, as well as fall sensors or fire safety detectors.
Technologies for communication: video chat technologies that allow care recipients to contact their loved ones from their small house when their familiar caregiver has a retreat and a stranger nurse takes care of them.
Legal considerations for respite care and temporary housing for ADUs
When building accessory dwelling units, homeowners are obliged to follow ADU building provisions and standards listed in state and city law and zoning regulations of local governments.
To comply with zoning standards, an ADU should meet the following criteria:
One ADU for one single-family lot. One ADU means a full-fledged detached or attached ADU. Aside from them, one more junior ADU (JADU) is allowed. A junior ADU is a construction that you convert from an existing structure only, and it can reach a maximum of 500 square feet.
Zoning regulations dictate ADU size. The maximum ADU size for many cities and states is 1200 sq. ft., but for some jurisdictions, it is limited to 1000 sq. ft.
Minimum lot sizes and ADU maximum height heavily depend on the ADU map location. Because some governments don't establish these numbers while others do.
The same applies to ADUs built specifically for short-term rentals. Before starting an ADU development process for rental housing, homeowners have to consult with their local lawyer or an ADU building company to determine if short-term rent is allowed in their particular city.
In any case, temporary housing of respite care assistants in ADUs is not restricted by law because regional governments permit ADUs for short-term residential, non-commercial use.
The impact of respite care on the mental health of ADU caregivers
Respite care has a restorative effect on the mental health of the caregiver, as it gives him the opportunity to take care of his own needs during the break. It leads to a number of auspicious results, such as the alleviation of stress and depression connected with the poor state of their loved ones and the necessity to devote all their time to them.
In-home respite care workers who take on some of the caregiver responsibilities. They enable them to spend time on their own needs, restore their social and work lives, enjoy a break in the absence of any obligations, and dedicate time to self-care.
In general, respite care helps to reduce exhaustion and anxiety and bring back the much-needed motivation to care for the loved one.
How to prepare for respite care and temporary housing for ADUs
The process of planning respite care visits includes choosing a suitable organization, discussing the details of the care services, and preparing the house. First of all, you need to consider and balance the needs of the care recipient and the person who will need temporary housing. Thus, the amount of space required, the level of privacy they both need, special equipment, and other auxiliary tools.
Moreover, other preliminary provisions may encompass the accessibility of funds and the number of hours you're ready to pay for. Some families can afford respite care once a week, others once a month. Some caregivers can take a whole week off; others have to confine themselves to a few hours.
And last but not least is establishing regular communication with the loved one receiving care. You can connect to them by video call and control how respite care specialists fulfill their duties. Or install other monitoring technologies to be aware of your loved one's condition and well-being.
The importance of communication in respite care and temporary housing for ADUs
Clear communication is key when it comes to your loved one's well-being. First of all, you need to choose the specialists who provide the services you need. That is, for example, if in addition to helping with daily life and household chores (getting out of bed, getting dressed, cooking), you need more thorough medical care, then only specialists in skilled health care will suit you.
Be sure to discuss specific details: what signs and behaviors should an assistant pay close attention to for the wellbeing of your loved one, which products they can consume and which they can not. How many times a day they need to take their medication, if there's a doctor's appointment on that day, etc.
Besides, you can leave a written to-do list and attach your phone number in case you need to clarify something.
How to choose the right respite care and temporary housing for ADUs
When searching for a suitable respite care service, consider the following points:
How available it is in terms of distance. The service center is better located, not far from the local community, so that it's convenient for nurses to accommodate; they know the city better, and you can easily arrive at their office in case of dispute;
How available it is in terms of monetary resources. Evaluate costs for the types of services you need in advance so that it's not a surprise for you when it comes to payment;
Do they provide the exact type of services you need for your loved one? If the familiar environment of an ADU is what you're interested in, then you need in-home care assistance. Study their website to determine what scope of help they offer their clients;
Extra amenities or your ADU units might need to be added to tend to their needs. If they arrive by car, you probably need an extra street parking zone. Or if your ADU has only one bedroom, you need another bed and an optional barrier to respect tenants' privacy during cohabitation.
After you have thoroughly studied all of this, it remains only to contact the service.
The future of respite care and temporary housing for ADUs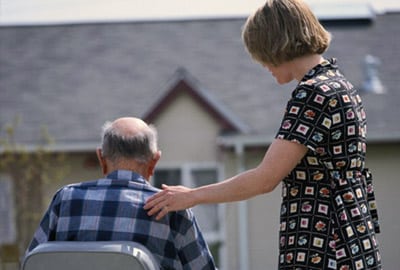 As the population continues to age, the need for the healthcare system to incorporate more innovative and convenient approaches only increases with each passing year. ADUs not only satisfy the demand for affordable housing in general but, combined with respite care services, can also promote the fast growth of comfortable in-home care options.
Because of its visible effectiveness in meeting the needs of aging people, temporary housing for respite care professionals in ADU may soon become a much more common care industry solution.
Frequently Asked Questions — FAQ
What is the difference between an ADU unit and a guest house?
The difference lies not in their construction but in their subsequent use. Both ADUs and guest houses are detached or attached small homes located on a single-family or even multi-family lot. They both have to provide their residents with amenities needed for daily life.
Yet, guest houses are intended for short-term living, while ADUs are not. As an owner, you are to make sure your ADU, whether it's for rent or the long-term housing of relatives, has all the necessary conveniences like a sleeping zone, a food preparation zone, a restroom, a lounging zone, etc.
What are the main rules for ADU's development and construction?
Building ordinances prescribe certain rules for accessory unit development, such as the number of attached and detached units allowed for a single family, square footage, minimum lot size, and sometimes even design requirements to achieve neighborhood design harmony.
But the main and universal rules are that a single family may have one ADU and one JADU, with the ADU constituting no more than 1000–1200 sq. ft. and the JADU no more than 500 sq. ft.
What benefits does the building of ADUs bring to the homeowner or to the community as a whole?
Any development in accessory unit numbers brings more room as well as potential opportunities for extra income. What a community receives in return is more affordable housing resources available for people with low and moderate incomes. It helps cities get an influx of new settlers who benefit the community economy.
Thus, the extension of the ADU construction and development field as well as the contributions of particular homeowners, create a win-win situation for everyone.
Accessory dwelling units (ADUs) are complete independent living facilities located on the same parcel as the main residence. Such an accessory structure can serve the purposes of generating more existing space for family members, providing financial assistance (rent and increasing property value), or housing guests.
When it comes to permanent housing, accessory dwelling units often become shelters for older adults who need constant care and supervision but prefer to stay in a familiar environment. Granny flats are convenient for many reasons, including lower expenses in the long run and the opportunity for the care recipient to stay close to their family. And also the caregiver's ability to keep an eye on their loved one's state.
This article will tell you about the significance of care coordination and what benefits it brings to caregivers looking after sick or immobile loved ones.
Importance of coordinating care and support services for ADU caregivers
Care and support coordination is managing the part of your loved one's life that is related to their health and well-being. It includes adherence to diet, taking medication on time, making doctor's appointments, transporting the immobile person to any place they need, helping them with their daily needs like dressing up and cooking, and so on. This is informal care coordination.
On the other hand, professional coordination of care implies special programs developed for seniors to both connect medical and care specialists with care recipients who need it and mitigate the number of work relatives and close friends have to do in order to manage the care recipient's health.
Thus, a well-composed schedule of care services, detailed planning of daily activities, and the transfer of some care tasks to specialists will positively impact the cared-for senior and relieve the in-home caregiver of their constant stress.
Strategies for effective coordination of care and support services
How to coordinate care in the most efficient and safe way? The main task is for all participants in care (caregivers, loved ones, nurses, doctors, care workers, etc.) to share vital information and rely on each other.
In this regard, there are several main strategies to be applied in frames of care for an ADU resident who needs extra attention:
Drawing up an elaborate care plan;
Awareness about skills the other caregiver can apply and methods they tend to use;
Unambiguous distribution of tasks between participants;
Establishment of clear communication and contact (exchange of health information, notification about the need for certain procedures, weak points that demand special attention, etc.);
Regularly revising the care process and analyzing successes;
Involving the patient (care recipient) in the process of their health and care management.
In that way, to achieve the best results, a caregiver should find out the individual needs of their loved one. They should build a schedule that is convenient for themselves and for them, and involve additional help from the outside in order to minimize their lack of time or knowledge.
Challenges faced in coordinating care and support services for ADU caregiving
The primary challenges that an ADU caregiver encounters when planning in-home care for their close people encompass a number of issues, such as:
Lack of financial resources
The thing is, low-income households may struggle with their commitment to their project because they need to pay for the assistance of expensive specialists as well as for adapting the new construction (the ADU) for their temporary housing. Participating homeowners generally have to attract additional resources, getting into debt.
Limited time period available for choosing and planning care
Care and support activities, as well as the development thereof, require time and effort. If a caregiver doesn't have sufficient knowledge of where to look, it may take a while to find a reliable auxiliary caregiving service. After all, a caregiver has to search for the right care service combination and make sure they are accessible at the right times. Let alone they have to finish all preparations, such as reequipping existing ADUs for the new needs.
Difficulties with cooperation between several caregivers
Since family members and paid caregivers can have different views on what is best for the care recipient, disputes and misunderstandings can arise during the caregiving process. These sporadic approaches can, in the end, negatively impact the state of your loved one.
Best practices for coordinating care and support services for ADU caregiving
So, how do you overcome these problems and ensure your close relative receives the best care possible? Here we've found several effective solutions:
Apply to the government's or community members' program for extra financing
Property owners can apply for an ADU program that provides partial compensation for expenses. For example, for low- and moderate-income property owners, there are state and local programs that provide grants or loans at a lower rate. Also, eligible individuals can make use of diverse programs for elderly or disabled people, like programs for the transportation or delivery of products to those who themselves cannot do without help.
Contact an ADU building company that will take on the accessory dwelling unit that is both suited for your aging relative and for housing temporary care workers
ADU planning and construction are their forte. So, let a building specialist advise you concerning ADU type (attached, detached ADU, junior accessory dwelling units, basement apartments, etc.) and take care of the permitting process. Get your new ADU built with consideration for city zoning codes, development standards, and setback requirements. Also, you can consult them about safety features and advanced technologies suitable for older adults and those in need of supervision. As well as about privacy considerations for a hired temporary caregiver. This way, you can create an accessory dwelling unit (ADU) that is perfect for keeping your loved one safe and cared for.
Access community resources that help with the search for information and specialists
Your local department, the agency on aging, or another entity can consult you about ways to find suitable specialists at affordable prices and how to procure financial resources for these endeavors. Depending on the situation, they may connect you with lawyers, doctors, volunteers, and many others who may be of use in your particular situation.
Delegate your obligations effectively
Estimate the weaknesses of the current care plan and share tasks with other family members, and hire professionals according to their strengths. For instance, you take care of doctor's appointments because you do have a driver's license, while another family member with a good memory or understanding of pharmacology is responsible for your loved ones' medicines. And, of course, it's better to entrust more complex medical issues to a professional doctor.
Role of Technology in Coordinating Care and Support Services for ADU Caregiving
Modern technologies play a significant role in reducing the number of tasks that a caregiver must complete. Besides, some of these technologies provide an opportunity for the care recipients to take more control of their own lives and become more independent.
The technologies that enhance the effectiveness of care and support for the care recipient encompass the following ones:
Voice and sound control
Voice assistants like Alexa or Siri can answer questions and perform some commands, like turning on music. At the same time, some smart technologies can turn on and off lights when the resident claps their hands.
Health monitoring
It allows the caregiver or other person involved in caregiving to be aware of their loved one's state even if there's a significant distance between them. Such technologies use different detectors and sensors as well as remote data analysis. If tools notice a change in the care recipient's condition, they instantly notify the caregiver. For example, you can install fall detectors in your accessory dwelling unit (ADU), and in case of an emergency, the notification will come to a family member.
Assistive devices
These are personal-use technologies that can partially compensate for deteriorated hearing, eyesight, or mobility. Smart glasses can assist people with poor vision with navigation inside the accessory dwelling unit. Hearing technologies can give a person with a hearing disability a chance to recognize sounds they were previously unable to. And power-driven wheelchairs help people move around the room.
The technologies that improve coordination in particular are:
Patient data sharing technologies, such as electronic health records;
Applications for the simplified search of specialists and making digital appointments;
Remote diagnosis when care recipients stay at home;
Applications for individualized care plans.
These can reduce medical and care errors, ease the process of information exchange, and thereby positively affect the care recipient's life.
Collaboration between healthcare providers and community resources in coordinating care and support services
Speaking of institutional care, patients rarely face problems with coordination between different healthcare establishments. But is that the same with in-home care? As for home caregivers who tend to their loved ones, they usually don't have the same organized systems of data that have been built into the healthcare system for years. It is where community resources can come in to help.
Community resources include different programs of financial assistance, volunteer organizations, and specialists. The first ones offer funds for vulnerable segments of the population (including seniors and disabled people). The second one assists with information searches or finding people who agree to provide their services for free or at a reduced price.
All in all, when healthcare providers such as clinics, hospitals, health centers, pharmacists, and social community services join forces, it leads to more effective task compliance.
Family involvement in coordinating care and support services for ADU caregiving
Family members are typically the closest people to the ones in need of care, so they understand their needs like no one else. They offer emotional support and act on behalf of the care recipient, helping to defend their interests.
In this regard, ADU caregiving enables the best opportunities to combine their own physical involvement in the caregiving process. This manifests itself in property maintenance, helping with daily routines, and furnishing their single-family residence with self-sufficient accessory dwelling units that are specifically designed for the care recipient's needs.
Moreover, ADU property owners/caregivers contribute to it indirectly by hiring professional nurses and caregiving professionals, scheduling their arrivals and departures, providing them with information about patient coordination, and advocating for their needs.
Training and education for caregivers in coordinating care and support services
Despite the fact that so many people are currently involved in caregiving, only a scarce number are willing to receive at least some education. The thing is, training programs for caregivers provide clear answers to the questions caregivers will inevitably have, as well as introduce them to skills and effective practices. Point out difficult moments and offer solutions. All of the aforementioned significantly simplifies the further process and relieves the stress caregivers face.
So where can you find such a special education? These can be state training courses about basic medical treatment and medication, particularities of some diseases, and methods of personal and daily care. Several states offer education in financing as well as caregivers' psychological states.
Consultation and support groups operate on a social service basis. They can provide both helpful advice and a sense of understanding for people struggling with similar issues.
Funding and financing options for coordinating care and support services for ADU caregiving
There are numerous local initiatives that provide partial money coverage or a free pre-development stage, as well as other bonuses and benefits, to encourage the building of accessory dwelling units (ADUs) on the same lot as the single-family dwelling.
Governmental programs include such proposals as:
Plus one ADU program for a particular state (there is such a program, for instance, in New York or in cities in California). In the framework of such a program, property owners with low or moderate incomes can get financing from the fund for ADU pre-development stages such as assessment, drawing up plans, designing, and permitting;
The ADU program can provide eligible property owners with grants that can be used to improve conditions in an ADU, not just build a new one;
Property owners who have an ADU construction that doesn't fit within official ADU development standards and want to bring it into compliance can receive comprehensive assistance from several cities (For instance, Milpitas and Pasadena);
Banks issue forgivable loans for those property owners who will rent out their ADUs at an affordable price for several years in a row. Such loans can amount to $75,000.
Evaluation and assessment of coordinated care and support services for ADU caregiving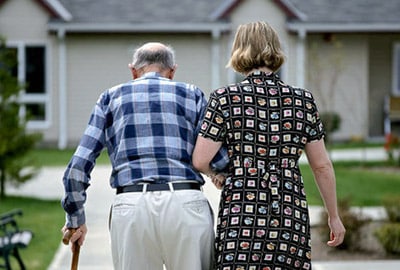 Generally speaking, we shouldn't underestimate the role of coordinated care and support. ADU caregiving has many advantages, starting with saving money and ending with leaving your loved one in a familiar, comfortable environment with people who truly care for them.
Yet, it can still feel tedious. So combined and coordinated care can alleviate the burden on the caregiver by distributing the tasks among several responsible people who work together for the sake of the care recipient.
Frequently Asked Questions — FAQ
What types of ADUs are most suitable for home-based care?
One ADU is different from another, but there are still similarities in their construction that allow us to categorize them. These are detached and attached ADUs. Both detached and attached ADUs occupy the same lot as single-family homes. But the first ones are separate constructions, while the second ones share a wall with the house.
Moreover, an ADU can be a new ADU structure or a conversion unit, with a difference in the way of construction. As well as full-sized ADU and junior ADU with the difference in size.
For people needing constant care, it's preferable to pick the ADU that is easier accessible.
How to prepare ADUs for in-home care?
An ADU is a living place, so it has to have permanent provisions for sleep, eating, and hygiene procedures. Yet, in-home care may be constant, and demand assisted living. In this case, take care of privacy and comfortability issues. For instance, decide if you want to have separate sanitation facilities or don't mind sharing sanitation facilities. If the room needs to be occupied by two individuals, you can equip it with privacy features such as property barriers like bookcases or a canopy.
Why is ADU housing for your aging relative a wise solution?
Generally, you can take care of an ADU development yourself and organize the environment in the ADU as well as unit dweller routines with regard to a personalized approach. Thus, you can structure their schedule, find the best specialists yourself, and balance their communication time with loved ones with necessary procedures and health-related issues.
Just add the necessary parking place if the paid caregiver has to arrive from the city. And heed the advanced technologies that your in-home care ADU project can afford.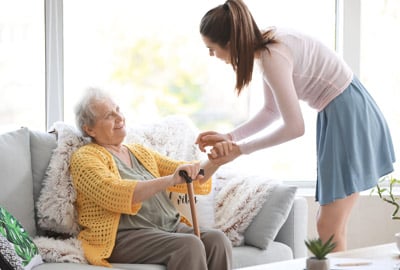 An accessory dwelling unit is a good affordable housing option for a family member who needs to combine independent living with constant attention on the part of caregivers. Accessory dwelling units (ADUs) are secondary units located on the same lot as the primary dwelling.
There are many benefits to planning and building an ADU on your property lot, such as extending your living space, temporarily housing guests, or having the opportunity to arrange short-term rentals that bring extra income. Yet, one of the leading incentives for ADU construction is providing additional housing options for aging loved ones.
Learn about the main factors that make ADU living arrangements the perfect solution for your loved one in need of care!
Designing ADUs for maximum privacy and independence for care recipients
ADUs allow seniors to stay with their families and remain attached to their community. So, how to develop an accessory unit for your retired family members to age in comfort?
Both main house owners and ADU residents win from mother-in-law suite construction, and here are a few reasons why:
Granny flats are self-sufficient units with all amenities, such as a small kitchen, bathroom, and sleeping area. So, even if the number of people on your property increases, you still don't have to stay in line to take a shower in the morning.
Typically, an accessory dwelling unit is a separate structure with a separate entrance. That's why nobody is going to invade someone else's personal space without permission. And such simple knowledge can very positively affect a person's dignity.
Accessory dwelling units allow the elderly to avoid moving to permanent assisted living facilities. Not only is it consistent and creates a big distance between families, but such communal living also inevitably deprives a senior of their independent living, which they could do by staying on the family's land.
Ensuring privacy in shared living spaces for care recipients and caregivers
Even though ADUs usually offer enough privacy, there may be times when a caregiver needs direct access to an ADU. For instance, if we talk about the very poor condition of a care recipient, it makes sense to organize an ADU conversion in an attic or create an attached ADU with a shared space.
Are there any ways to preserve some privacy in such a case? Of course, they are. First of all, try out the following:
The minimum thing you can do is set up various dividers. For example, if you need a caregiver to be present when a care recipient takes a bathroom because of the risk of fainting, a curtain or an aesthetically designed bathroom screen;
Make latches and locks that homeowners can use when necessary;
Agree on whether to knock on the care recipient's door before entering their private space or to touch things without permission;
If constant care is needed, allow the cameras to do some of the work or allocate time for independent pastimes without supervision, with the possibility of quickly calling a caregiver in case of an emergency situation.
Incorporating assistive technology to promote independence and privacy for care recipients
There are many factors that affect seniors' well-being when they need constant care, and one of them is the opportunity to perform as many actions as possible on their own and have control over their lives.
A family can help their close ones by providing care recipients with such technological resources as various remotely controlled gadgets, smart home systems that allow switching light and heating/cooling systems on and off, artificial intelligence assistants, systems that remind them to take meds, and systems that track their overall health condition.
All of these provide more freedom of choice and autonomy to seniors and people with disabilities and allow caregivers to have more free time on their own.
Balancing privacy and safety concerns for care recipients living in ADUs
The good thing about granny flats is that they enable such a living arrangement that combines the need for privacy with due security measures while family members are not keeping an eye on their aging relatives.
To incorporate both of these features into an ADU, homeowners can build it with consideration for extra safety features like grab bars, non-slip floors, fall sensors, or sensors that notify a family member if a person in care suddenly feels worse.
Even though the costs for some of the smart decisions and programs may not be the cheapest, you'll still pay less than if they stayed long-term in an assisted living facility.
Providing private outdoor spaces for care recipients in ADUs
An ADU project is a great chance to add a private garden to your new home and increase the amount of open space!
When planning your ADU, think about enticing privacy features that not only protect from prying eyes but also complement your surroundings design. Your accessory dwelling units may have the following:
Outdoor spaces surrounded by many plants
Are you interested in gardening? In this case, such natural barriers will not only fence off your house, creating a relaxing private area but also become a source of a new hobby. You can arrange picturesque hedges around the resting zones, plant flower bushes, or grow trees.
Outdoor spaces with pergolas and gazebos
For owners of larger plots, a massive structure with climbing plants, curtains, or straw walls is what will protect you from the heat on a sultry day and allow you to relax on your own.
Decks with a rocking chair
This is almost a classic symbol of a successful retirement. If you build a cozy, rustic deck with garden furniture, a blanket, and pots of flowers, it becomes a safe haven for escape.
Strategies for maintaining privacy and independence for care recipients with dementia or cognitive impairments
People who suffer from memory problems and other cognitive impairments may occasionally forget to take their medicine, pay their bills, or even certain events, routes to home, and so on. That's why, depending on the number of impediments in their daily life, they may need more careful attention.
The most appropriate ratio here will be letting them do what they can do on their own and helping with the rest. For instance, a caregiver can make up a product list for a shop and do the cooking but allow a family member to pick the products and eat on their own.
Caregivers usually take on tasks that require memorization and more difficult calculations. These can be leading checkbooks or medication reminders. Yet, in many instances, these things can be replaced by special apps, tools, and other methods to make the elderly with memory problems more independent. Thus, you can make up schedules and put them in a visible place (on the fridge, for example), put on labels with reminders, and furnish the accessory dwelling unit with a large clock and calendar where important things will be marked. In terms of apps, you can install applications that will emit a signal when it's time to take medicine on their phones.
Addressing privacy concerns for care recipients who share ADUs with family members or friends
Unfortunately, sometimes building an ADU near an existing single-family residence is not enough. This happens when the need for care is constant. In this case, homeowners usually opt for internal ADU construction so that caregivers and care recipients are always within a few steps reach.
However, this leads to privacy issues for both parties. What can be done?
If you live in one room, create in-room barriers. It can be a bookcase between two beds or a canopy over the bed. Or a fashionable folding screen that obstructs the view when you're dressing up;
Let there be a personal nook for each of you. To illustrate this point, a caregiver may like a game console and spend time alone near the TV set, while a granny enjoys knitting in the armchair or gardening in an ADU outdoors area;
Divide the space so that most of the things belonging to one person are in one part of the room. In this way, no one will rummage through other people's things to find their own.
Promoting independence through accessible design features in ADUs
How can accessory-dwelling units promote more independence for family members in need of care? There are several features you can add to your ADU design to do that. They include:
For wheelchairs: build ramps and create wider hallways and door frames so that people with disabilities could have freer access to every room of their mother-in-law suite;
For people with other mobility and balance issues: equip the necessary areas with grab bars, railings, and walk-in showers so that they can use them on their own;
For people with poor eyesight: buy voice control features that can switch on and off lights, heating and cooling systems, TV, music, or other devices.
Monitoring systems for all care recipients who need constant supervision without interrupting their daily routines.
The role of caregivers in respecting and promoting privacy for care recipients in ADUs
Along with providing care and compassion, you have to heed your loved one's dignity and humanity. Thus, if you visit them in an ADU or come into their room, don't forget to knock, don't take other people's things, and don't invade the bathroom without necessity, even if it's out of pure love. Also, you should avert your eyes when they dress up, and if looking is absolutely unavoidable, try to avoid the most private parts.
Aside from that, care recipients can be too shy or embarrassed to ask for help themselves, but pushy questions will only embarrass them even more. So if you need to ask something, try to be more subtle about it.
Unlike institutional care, accessory dwelling units provide more opportunities for fostering privacy. As they can receive personalized care with more deliberate respect for their needs. They can stay in a homey setting and preserve more autonomy thanks to personal arrangements with caregivers. As for ADU design features, you can supply the living space with as many life-easing tools as the elderly and people with disabilities can use on their own.
Balancing the need for privacy with the need for social interaction and support for care recipients in ADUs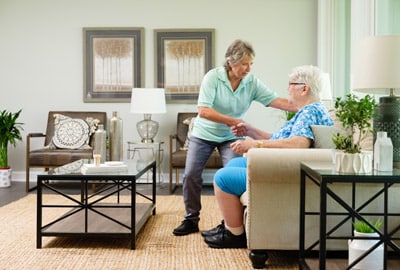 Even though personal time and space are vital for creating a healthy environment, homeowners shouldn't forget about their loved ones' need for social interaction. Thus, carriage houses (another ADU name) are good in the sense that you can install doors with locks or latches inside them to preserve private spaces unattainable to others. As well as in the sense that they are small and leave room for more outdoorsy spaces around them.
What are the benefits of building outdoor spaces in relation to combining healthy distance and communication?
Homeowners from the main house will see if their loved one searches for interaction if they're out sitting on a sofa or a garden bench at the deck or resting in a pergola on a sunny day;
Outdoor space development provides residents with an opportunity to connect to nature and relax, far from the stresses of a big city. It's a place where multiple generations can spend time together while each is engaged in their own activity;
Open spaces in homes and apartments are typically associated in our minds with socializing, while closed ones are associated with a need for more privacy. So if a caregiver, before having it discussed with the caretaker, makes sure that their loved one spends enough time both in and out, it will eliminate the problem of imbalance.
Frequently Asked Questions – FAQs
What is the best ADU type for housing your aging relatives that need care?
When we talk about ADU types that can be built nearby the existing home, there are several construction options: a detached ADU, an attached ADU, and conversions (garage conversion, attic conversion, or basement conversion).
If your seniors can fend for themselves, then detached ADUs and garage conversions are great options as they offer more privacy. In cases of constant and vigilant care, the less property land that separates you, the better. So, the internal construction is the best option.
What stages does a typical ADU development and building project consist of?
The benefits of hiring an ADU building company in your community are that the specialists will take on everything, including the most difficult services. ADU developments start with cost and resource estimation, where the client explains what they want to see on their land, and the company makes up a plan of what the project must include.
Next, they draw up construction blueprints and apply for the necessary permits from the local governments. And, if they comply with all local regulations, they get an ADU development program permitted and start to build the house.
How much will my ADU cost, and where to find financing?
ADU development costs depend on the type of ADU, materials used, square footage, and many other factors. In any case, building a mini-house on your property will be about twice or three times cheaper than the main residence cost.
Due to the poor, affordable housing supply in several states, cities, or communities, you can stumble upon certain ADU expense benefits. For instance, in California, there is a governmental grant program for any single-family home where an ADU can be built under the condition that the family has a low or moderate income.
But aside from this one, other states, cities, and communities provide financing benefits such as renovation loans or other grants that cover part of your ADU building cost.
ADU: Managing Medical Equipment and Supplies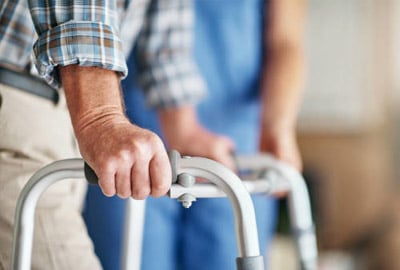 An accessory dwelling unit (ADU) is a tiny house built in the backyard of your property lot. An ADU is basically another living space near your main house, downsized but furnished with all the amenities necessary for both temporary and permanent housing.
Homeowners choose ADU building for a whole line of reasons, starting from financial decisions such as creating a source of rental income or increasing the value of personal property to expanding the dwelling area for their family or arranging an in-home care service for an aging or disabled loved one.
In this article, we will discuss the last reason, focusing on ADU maintenance with respect to the special medical needs of its residents.
Importance of proper storage and organization of medical equipment and supplies in ADUs
If we talk about hospitals and other healthcare facilities, they are supposed to have medical equipment planning, which includes medical equipment management, timely repair work, removal of medical waste, etc. But does the same apply to home healthcare? The answer is certainly yes, but maybe to a lesser extent.
So, how to prepare space in your ADU to place medical supplies and medical devices? The first thing is to prepare storage spaces so that it's convenient for caregivers or home care clinicians to use these medical tools.
This may include:
For big medical appliances
Consider storage spaces when drawing up an ADU floor plan. The design should envision not only enough places but also the areas of the in-law suite designated specifically for storing medical objects. These can be shelves, tables, or racks located near the bed or in a certain corner of the room. Also, medical equipment may need its own power source that is different from the main power lines.
For smaller medical tools and medications
Allocate drawers or cabinets for medical things only. You can also put labels on the bottles and packs of pills, as well as on the containers. Transparent containers with various compartments are well suited for these purposes, as they allow for a more orderly organization of necessities and ease the process of seeking them.
Strategies for managing medical equipment and supplies in small ADUs
Lack of room in small ADU units may take its toll on the quality of care and medical services if homeowners just clutter all around with medical products and packages. Unfortunately, it comes not only from negligence. People, in general, simply have too many things to occupy their mental capacity to instantly recall where they put a small package a month ago when they bought it.
To avoid this problem, you can do several things:
Create an inventory system like a notebook where you list the item's quantity, placement, date of purchase and expiration and technical specifications for medical supplies;
Keep track of the expiration date and throw away the expired items before they start to clutter your cabinets and confuse you. Use calendar reminders if needed;
Draw up a check and repair schedule for your appliances so that you don't waste space on something broken and unused;
Do regular cleaning to dispose of the clutter and keep the equipment in a good, hygienic state.
Best practices for maintaining and cleaning medical equipment in ADUs
People tend to overlook instructions, but that's what usually explains the proper methods of medical equipment care: from storage restrictions to suitable cleaning products.
Why is this important? Because biomedical engineers design their highly technological tools from fragile materials that can have very specific care requirements. So using just any cleaning product on it may cause significant damage and loss of effectiveness. Thus, we recommend heeding the guidelines or even watching explainer videos before starting cleaning and disinfecting procedures.
Another recommendation is to set up a cleaning timetable. This is vital because when ADU residents touch certain areas too many times, medical tools and other protective equipment may start to lose their property in terms of hygiene and infection prevention.
When you use this equipment, change gloves as much as you can, change disposable parts with every usage, and prevent parts of the device from touching too much and thereby dirtying each other.
And last but not least, don't forget inspection in order to detect breakdowns or faulty work on time. With medical gear, repair is literally what life can depend on.
How to create a medical supply inventory and tracking system in ADUs
As an inventory system, nothing stops you from using traditional paper lists and ink, but with advanced technologies, modern people have received the opportunity to make their tracking more convenient and automated.
The perks of inventory spreadsheets are that all of your family members can share access to them from their own gadgets, and there's no chance you're going to lose a paper while running errands. But even further than that, there are inventory apps that provide users with a holistic view of their supplies.
In any case, there are several factors you need to consider when establishing an inventory system:
Give names to all your storage locations. If you have cabinets or drawers, label them, for example, as A-1, A-2, B-1, etc. This way, you'll be able to fill in the table with short names and then use it easily;
Categorize your items. To better control supplies, you need to have a clear and logical search system, implying that all things in the same category will be located nearby;
Specify the properties and quantity. If you use an app, you can also set an alert when the number of supplies reaches a low point so that you know what you have to shop for in advance;
If you use an app or a shared spreadsheet, let other caregivers or a home care clinician access it to make updates about any changes.
With all these methods, you'll see how your home care (patient care) quality standards rise significantly!
Tips for purchasing medical equipment and supplies for ADUs
Before making a purchase, you have to do a lot of things, like check out if the materials meet medical standards, research the costs of maintaining the piece of equipment at home, have a look at the reviews, and find enough money.
Medical equipment may cost a fortune, but there's no choice if you need it. Yet, there are a few common areas where you can possibly spare some funds:
Rent the equipment out if you can
You don't need to buy all the equipment, especially if some of it is only temporary. In some cases, renting expensive equipment pieces for a few months is totally worth it and saves thousands of dollars for more pressing needs. Though, if you have no other choice but to buy from retailers, catch them at the end of the healthcare supply chain! You can certainly try and search for discounted offers, for example, for equipment that is not new but in good condition (if we are talking about something that does not require very capricious storage and use).
Get partial coverage on your Medicare
If you appoint a doctor or invite them to your aging loved one's backyard ADU, you can receive an unexpected benefit. That is, with a doctor's prescription of the necessary equipment to use at home (such as wheelchairs, walkers, monitors for sugar balance in the blood, or devices for extra oxygen sources), you may receive coverage for a part of your expenses.
Borrow equipment from your local community
Check out the websites of your local city hospitals, clinics, and agencies on aging for any worthy offers. Sometimes, they can connect you with non-commercial organizations that provide the equipment for a specific period of time.
How to dispose of expired or unused medical equipment and supplies in ADUs
When it comes to simple medications, you can typically just flush them or throw them into the trash can. However, we can't say the same about other medical supplies like catheters or syringes that are harmful by nature.
What can you do in this case? First of all, you can contact a licensed destruction company that comes to your site in their personal vehicle and shreds unused or expired supplies using their professional methods.
Disposal of drugs can happen through the use of medication disposal bags that can act in a deactivating way.
If you bought something and didn't use it, but the equipment or supply is unopened, you can also donate it to any charity organizations or clinics that accept them. If not, unfortunately, many charities or clinics won't accept it as they cannot guarantee that the previous owner kept things in the right conditions, which is not safe for the recipient. Or if these are items of personal hygiene.
Strategies for securing medical equipment and supplies in ADUs to prevent accidents and theft
When you store something as valuable and potentially alluring for burglars in your ADU or primary dwelling, the risks of theft and burglary go up. So, what can you do to protect your real estate from unsolicited intervention?
Install burglar alarm systems;
Set up video surveillance to let people in only after you have seen their faces;
You can lock up items that are not very big in special cabinets with a key or even a safe;
Do not put boxes that are obviously expensive equipment on public display;
Don't leave the doors open when there's no one inside the ADU except the patient.
Aside from other humans, an accident or improper storage conditions may spoil your equipment as well. To prevent this from happening, you can:
Equip your ADU with fire, smoke, and water damage alarms;
Add smart thermostats that regulate the temperature according to the set values;
Set your equipment on an even surface so that you can easily bypass it without brushing it to prevent falls;
Don't place anything that can spill on it or short-circuit it in its vicinity.
How to properly label and identify medical equipment and supplies in ADUs
To easily and quickly find a stored item in your ADU, you should establish an understandable labeling and tracking system. Such a system may encompass the following characteristics:
A clear and telling labeling
You can achieve clear labeling by creating differently colored labels depending on the category. For example, you use blue color for lung-related issues and red for wound treatment. The labels should include the name, properties, and any warnings or comments you deem important.
Label parts of equipment as well
Not all equipment is a single monolith. In fact, almost none. Because small details don't get lost over time, you also need to mark them with an indication of which device they belong to.
Barcodes for tracking
You can use barcodes and RFID tags for easy access to items in case you forget where you placed them. When you scan them, they reveal the place where your item lies. While barcodes are useful when you only forget the place, RFID tags use radio frequency to locate your lost item as well.
Importance of accessibility and ease of use when managing medical equipment and supplies in ADUs
Accessibility plays a crucial role in daily healthcare as well as in emergency cases. During daily routines, easy access to equipment increases the efficiency of caregiving and treatment since you don't have to spend excessive time searching for necessities. It leads to fewer mistakes and less stress invoked by the frustration of not being able to find something fast.
When it comes to emergency cases, accessibility becomes vital, as it spares valuable moments for helping your loved one in time. Not only the equipment itself but also ways to access water tank facilities and fire exits should always be open.
That is why primary residence owners may want to plan a well-organized setup when it comes to the ADU where their loved one will live. When planning your ADU, make sure that nothing obstructs the path to your storage area. You may even consider an open floor plan. Also, if you need to move massive equipment and supplies from one room to another, pay attention to the width of your doorways.
How to involve caregivers and support networks in managing medical equipment and supplies in ADUs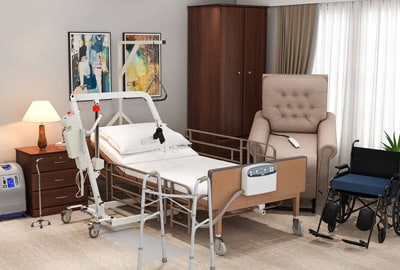 If we speak about unpaid caregivers, aka close relatives and friends, they get involved in this process at almost every stage, starting from drawing up the ADU construction project and ending with its usage and getting rid of broken and expired things.
As far as paid nurses and different state and community resources are concerned, you can apply to them for consultations about the care recipient's health or work specificities of equipment, as well as regular checks on them. They can assist with financing and acquiring or borrowing equipment.
And last but not least, they can offer support and advice, thereby relieving unpaid caregivers of part of the stress caused by dealing with difficult issues alone.
Frequently Asked Questions — FAQ
How much does a fully equipped ADU cost?
A ready-made ADU can cost anywhere from $80,000 to $300,000, depending on its size, quality of materials, specific filling, and location. Yet, an average garage conversion ADU (500–600 square feet) will cost you around $100–150,000, which is significantly cheaper than a house.
However, there are specific services that increase the price of your ADU if you need them. For instance, if you don't have access to the main sewage line and are planning to install a septic system, all its costs (labor and tank) may demand about $20,000.
Where to find the money for building an ADU?
Some ADU contractors can connect you with services that can provide you with a home equity loan at an agreeable rate. However, they do not always introduce you to state and local programs that can give you grants and partial coverage if you qualify.
Check out such programs first, as families with elders usually have such benefits. Some states provide financial aid for low-income residents (which, unfortunately, many seniors belong to), and other states offer to cover part of the pre-development for seniors over a certain age.
How to build an ADU so it's cost-effective?
When building an ADU near their main home, not everyone thinks that they can make their ADU living less expensive than if they lived in a house. Among ways to utilize cost-effective approaches are installing solar panels and insinuating your ADU to reduce energy consumption, using rainwater for household chores before it goes into sewage service, installing low-flow faucets, LED lamps, and miscellaneous.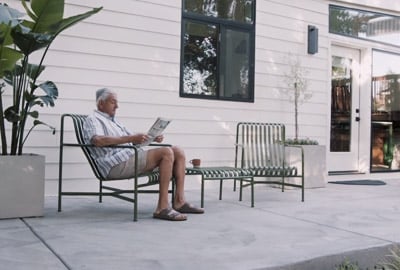 Nowadays, people create Accessory Dwelling Units for a great variety of reasons: to receive a rental income, to accommodate your adult child, to take care of the elderly, or simply for your hobbies.
However, in the situation that you build an Accessory Dwelling Unit for the purpose of taking care of your older family members, it is not enough just to build an ADU. You need to ensure that this new affordable housing is comfortable enough for people with special needs.
In this article, we are going to give you a few tips on building Accessory Dwelling Units for your older adults or family members with disabilities. This way, you could make their life a bit easier!
Designing an ADU with Accessibility in Mind
Generally, when building Accessory Dwelling Units from scratch, you always need to create a design plan that matches your style preferences and budget opportunities. However, in the case of family caregivers, a larger amount of features needs to be considered for the support and safety of its dwellers!
You need to design your Accessory Dwelling Unit in sync with ADU Compliance regulations and Accessibility principles as well. The latter allows you to customize your new affordable housing for people with particular needs, like limited movement opportunities or problems with eyesight. You need to be very careful in the types of materials that you will choose, the layout of the Accessory Dwelling Unit that you will create, and even the lighting that you will make!
Below, we will discuss all the main features that should be present in Accessory Dwelling Units built primarily for the purpose of taking care of others.
Incorporating Safety Features in the ADU
A lot of the things that we consider to be normal features of a primary dwelling can actually be dangerous for the life of people that use wheelchairs, have bad eyesight, or limited movement abilities.
Hence, when it comes to designing Accessory Dwelling Units for people with specific needs, all of our traditional choices should be rethought. For instance, such an ADU should have a zero-step entry and a ramp near all the exits of your affordable housing so that you will reduce barriers for anyone to go in and out of an ADU throughout the day.
Another example will be related to the layout plan of your Accessory Dwelling Units. In an ideal situation, an open floor space is the most convenient choice of a layout for ADUs: as they cannot be as big in their square footage as our primary residences are, you need to implement an open space between the kitchen and living room for easier mobility of its dwellers.
Additionally, you will also need to think about the flooring materials that you will choose for an ADU used as an assisted living facility. The material should be matte so that it is easy enough for a wheelchair to move around but rubbery enough for other people to walk without falling down.
As you can see, a lot of different features need to be in focus when building an ADU for caregivers near your primary residence. We will now focus our attention on those that are not usually thought through by homeowners.
Ensuring Adequate Lighting and Visibility in the ADU
When installing all the light fixtures in traditional Accessory Dwelling Units (ADUs), we do not think much about their location. The contractors do this job for us and install all the switches at approximately 48-52 inches. But as you can guess, such a height is not really accessible for people using wheelchairs.
Hence, when building an ADU for people with special needs, it is better to place all the switches at 42 inches. In addition, you also need to ensure that all the switches can be conveniently used by any family member, which is why you give preference to big wide switches.
As for the positioning of the lighting around the house, here are some tips to follow:
Provide a great variety of lighting in each room, and it does not matter whether we are talking about bathrooms, kitchens, or bedrooms;
Think carefully about the location of all the switches. In a sleeping area, it is better to place switches not only near the door but near the bed as well;
Choose a convenient location for all the lighting fixtures as well. For instance, in a living room, the upper light should be equipped with a floor light that is located near the sofa and preferably near the spot where the person usually sits.
As you can see, even the lighting of your junior Accessory Dwelling Units or any other types of ADUs should be carefully thought through!
Installing Grab Bars and Handrails in the ADU
In perfect ADU housing options for people with disabilities, grab bars and handrails are located not only in bathrooms but in plenty of other rooms as well.
Who is to say that the person only needs them when coming out of the bathroom or standing up from a toilet? A dweller can just as easily need them in the kitchen or in the bedroom. It is quite easy to imagine a situation when a person needs to stand up from a wheelchair to grab something from the upper cabinets, has problems with getting up from the bed, and so on.
Hence, think carefully about all the places where grab bars and handrails might be required for your future dwellers, and include them in your design plan!
Providing Adequate Storage Space in the ADU
When it comes to any type of an ADU, big storage spaces are a must, especially in the case that your future ADU near the primary residence will be accommodated by people with special needs.
Those moving around in a wheelchair or having limited mobility will need enough space to store all their equipment and medications related to physical therapy. And the most viable option for adding a huge amount of storage space into your new ADU housing options is to create built-in closets and shelves.
That way, you will not make the amount of ADU living space even smaller, yet still be able to provide your dwellers with enough closets and wardrobes.
Creating a Comfortable and Homely Environment in the ADU
While thinking about all the equipment and design plans that can ensure the physical comfort of your future dwellers, do not forget to think about the style of your ADU as well!
As you can imagine, it is quite easy to forget about this part when there are so many other things that you have to worry about, but it is important to create a warm environment inside your ADU. All the grab bars and zero-step entries already create a feeling that you are living inside some hospital. This is why you should find a way to incorporate all these features as seamlessly as possible so that the person living in your ADU can call this place a true home.
Consider choosing warm colors for all the furniture, walls, and floors of your granny flats so that they would look nothing like the inside of the hospital with its bright and cold colors. And when the overall style is created, try to find all the additional equipment, such as grab bars in similar colors and matte materials.
Installing Communication Devices in the ADU
Having family members or any other loved ones with special needs can be quite stressful for the rest of the family: you want to provide them with as much independence as you can while still ensuring that they can ask for your help and support.
And, of course, building ADU housing costs near your existing house has a lot of benefits, such as maintaining the privacy of older people or people with disabilities. But some of you might still need a bit more guarantee that the person is safe.
In that case, here are some additional requirements that you can implement in your new housing:
You can install all the same safety alarms that your existing home has onto the new single-family residence so that no one can access your detached ADU housing options without the approval of the dwellers;
You can also add sensors with fall detection to your new piece of property so that you can help your loved ones or any other dwellers in case they cannot get up on their own;
For those of the dwellers that are less independent, you can even install cameras and communication centers to check on them. In other cases, when it is possible to maintain the privacy of a person, call buttons will also work.
Ensuring Adequate Ventilation and Temperature Control in the ADU
Any type of ADU should be provided with a decent HVAC system so that your tiny homes can improve their air circulation and provide better temperature control.
It is especially important to create a decent temperature control in case your ADU construction is created particularly for older adults. It is usually the case that they need higher temperatures inside their own homes, which is why they should have a chance to control the temperature inside the ADU on their own.
Exhaust fans are also a good feature to incorporate inside the kitchen and bathroom of your ADU so that excess moisture would disappear faster, making the dwelling safer for people with disabilities.
Providing Adequate Space for Medical Equipment in the ADU
It is often the case that people with certain disabilities or older adults use medical equipment and physical therapies on a daily basis. This is why you need to design the living space of your unit in a particular way.
Open-space layouts are definitely a must! The smaller the number of walls inside your housing unit, the easier it will be for the dwellers to move around as well as perform physical therapy exercises.
Of course, you should allocate a particular place in your design plans for exercises and all other activities. But it does not mean that the rest of the living area should be any less comfortable for seniors or people with disabilities.
Creating a Supportive and Caring Community Around the ADU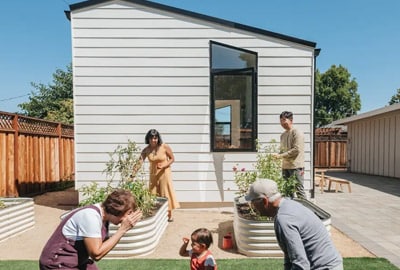 Lastly, it is important to surround seniors or people with special needs with a supportive community!
When it comes to your own seniors or any other loved ones, it is usually not a problem to support them in their new journey. But in case property owners are building such an ADU near their main house for the purpose of receiving additional income, this can be a problem. Hence, homeowners should only start an ADU construction process for seniors or people with disabilities if they are ready to provide care and support on a constant basis. Talk to them and include them in their own community of friends and other family members.
Anyone can become eligible for building an ADU on their property and receiving an income from it, but not anyone can support and help people with disabilities on a constant basis.
Frequently Asked Questions — FAQ
What's one drawback of an ADU?
The construction process is usually the disadvantage that most homeowners talk about. It is quite hard to tolerate a long construction process on the same parcel, as you will constantly hear long, unpleasant noises. But other than that, all homeowners will easily find a purpose for their ADU and list a lot of benefits that they have, such as an increase in property value, a source of additional income, and so on.
What is the difference between a JADU and an ADU?
JADU is a version of an ADU with a benefit of a smaller cost. JADU is still an independent housing unit that you can build on your property land in sync with local regulations and other basic requirements of your state. However, JADUs are smaller and can only be constructed inside your already existing housing, as well as attached housing or garage conversions.
What is the difference between an ADU and a guest house?
Usually, there is no difference between these terms, and people use them interchangeably. However, an ADU has its own regulatory barriers placed by your local authorities, while guest houses have the benefit of unrestricted construction. An ADU housing on your property land should have its own entrance and all the utilities, such as a kitchen and a bathroom, while a guest house might not have a kitchen or a separate entrance.
What are the requirements for an ADU in Oregon?
The main requirement for homeowners in Oregon or any other place is to receive a building permit that will make them eligible for the construction of new housing near their main home. The restrictions placed by the state are usually related to the size of attached/detached independent housing options, the addition of parking spaces, rear and side setbacks of a new property, and so on. In some cases, pre-approved ADU plans are provided and can be used to expand housing options for your family or other people.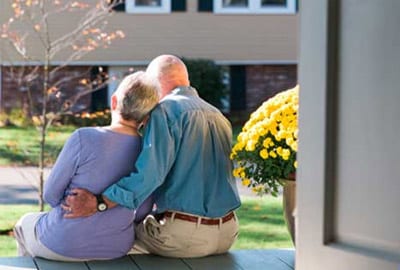 ADUs have been a choice of many Americans in recent years, and the popularity of these living spaces doesn't cease to grow among property owners. The main cause of this madness in the housing market is the versatility of these objects that provide a wide range of variants of usage. Certain families like to rent these tiny houses and generate additional income, and many adult children like to start their families there. While for certain personalities, it seems like a viable option to simply refurbish it to create a home office.
However, the opportunity to transform an ADU to provide care to people in need is often overlooked. Among many other benefits of ADUs, this one may be the most life-saving for a variety of people. In case of a serious injury that can occur to any of us, you could put your family members here instead of sending them to a hospital. These tiny houses can allow your relatives to stay in good health and provide a place to take care of older relatives.
For sure, there are many intricacies of setting up accessory dwelling units as an assisted living facility, so we would like to get you acquainted with the most crucial aspects of the matter. Without further ado, let's get started.
Increased privacy for both caregiver and care recipient
One of the most important benefits for people building an ADU to use it as an additional living space is privacy. Your relatives from another city or state won't have to share rooms with you in your main house, and your adult children starting their own families will be close to you and far from you at the same time. This very benefit is applicable to the situation of caregiving to your elderly family members.
If you use an ADU in this way, a care recipient can maintain privacy and independence while having their caregiver nearby in case of any inconvenience. They can choose a room to stay in and make themselves home there. This small living space will help them to keep autonomy as they can do whatever they want there, which will definitely increase their self-esteem and mood for the day.
The usage of an ADU will also be beneficial to a caregiver. While being at a distance, they will be able to provide the same level of care and love to the older adults. After all, they have to have an opportunity to have some rest after a long day at work, don't they? ADUs offer this opportunity to caregivers in the best possible way.
Cost savings compared to nursing homes or assisted living facilities
Saving money on your loved one seems like a tragic and impolite move; however, using ADU to give care to your aging parents is a great idea to save a fortune on medical expenses. With the ever-growing costs of medical care, ADU is a viable option.
You can save money on the following aspects:
To put your aging parent into a medical facility normally requires buy-in payments or a long-term contract with this medical organization or hospital, which are rarely affordable to a regular person. Instead of wasting your money on it, you can invest it into the construction of ADUs or needed refurbishment so it could fit the specific needs of your family members.
Saving on additional expenses
Caregiving doesn't require permanent surveillance of the patient, but also certain extra accompanying procedures like food or clothes change. As you may have figured out, these expenses can be cut out if you put your family members into an accessory dwelling unit nearby. Cooking food at home and buying clothes in the corner shop is always cheaper than doing the same things in the hospital.
Generating money afterward
Amidst the housing crisis, every square foot of property weighs gold, so after you have finished giving care to your family member, your ADUs can serve as affordable housing options for many tenants looking for housing. In the long term, it can generate rental income and compensate for the costs of caregiving.
Flexibility to adapt to changing care needs
Rarely do we notice in our day-to-day life that people living on the same property as us need a different approach, and their needs may change over time. Hence, it is essential that your unit could be described as a flexible space that can be changed at any time according to the demands of the family. The perfect solution here is to think over all possible changes that you can introduce to your flat in order to maintain the same level of comfort for the care recipient, and it can be achieved in the following ways.
Modifications
The layout of your ADU should support the use of different modifications that could be installed all around the existing home. Normally, it all revolves around wheelchair ramps or stair lifts that can significantly increase the quality of life of the family members.
Smart technology
What if your care recipient could walk on their own but now can't even open the window in the room? It should be possible to install at any time the latest innovations to simply make it possible to do regular house activities. In our case, the installation of remote-controlled window coverings would solve the problem. Check that your ADU is suitable for these technologies.
Flexible use
Nowadays, there are many ways that you can introduce flexibility to your ADU, and it can be really useful for your care recipient. For people who can't walk, it is important that they can do all activities in one space, so it should be possible to transform the bedroom into a dining room. The usage of multifunctional furniture or smart storage should help you greatly to achieve this.
Reduced caregiver stress and burnout
Even though family caregivers spend their time taking care of people around them, they also need to be taken care of. One of the benefits that ADUs provide to the caregivers working there is the reduction of stress and burnout. Let's figure out why.
The decrease of stress and burnout are the consequences of the following:
The proximity of an ADU allows other family members to participate directly in the life of the aging parents. They can come to the unit for a couple of hours every day and give the caregiver extra hours of rest, which eventually reduces stress.
Previously installed handrails and grab bars allow the caregiver to worry less about accidental falls and other accidents that can occur to anyone. They will have peace of mind and relative security, decreasing the chances of stress.
The quality of life of a caregiver is another important factor contributing to burnout. For sure, granny flats give them easy access to everything they need for a peaceful life, decreasing stress and chances of burnout.
Improved quality of life for care recipient
Better quality of life is the thing that many families want to achieve when they choose accessory dwelling units as the place to take care of their family members. Nowadays, there are many ways you can change your affordable housing option into heaven for your close ones who require care.
Many of the advantages of caregiving nearby we have already discussed in this article. Here goes the increased privacy, independence of the care recipients, and reduced stress of caregivers who can provide better services. As for other significant benefits towards improving the quality of life, here we can add greater overall comfort of the accessory dwelling units. Your family members will have more space and hence more independence than in any hospital, which will definitely result in a better quality of life.
What is more, families will be able to see their loved ones as much as they want, and for certain people, it may be a significant factor leading to a faster recovery. Home life is definitely better than any medical facility, and it will make your family closer to each other, facilitating adult-child relationships.
Enhanced safety and security for care recipient
Property owners have fewer resources than hospitals to organize proper safety and security measures for their families. However, there are still a lot of things that we can do to provide support to them. We have created a list of features to give you a hint of what can be done in your tiny homes to ensure safety.
The are many ways you can enhance safety and security:
Features for better accessibility
Alert systems
Better materials to prevent falls
Detectors of dangerous substances
Proximity to caregiver
Having taken into consideration the above-mentioned points, you are sure to create a comfortable and safe space on your property to achieve family peace.
Increased independence for care recipient
The sole presence of the care recipient next to the main residence and not in the overcrowded hospital allows us to tell about the increased independence of people living there. Instead of the stifling hospital ward, their room is in their full possession, and they can do whatever they want there, and however they want, i.e., make themselves home. They will have their own bedroom, bathroom, and kitchen, and these are all valuable benefits in terms of independence.
All these features increase the control of care recipients over their life and routine. From the ability to cook their own meals to the possibility of arranging gatherings with their friends and relatives, both detached and attached ADUs provide many ways to boost the independence of the dwellers.
Ability to maintain family connections and social support
People living in accessory dwelling units next to the existing house often say that it offers them the possibility to maintain family connections and receive enormous levels of social support. Hands down, receiving support from the whole retirement community of your area is a great benefit of using accessory dwelling units. But in what ways can it also be helpful?
The following ideas are examples of how a dwelling unit can help maintain family connections:
Shared activities are a great way to keep in contact with all family members at the same time while playing games and having fun. Not only are games possible, but also features like shared meals or crafts can play a significant role in the overall well-being of care recipients. Is it possible in the hospital? Definitely no!
The sole option of your parents or grandparents being next to your main living space means that your kids will visit them much more often than if they were in a hospital far away from home. This will improve family proximity greatly, which will reduce the sense of isolation and loneliness.
Normally, local regulations don't control the ways you use your property. Hence your relatives will be able to create a retirement community around their unit. For sure, there are many families with elderly family members lacking human interaction, and this can be solved if you use your unit as a place to give care to your family members.
Potential for intergenerational living and support
Maintaining family connections is important for anyone, and your own home can become a great instrument for doing so. Even though the modern generation doesn't find baby boomers that interesting or entertaining, we are sure that they can learn much from them.
ADUs can promote intergenerational living and support in the following ways:
Better dynamics in the family
Decreased housing costs
Responsibilities that are equally divided
Better quality of life
Shared resources
Accessory dwelling units are great housing options to promote support between generations. Introduce these units in your living quarters, and you will see how the relationships between your parents and kids will flourish.
Increased property value and potential for rental income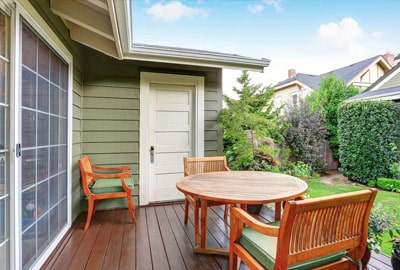 You can't even imagine how having ADUs can help you generate additional rental income. As there are many ways of doing so, let's figure out together how you can get more income from your property right now.
Your housing income can be increased in the following ways:
People who take care of your loved ones can also pay you money and live next to their clients. For sure, they will have a decreased cost for the property but will still have their own modern housing. A win-win situation for them and for you.
Your housing option can be rented out with your loved one living inside. Moreover, you can ask senior network services, and they can find tenants for you from the same category as your family member. Together it will be much funnier for them, and it will cure their loneliness.
If you decide to sell out your property, an ADU on the lot will be the source of additional income for your family. The sole presence of it may significantly increase the total price for the lot, and potential buyers will not overlook it for sure.
Frequently Asked Questions — FAQ
What types of accessory dwelling units are the most popular now?
Among our customers, one of the most beloved accessory dwelling units is detached ADUs, garage conversions, and basement apartments. Being one of the best housing options on the market, these units offer a variety of usage options, including the generation of income, assisted living space, or affordable housing for your young adults.
Where can you create ADUs?
Our company operates in California, so building an ADU in California cities is not a problem for us. You can check our portfolio and find units built all over the state, including San Jose, Santa Cruz, and even Bay Area Cities. We promise that no matter where you are located, you will not be disappointed with the cost, design, and result of building this housing option.
How long do you build one ADU?
Overall, the time depends on the difficulty of the project and the necessity of different additions to the main design. On average, we can build one from 6 to 8 months, so you should aim for these numbers too.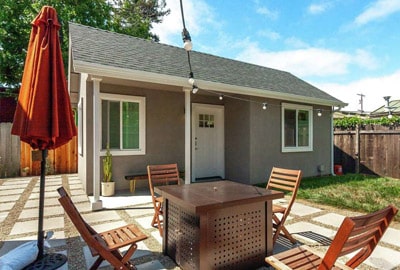 ADUs are the most affordable housing options, which, more than 50 years ago, became the solution to the housing crisis in California cities. Today, they are an excellent option for expanding living space, obtaining rental income, or working from home. There are many ADU options, from garage conversions to backyard cottages. However, granny flats or any other ADU housing options designed to care for people deserve special attention.
Many families have relatives who require special everyday care. In this case, flexible housing options such as ADUs come to the rescue, allowing homeowners to provide maximum comfort and the necessary support and strengthen family ties.
In this review, we will talk about which categories of ADUs are adequate for the needs of caregivers and reveal their advantages of operation. We will also pay special attention to highlighting why they are a better solution than the accommodation of all family members, including older adults, in single-family homes.
Accessory Dwelling Units (ADUs) as a Housing Option for Caregivers
There are a huge number of specialized institutions where people who need help will be provided with the necessary support and decent living conditions. However, none of these places can be compared with ADU, so if you want a model accessory dwelling unit for caregiving, you will now understand all the benefits of this decision.
Multigenerational Housing: A Solution for Caregivers
Multigenerational living spaces that unite older relatives with the smallest family members are a distinctive characteristic of many Eastern cultures and European countries such as Italy or Spain. The solution to model accessory dwelling units in a multigenerational format can bring many advantages.
Strengthening family ties
Many studies show that modern people prefer solitude and living in a single-family lot. Among all the consequences of such a trend may be the loss of family ties. However, the family is the most important unit of society, and what is more important is that close family members are the only people who will always provide you with additional support in the most difficult situations. Living in a multigenerational accessory dwelling unit allows you to create strong family relationships from childhood.
Assistance in socialization
When discussing supporting flexible housing options and the people living in them, which groups come to your mind first? Most likely, these are older adults and young children. It is not surprising that they have a lot in common, in particular, difficulties with socialization. So, the older people get, the more they begin to feel their uselessness in society, which has an extremely negative effect on mental health. Children also often face such a problem because they simply do not have the experience of entering new communities.
The multigenerational accessory dwelling unit, as a complex medication, solves both tasks simultaneously. Older people can share their knowledge, experience, and advice with young people. Thus, they will feel their social significance, and children will receive many useful insights that will save them from unnecessary worries and mental anguish.
Health monitoring
We will talk in more detail about the privileges of living in an accessory dwelling unit from the point of view of solving health issues in a separate chapter of this review. Here we will clarify that there are disappointing numbers that almost 90% of older adults have a chronic disease that requires regular monitoring. Moreover, such insidious diseases as epilepsy or heart attack also find people in a moment of loneliness when they have no one to help. Fortunately, if you live in a multigenerational ADU, there is always a person in the house who will provide the necessary assistance.
All in all, multigenerational accessory dwelling units are not only a great way to cope with family caregiving tasks but also a great opportunity to spend more time with your beloved relatives and strengthen ties within the family.
Shared Housing: A Cost-Effective Option for Caregivers
The concept of sharing housing is very common in the field of social security because there are so many groups of people who do not want to live alone or who are physically unable to do so. This list includes war veterans, people with addiction, young children, and the elderly. Nevertheless, such housing differs from the usual single-family home, and among all types of accessory dwelling units, attached ADUs must correspond to the principles of sharing housing.
Considering the implementation, these housing options also have a number of advantages:
The main feature of internal ADU is that its construction will not entail a financial burden because such projects have a common roof, foundation, and at least one wall with the main house.
Quick response in an emergency
If family caregivers live in the attached ADU, then in case of an emergency, they can come to the aid in a minute. Because you do not even need to cross the yard, as it usually happens if you own a detached ADU.
No matter how much we talk about the fact that people in need can not be left unattended, everyone values the inviolability of personal boundaries. At least for a few hours a day, it is necessary to give the individual the opportunity to retire. In classic sharing housing units, this is difficult to do because, very often, living space does not have divisions. However, the case with the attached ADU is very different since all family members have their own rooms, which means more independence.
On the whole, as researches show, shared housing options are very effective in solving everyday tasks that are associated with people who require care. At the same time, there is no discomfort or embarrassment; in contrast, life in such accessory-dwelling units is as practical and comfortable as possible.
Co-housing Communities: A Supportive Environment for Caregivers
Those families who have the need to take care of relatives or elderly parents face great challenges, so their life should get simpler and adapted to the new reality as much as possible. Co-housing accessory housing units exactly meet this requirement.
Firstly, common spaces, in particular, the kitchen, optimize the performance of most household tasks.
Secondly, if a family member who provides day-to-day care does not have time for cooking lunch or cleaning, then adult children living in the same house can always come to the rescue.
Finally, the most important plus is mobility because imagine if your aging parents live in another quarter; then how long will the banal transportation of food or medicines take, when you live together, then all such questions instantly disappear.
Assisted Living Facilities: A Housing Option for Caregivers and their Loved Ones
Many families prefer to pay their elderly relatives for a place in an assisted living facility because they do not want to place them in an existing house. On the one hand, there is a certain logic in such an action. On the other hand, few people think about the emotional state of those who need caregiving. No matter how convenient, technological, and modern an assisted living facility is, it will not replace staying and communicating with close family members.
Everyone deserves to age in place next to their loved ones and not in the cold walls of a retirement home. ADU is the perfect solution in this situation, on par with this. If you do not want to invest a lot in construction, you can consider the option of tiny homes, which have all the necessary amenities and modern life support systems.
Nursing Homes: A Housing Option for Caregivers and their Loved Ones
There is a category of people for whom it is necessary to provide specific medical services every day, and in this case, it is impossible to do without a nurse. For this reason, many families prefer to send their relatives to the nursing home. However, it is not necessary as ADU perfectly performs the functions of this nursing home. It is separated from the main residence, which means there will be no tricky situations. If the nurse lives far from your home, she can always comfortably spend the night in the ADU; nevertheless, most importantly, you can safely leave the living area because you will be sure that your relative, child, or parent will be under qualified medical supervision.
Home Modifications: Adapting the Home for Caregiving
Traditional homes do not meet the requirements of comfortable and safe living for older adults. In this regard, we recommend you model an accessory housing unit in accordance with the principles of universal design.
The basics of this style consist of the following points:
Mobility. Very often, people who require care have mobility problems, so already at the planning stage, think about the expansion of the doorways, providing more space in each room, as well as safe methods of climbing stairs.
Bathroom and kitchen security. These are the most potentially dangerous rooms, so first, provide a non-slip floor covering, equip the room with handles to maintain balance, isolate all sockets and wires, and smooth out sharp corners on furniture.
Means of communication. Among all the supporting flexible housing options, ADU is by far the best. However, even this space does not initially assume the presence of an emergency communication function. For this reason, ensure constant communication; it can be an intercom, an emergency call button, or a phone built into the smart home system that operates via voice commands.
General safety. The importance of security in both existing homes and ADU is very difficult to overestimate, especially when it comes to people who require constant monitoring. To be sure of their safety, you can equip the room with falling detectors, install cameras around the perimeter and inside, add an alarm system, automatic door locks, and much more.
Additional factors. There are also many features that allow people to live independently but which are difficult to classify into a certain category. For example, add a function of temperature control, a voice assistant, replace complex handles with magnets, lower the drawers if necessary, or replace bright bulbs with matte ones. Some of these solutions can increase housing costs. However, all of them will greatly simplify your everyday routine and make the life of tenants more practical.
In sum, building an ADU is a complex process. It requires careful consideration of how convenient it will be for you to do caregiving and how comfortable it will be for a person to age in place in the ADU format.
Home Health Care: Bringing Caregiving to the Home
There are skeptics who claim that no affordable housing option will replace specialized institutions if a person needs qualified medical care and that it is always necessary to contact specialized senior network services. There is some truth in such a statement; however, to a greater extent, it is outdated. Modern ADUs belong to the category of high-quality homes, which have everything to maintain good health. Firstly, ADU, unlike single-family homes, has an extra space where you can place exercise equipment and other structures to recover from injuries.
Secondly, the ADU can be equipped with smart devices to maintain health, for example, a reminder about taking medications, appliances for diagnosing a health condition, and much more. Finally, living in an atmosphere of family peace, a person recovers much faster from any disease.
Respite Care: A Temporary Housing Option for Caregivers
An ADU is often used as temporary accommodation for the season, e.g., when your adult child comes for the summer or guests for the winter holidays. Moreover, the ADU can be used as a temporary living space for people who need to recover from an injury or a long illness before they return to their own homes. The comfortable conditions of such an affordable housing unit as ADU will heal all wounds very quickly.
Home Sharing: A Housing Option for Caregivers and their Loved Ones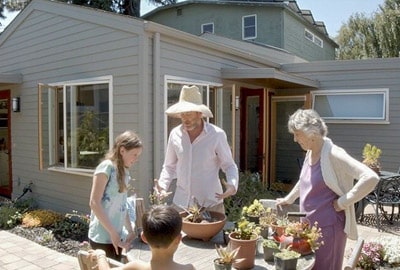 ADU, as an independent living space, is equipped with all the necessary conditions for a person who needs care. It makes life more functional; it is practical from the point of view of the individual who provides care. Sharing living can bring a lot of positive emotions and energy, which is very often more valuable than medicine.
Frequently Asked Questions — FAQ
What are the advantages of building an ADU for caregivers?
Constructing an ADU for people who need daily care, you provide them with the most comfortable environment filled with warmth, coziness, and communication with family. For those who provide care, such an affordable housing option as ADU simplifies the performance of household tasks, significantly reduces monetary costs and saves physical and emotional strength.
What is important to consider when building an ADU for caregiving?
Since ADUs for caregiving are different from ordinary houses, first of all, it is necessary to study local regulations. To successfully deal with all regulatory barriers, it is better to discuss pre-approved ADU plans with lawyers. They will also help you choose the best financing option, e.g., a second mortgage or a home equity line of credit. Finally, it is important to equip living quarters in accordance with the principles of universal design.
How much does it cost to build an ADU?
Each ADU draft is unique, so it is impossible to name the total amount for the construction. So, an ADU attached to the primary residence will cost less than a basement apartment, which in turn has a much lower price tag than a detached ADU. In any case, families who decide to build an ADU should remember that this will allow them to make life better for those who need it, as well as receive additional income and improve the housing supply on the market.