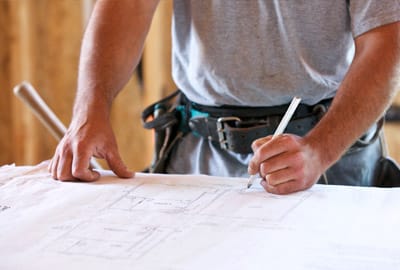 Construction of accessory dwelling units is quite a complicated process, and if you want the job to be done in the best way possible, you need to pick the right contractor. Planning a new ADU project requires extensive knowledge of the field, from choosing an ADU type to developing the design process. For the new construction to turn out the right way, it is better to hire professionals that know all the ADU rules and specificities.
Most homeowners do not have any experience with ADU construction. If you are still hesitant about finding potential contractors and choosing the best ones for your backyard home, this article is for you.
Here, you will learn everything about building an ADU with general contractors in your area. Take notes on what to pay attention to and get yourself the best ADU contractor out there.
Researching Potential Builders or Contractors
Accessory dwelling units can be built in a variety of ways. Depending on what your goals, budget, and time frames are, one or another option can be better. So, before the whole construction process starts, consider all the possible choices.
When it comes to choosing specialists in the ADU field, you can look through the following options:
Working with a big general contractor firm;
Hiring a handyman;
Becoming a contractor yourself.
General contractors of major-scale businesses will plan and build your accessory dwelling unit without much effort from your side. Usually, such general contractor firms have a team of various professionals who deal with architectural designing, planning, permitting, and constructing an ADU. Although the cost of such ADU projects might be higher than for other available options, you get to save a ton of time and receive a high-quality result. Moreover, such ADU contractors provide you with a detailed project plan and cost approximation right in the beginning.
Another option is to go to a smaller family business or handyman. Such a construction company might provide you with some subcontractors while performing another part of the tasks themselves. The cost per square foot here is lower, but you are not guaranteed to have a spotless ADU project. In most cases, such a general contractor is not regulated by qualified specialists, only relying on their skilled family members to do the job.
Last but not least, you can always get enthusiastic and be the ADU builder yourself. By saving money on hiring anyone else, you can, for instance, extend the square footage or opt for better materials. However, you will always have to double-check each step of the process and learn something along the way. Searching for the right team to get some part of the project done while working on other things yourself is generally very time-consuming and might be exhausting for both you and the loved ones you live with.
Checking for Licenses and Certifications
An unlicensed contractor is someone you do not want to build your ADU. The right ADU builder should provide the level of expertise that makes them eligible to work on such a construction project. Without proper licensing, you can never be sure how safe the ADU project will be.
You might end up spending even more money if an ADU contractor does not have all the required legal permissions. Remember that redoing something always requires more time and money on additional materials.
Evaluating Previous Work and References
A good general contractor should be proud of their completed projects. Property owners who are interested in building an ADU usually want to see the past projects of a company in order to understand what to expect and what kind of projects the contractor usually does.
Qualified general contractors will show their portfolios on their websites. This allows you, as a client, to build your ADU with an understanding of what the final product might look like. Also, while going through the track records of previous projects, you might take some inspiration for your own ADU.
Comparing Quotes and Estimates
The cost of the project is something all customers are interested in from the beginning. While you should not opt for the lowest bid on the market, spending extra tens of thousands of dollars when you could have chosen a more affordable option is also not the best option. Hence why you should look for the offered project estimates of different general contractors, as well as the down payment amount.
In general, a stick-built construction project is more expensive than, for example, a prefabricated ADU or a conversion of an existing structure. Whether you are interested in garage conversions, affordable housing in the form of prefab ADU, or stick-built ADUs, always look for reasonable pricing.
The right ADU contractors should not be super cheap to hire, as you might get unexpected troubles and bad quality from such a builder company.
Understanding the Builder or Contractor's Communication Style
Working with the right person on your ADU can save you from unnecessary stress and worries. A general contractor or any other ADU builder should be open to communication. Resolving any upcoming issues urgently is something you would want to see from a true professional.
Do not trust the construction of your property to someone who is not ready to explain to you all the steps of the process and answer your questions.
When starting to work with a general contractor, see how the company communicates with you, what their customer service is like, and whether you are comfortable working with them. You might also want to check what the previous clients have to say. Of course, if you see some horror stories told by others about the project process, it is not a good sign.
Assessing the Builder or Contractor's Experience with ADU Construction
The safest way is to opt for a general contractor that has been working in the industry for a while. Construction done by skilled experts is guaranteed to result in a quality product. Whether you are getting one of the prefabricated ADUs or having one built from scratch, the contractor of choice should have experience in various projects of similar kinds.
Furthermore, it is better when the project team not only completes the projects year by year without changing anything but also implements modern technologies into planning and construction. Innovative solutions used by a general contractor can help you to create a more efficient structure in terms of cost and energy use.
Verifying insurance coverage and liability protection
A good contractor must provide workers' compensation and general liability insurance. A construction project is full of possible dangers for the human body, even when all the safety measures are undertaken.
A general contractor who takes care of its workers will most likely be responsible when it comes to working with clients as well. Even a simple prefab ADU installation might result in an accident. Therefore, all the compensation measures should be considered by the company.
Discussing Timelines and Project Management Strategies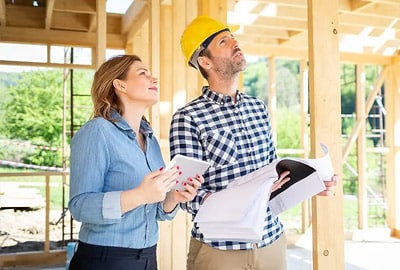 For both prefab ADU and stick-built ADU projects, the schedule should be clear from the start. Project timeline and cost approximation are probably some of the most important points to clarify before the whole process of planning, designing, and building begins.
Why are time frames so important? Because without them, the project might get stretched for many weeks and months, and you would not know when to expect the results. A responsible contractor will make sure that the schedule is approved by the client and guarantee the timely completion of the work.
Also, your builder specialists should be able to react to any unexpected changes quickly. Notifying you about the new possible solutions and making sure you are aware of everything that goes on with the project should be the priority for the contractor team.
Negotiating Payment Terms and Schedules
We have already talked about the importance of pricing and project scheduling, and another way to ensure that both sides follow the agreements is to sign the papers. A contract with full details about the construction of a new ADU or installation of a prefab ADU is the best way to get guaranteed results.
Your contract should specify what amount of down payments you are required to provide and what the total cost of the project would be. It is always better when each part of the financial plan is thoroughly specified so that you do not get any unexpected price changes. Keep in mind that you are not obliged to pay for the work that has not been done yet. The pre-payment amount cannot exceed 10% of the total project cost, according to the law.
What about the time frames?
Stating the time frames for each project step in the contract will also keep you safe from any unexpected changes on the contractor's side. Of course, sometimes things do not go smoothly and strictly according to the schedule, but still, you will have a guarantee of timely completion.
Developing a thorough contract for the construction of your ADU will be especially helpful if something goes wrong and you will have to take the case to court. Consulting law specialists in the sphere of construction before having an agreement with a contractor company can help you to avoid any stress of such kind.
Finalizing a Contract and Scope of Work
Thus, the successful construction of an accessory dwelling unit starts with the right choice of contractor. Whether you are planning to turn your ADU into a guest house, adding to the main house, granny flat, or backyard cottage, high-quality services are needed in order to get the best results. Although the process of picking a good builder company might seem overwhelming, going through all the mentioned steps can help you to choose the professionals easily.
To conclude, when choosing an ADU specialist, pay attention to the following elements and features:
Consider a variety of options according to your budget and the type of services you want to get;
Check if all the required licenses and permits are obtained by the service provider;
Analyze previous experience of a general contractor and look through completed projects on their website;
Search for a builder team with good customer service so that you will be able to communicate freely;
Check the level of expertise provided by builders to hire;
Compare estimates from different companies and choose the optimal pricing;
Make sure that the contractor provides insurance to its workers;
Discuss the schedule of a project and agree upon the time frames for each step;
Make an agreement contract according to all the discussed details.
With a qualified contractor by your side, the construction of an ADU will go smoothly and without any major problems. When opting for a general ADU contractor, you get to have design and architecture plans made by specialists. The permit set is received easily from the governmental officials when all the planning is initially made following all the zoning laws and other ADU regulations.
ADUs can become a great addition to your property. Such units not only extend the existing living area but also allow you to maintain privacy for the family members who will live there.
Whether you want to construct an ADU for your grown children to live in or you need it to have elderly relatives by your side. A good contractor will consider all your needs and wishes and will suggest solutions that work best for such conditions. Pick the right ADU builder according to our tips and enjoy plenty of benefits that these secondary units can give you.
Frequently Asked Questions — FAQ
What is the most cost-effective way to build an ADU?
ADUs are considered affordable housing options, as they are usually cheaper to build than a main dwelling unit. Prefab ADUs are considered to be some of the most cost-effective options out there. Generally, when building an ADU, you often pay a certain price per square foot, so depending on this cost, your ADU can turn out to be affordable or expensive.
What's one drawback of an ADU?
Probably, some of the ADU's drawbacks include limitations in size. It means you cannot build an ADU as big as your main house. It has to be of a certain height and size. Also, placing an ADU on your lot according to zoning regulations might be challenging. However, this issue is easily solved if you work with general contractor specialists.
Is it worth it to build an ADU in California?
The construction of an ADU can bring a lot of benefits to California residents. First, you get to extend your living space without transforming your primary housing. Second, you can receive additional rental income if you decide to rent out the ADU. Also, an ADU increases the overall value of your property on the housing market, which can help if you ever decide to sell the house. What is more, the wide functionality of these units allows you to turn them into any cool zone that your home lacks.
What are the new laws for ADU in California?
Some of the newest additions to the ADU laws require homeowners to receive permits for the conversion of detached garages as well. Homeowners must apply for the reconstruction of an existing garage simultaneously with the application for an ADU construction on their lot.