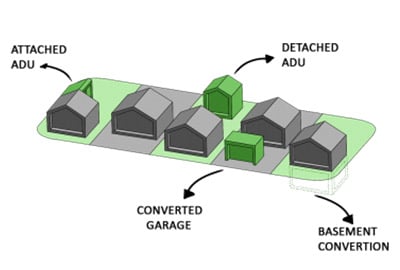 An accessory dwelling unit (ADU) is an additional living space built in the form of a tiny house on the same property as your main house. There are many ways in which the idea of creating an ADU comes to a homeowner's mind.
For instance, if you need more space but your budget doesn't allow you to move to a more roomy house or a guest house for your visiting relatives and friends. Yet accessory dwelling units are not the only new space. They are also a good investment project if selling the house is in your plans. The reason is that an ADU can significantly increase your property value and boost your profit from the sale.
In any case, what no ADU project can do without is an elaborate ADU design. In this article, we put together valuable information concerning ADU design. After all, as you know, when people bounce ideas off each other, the most thoughtful and all-encompassing plans are born!
ADU Construction Considerations
When adding additional living space, you need to take into account the type of structure you plan to build.
So, what factors will affect your choice? These include:
size of your plot and the location of other objects on it;
the purpose of building an ADU (for rent, for permanent housing of elderly family members, etc.);
the overall design of your house and surrounding area;
the presence or absence of other ADUs.
A new ADU is supposed to be practical, not block too much space for walking on the site, be spacious enough for your purposes, and make sense in relation to the general style of the environment.
Understanding The Different Types of ADUs Available
Accessory dwelling units come in several types depending on ADU size, ADU layout, placement, type of building, etc.
Thus, ADUs may be:
Detached, attached ADUs
A detached ADU is a stand-alone structure in your backyard, while an attached ADU shares at least one wall with the primary residence.
Exterior and interior ADUs
An exterior ADU is a structure you build in your backyard, and both detached and attached ADUs fall under this category. Internal ADUs encompass only accessory dwelling unit types built within your main family home.
New structures or conversions
As opposed to newly built ADUs, conversions are projects in process in which clients rebuild an existing garage or attic to accommodate their needs. The ADU designer team turns an unused room into a practical space for your family.
A full-sized ADU vs. a junior accessory dwelling unit
Full-sized ADUs can reach 100–1200 sq. ft., depending on the region. A junior ADU design is very specific: it must be no more than 500 sq. ft. and converted from an already existing structure.
Assessing Your Property to DetermineThe Best Type of ADU for Your Needs
To create a dream ADU, homeowners start their planning stage by analyzing their goals and the properties of their plots to customize the future project for individual demands. First of all, budget plays a significant role in choosing an ADU type. If you need something more affordable, conversions from an existing garage, attic, or basement are the best option for you.
In contrast, if construction costs aren't the major problem, but your property size and its existing structures (for example, a backyard pool) don't provide enough room for extra construction. ADUs that are two stories tall may be the solution to your problem.
Considering the Size and Layout of Your Existing Home When Choosing an ADU Type
Of course, small spaces require more careful and thoughtful ADU design and planning. As you have to fit all the necessary amenities into an extremely limited space. So that it's convenient to move around in it, to use it, and you don't find the space too cramped to have a proper rest in it.
Depending on the purpose of your ADU, designers offer different ideas concerning their style:
For granny flats, it's recommended to use either room conversions or attached ADUs. Because when you're designing ADUs for elderly people, it's important that the way from the main home to the ADU is short enough to get there quickly if needed.
For a home office, homeowners usually choose detached ADUs so that, and vice versa; there is a distance between the family and yourself during remote work hours.
The preferred design for renting cottages, garden cottages, and petite homes for newly formed families is stand-alone homes. Aside from the mandatory bathroom and small kitchen, they may have two bedrooms if there is more than one person living there.
Evaluating Zoning Regulations and Building Codes to Ensure Compliance With the ADU Type
When an architecture firm takes on ADU design projects, it always begins with studying building requirements in your city and state (foundation requirements, floor number, height requirements, and so on). Any architect or designer knows that it's a vital thing to do if you want your custom ADU project to get approved by local authorities.
Building codes and regulations typically don't contain instructions as to the ADU's interior design. For instance, whether you need huge windows for more natural light in the living space is only for the clients and their designers to decide. Yet, these documents restrict such ADU engineering characteristics as size (usually 600–1000 sq. ft.) and the number of ADUs allowed on a certain plot (typically, one full ADU and one junior ADU for one family).
Weighing the Pros and Cons of Detached vs. Attached ADUs
To see which construction project is more suitable for you, let's compare the two most popular ADU types.
Attached are ADU pros:
They are cheaper than detached ADUs;
They need less vacant backyard land for construction;
The process of building takes less time;
You can extend your plumbing and electrical systems from the main house to the attached ADU.
Attached ADU cons are:
they're less private than detached ADUs;
they're unlikely to be rented out if you decide on it later.
Detached ADU pros are:
They're the most private type of ADUs;
They're fully self-sufficient houses;
They're usually bigger than attached ADUs;
You can accommodate guests in them, rent them out, or house your grown children there if they need their own living space.
Detached ADU cons are:
They're the most expensive types of ADUs;
You'll need to build a separate plumbing system and electrical wiring;
They're not for small spaces.
Deciding Between a Traditional ADU or a Modular/pre-fabricated ADU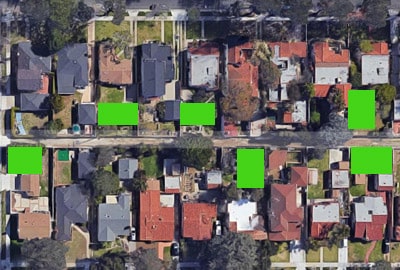 Which one of these types to prefer depends entirely on the client's vision.
What designer and architect specialists call traditional ADUs are custom ADUs. It's an exciting process to create the layout of your space from scratch, pick the exact places for your bathroom, kitchen, bedroom, sources of lighting, etc., decide on interior design. As well as discussing ideas about the transformation of the surrounding backyard area. Yet, full-fledged ADU development and design costs are not very cheap.
On the other hand, if such a high cost, in your opinion, isn't worth it, there's a more budget-friendly option: prefab ADUs. When you decide to create a prefab ADU, you almost completely skip the planning stage and, therefore, the costs for the architect, designer, and engineer. Moreover, you also save extra time spent on this lengthy stage.
Considering the Cost and Timeline of Construction for Different ADU Types
The general rule is that the larger the work scale, the longer and more expensive the construction will be. Following this logic, garage conversions and internal home space ADUs require the least amount of resources. For instance, a small garage conversion's average price is around $15,000–50,000, but this number may vary depending on a state and a particular city.
ADUs, where full-scale construction of the foundation, walls, and roofs is required, are always more expensive. Thus, attached dwelling units require more work, so their building and design average cost can reach $150,000. Detached units will take even more because they also imply new plumbing and electricity systems, which are also quite costly.
In terms of process duration, the fastest way is to make conversions and prefab ADUs, and the longest is to make a detached custom ADU.
Determining the Potential Rental Income or Resale Value of Different ADU Types
Despite being long to wait and costly, detached ADUs are the most rewarding when it comes to renting them out or reselling them. It's understandable for renters to seek more privacy from the homeowners, so it makes sense to invest in an attractive detached cottage design. This will bring around $1,500–2,000 per month on average. The resale value of a plot with a detached ADU can increase by 20–30%.
When it comes to attached ADUs or garage conversions, it's also possible to rent them out and earn from their resale. Of course, they will usually cost less, but if we're talking about near-college areas, any inexpensive living spaces will be in huge demand. In addition, in some states, you can build several floors of an ADU and rent one floor to one student and the second to another, which will increase your overall income.
Assessing the Level of Privacy and Separation Desired Between the Main Home and ADU
When it comes to the reasonable distance between the main home and an ADU, detached accessory dwelling units take the lead. This fact makes detached ADUs a good choice for a home office or a workshop where you need to focus on the tasks ahead. They are also a good choice for a guest cottage where your guest can stay for the weekend, and for a granny house if your elderly parents don't require constant care.
An attached ADU design is more suitable for very close relatives or those who you need to observe closely, for example, young adults or small children, if your family has grown and the young spouses require their own space.
Typically, an ADU building and design team would recommend an internal ADU, an ADU within the primary dwelling, for those who are very outgoing and don't have much room in the yard. If you're an elderly couple who lacks social interaction, you can even turn your entire floor into an ADU and rent it out, gaining both extra income and communication.
Considering the Long-term Use and Functionality of the ADU When Choosing the Right Type
ADUs are investments in the future. They're not cheap, but they bring a lot of benefits in the long run.
Thus, before making your decision, consider all the extra opportunities that it provides you with:
Extra space for housing now, additional money later. A home office or an ADU on the upper floor is great for now. But by picking the ADU type, you can expand your list of goals from only current ones to future ones too.
If you plan to rent an ADU out, take note of your location and if it's a sought-after place of residence. If yes, think about how much you want to receive and build an ADU sufficient to attract tenants based on square footage, alluring design, and functional space usage.
Any ADU type increases property value, so even if you don't need your ADU anymore, it will always benefit you in the future if you decide to sell your house.
And remember, it's not only about the more you invest in an ADU, the more you'll gain in the end. First of all, you need to choose your ADU type wisely, and professional ADU building companies will help you with it!
Frequently Asked Questions – FAQ
What stages does an ADU design project include?
ADU design begins with discussing the goals and demands of the client. The next step implies that an architect, engineer, and designer take on the ADU development. Layout blueprints, proper arrangement of windows so that there is more natural light, electrical networks, taking into account fire safety, etc. Next comes the permission acquisition, a stage when your building company submits all necessary documents for approval to local authorities. And the last, but no less important, the stage is construction on site.
What are the minimum and maximum ADU sizes?
For more precise information, you should check out the building codes and regulations in your particular state. Yet, in the majority of areas, the biggest ADU you're allowed to have is 1000 sq. ft. Sometimes this number increases up to 1200 sq. ft. Concerning the minimal size, typically a dwelling unit cannot be less than 150 sq. ft. Thus, an available and most beneficial ADU in terms of lower impact fees takes up 750–800 sq. ft.
Can I build an ADU if I don't have the main residence on my plot so far?
Technically, yes, but it won't be considered an accessory dwelling unit. The rules prescribe that the first dwelling that appears on the plot will be the main residence. So if you want to make a temporary shelter while the real house is under construction, you're free to do so. But when it's ready, you can simply change the status of your buildings.