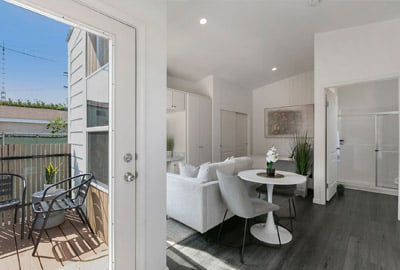 An accessory dwelling unit is a means of affordable housing that allows both you and your family to gain from it. Accessory dwelling units (ADUs) are small homes with additional living space built on the same property lot as the main house. With the help of an ADU, you can accommodate aging family members while preserving their independence, provide a private room for out-of-town guests if they come for a holiday visit, generate rental income, and even increase your property value.
An accessory dwelling unit is a popular option that many homeowners prefer for a variety of reasons. ADUs are perfect for aging parents who have to rely on their loved ones more. ADUs make families closer, allow them to enjoy more time together, stay close, and at the same time, maintain a respectful distance.
It's a perfect solution for families with scarce square footage who want to maximize space appropriate for a living (granny flats and guest houses), hobbies (home gym), or work (home offices).
Incorporating Universal Design Principles in ADU Layouts
For all of these purposes, you can build a separate ADU – a detached ADU that is a new stand-alone construction with the maximum level of privacy. You can pick an attached ADU that shares a wall with the main home, but still retains a certain level of independence. Or you can convert your garage or other existing structures into an ADU living space.
There are a few general principles of ADU design applied to organize the living area in the most wholesome way. They include:
Providing easy access from one room to another and arranging objects in a way that they're easy to use. The space should be made in such a way that it's convenient for children and elderly people to walk through it. Furniture and fixtures shouldn't create obstacles for any of your family members' daily lives.
Reducing hazards and creating a safe living space. It's important to take into account both the safe location of the furniture so that no one bumps into the sharp corners of the dining table, and good lighting and technical possibilities to call for help.
Building an ADU regarding the intuitive design. At one glance at an ADU design, you should immediately understand how to move around the interior space most effectively. The ways have to be clear and easy to use.
Installing Grab Bars and Handrails in Key Areas
Grab bars and handrails are an essential part of granny flat living spaces, as they provide safety and security for those family members who have balance issues or mobility difficulties. With their help, elderly people can stabilize themselves, sit, and stand up easier. They provide protection against falls, which is crucial for our loved ones who struggle with standing and walking issues.
More so, an extra grab bar or a handrail in a strategic place can support a family member for whom it's hard to maneuver in general. Extra support alleviates fatigue and preserves more energy.
The key areas to install these safety features encompass such places as the bathroom, especially in the shower and near the toilet, and also along the stairway from one floor to another. Sometimes, it may be handy to install them near the bed if it's difficult for your family member to get up.
Using Non-Slip Flooring Materials to Prevent Falls
Increasingly popular in ADU design are non-slip floors. Homeowners use them for floor spaces that are more likely to become slippery due to spills of water, ice, or other factors. It's common to make non-slip floors for places where people walk barefoot as well.
So, in what places in granny flats is it preferable to lay down a layer of extra protection against injuries? These encompass the following:
Bathroom floors and kitchen floors
In the design process, it's necessary to consider that these surfaces get wet pretty often. Every time you step out of the shower or spill water from a kettle onto the kitchen floor, it poses an extra danger. And non-slip floors can be not only practical but also look harmonious in the interior.
When you build ADUs, you want to organize safe spaces not only inside but outside the house as well. In poor weather, decks can get drenched in the rain and become slippery for several days. Not to mention ice cover when winter comes. Non-slip floors will help you and your family members feel more stable on the ground and reduce the risk of falling.
Not only elderly people can fall from the stairs. Small kids running around the house, adults with a laundry pile occupying their hands – any precautions will not be superfluous.
Ensuring Adequate Lighting in All Rooms
Bright lighting is another important factor that affects a house's comfort and reliability. Lots of natural light ensures not only good visibility but also gives the resident a feeling of room expansion.
The universal approach to visually enlarging your room and creating extra living space is to make windows large and place them in such a way that there's not a dark nook in the house. Maximizing outdoor space in your ADU will also enhance this trick.
Aside from the natural one, you also have to add three types of artificial lights: general, near vital objects that need extra highlighting, and atmospheric. The first will be a chandelier on the ceiling, the second will be a table lamp, and the third will be, for example, candles.
The last way to spread more light around your accessory dwelling unit is to reflect it through the mirrors. If you place your mirrors so that the light from the windows gets into them, you can illuminate the central spaces where there aren't enough windows.
Designing Bathrooms with Walk-In Showers and Lowered Thresholds
Making lower thresholds and installing walk-in showers in your accessory dwelling units (ADUs) foster several positive safety improvements. Thus, it reduces the chances of slipping on the floor when coming out of the shower stall, as you don't have to step over the high side of the bath. Easy access from the bathtub or shower to the bathroom floor is helpful not only for people struggling with mobility issues but for anyone at all.
Aside from their tremendous practical benefits, such fixtures can easily fit in any size bathroom as they give it a more open look. They are clear and not overloaded with diverse elements, which leaves room for universal designs.
Installing Lever-Style Door Handles and Faucets for Ease of Use
When building an ADU, homeowners consider lever-style items for a few reasons, the most important of which are the following:
Your ADU's residents or guests will need to apply less force to set it in motion;
The more horizontal surfaces there are in your primary residence or an ADU, the more chances there are to grip at them for balance, and the fewer chances that a person's hand slips from the handle or a faucet;
You can open doors with such handles or faucets with this mechanism even if your hands are full;
They provide a sleek and minimalistic appearance that fits modern ADU designs.
Creating Open Floor Plans for Easy Navigation
Accessory dwelling units (ADUs) can be different, but those with open floor plans are best suited for providing an unobstructed view and an illusion of more ample space.
What are open floor plans? It's a layout where there are little to no walled rooms, and most of the space is seen through. For example, when your kitchen, dining room, and living room share an open space while only the bathrooms and a bedroom are enclosed.
This may be vital for two reasons. Firstly, for people with illnesses who tend to get confused in the labyrinth of rooms, open spaces provide more clarity and comfort in everyday life. Secondly, open floor plans allow you to arrange multifunctional furniture around and create more space for the most diverse types of recreation.
Providing Ample Storage Space to Minimize Clutter
Clutter not only spoils the impression of your beautiful design but can also get quite dangerous when it comes to elders and kids. They can stumble on it, trip over it, and get injuries that are easily avoidable with a smart approach.
There are many ways to organize your space so that nothing gets in your way when going around the house:
Installing built-in storage spaces
These can be a multi-compartment drawer under the bed, shelves fixed on the walls, corner cupboards, or other options that utilize less space but provide much storage room.
Distinct organization systems
The more compartments, special boxes, and containers for things you store, the more convenient it becomes for you to find the specific item in the future. For instance, transparent containers give you an immediate idea of what's inside.
Replenish your backyard cottages by storing furniture
There are many furniture pieces out there that offer internal storage compartments. There are ottomans, armchairs, and sofas with an internal compartment in which it is convenient to store, for example, blankets, pillows, or winter clothes in the summer.
Using High-Quality Insulation and Ventilation Systems for Optimal Comfort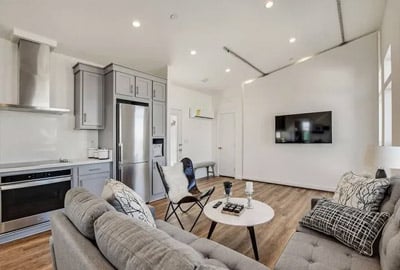 When it comes to accessory dwelling units, it's very important to create a healthy environment inside. Clear air and a comfortable temperature are two bearing pillars on which the health of your loved ones depends.
High-quality insulation does not allow heated air to escape out of the room, preserving warmth and reducing your energy expenses. It is built into the ADU walls, making them resistant to temperature differences inside and outside the house.
Homeowners opt for ventilation systems that remove unpleasant scents and harmful pollutants from the air, making it clearer and more salutary for humans.
Incorporating Smart Home Technology for Added Safety and Convenience
From all the ways to provide safety and security to your property, this one is the last but clearly not the least. It's worth mentioning that this is not the most affordable option to have all of the above-mentioned devices at your house. Yet, some of them may significantly improve the quality of your life and the lives of your loved ones.
Smart technologies for your ADU guest house, granny flat, or rental property encompass the following options:
Smart lighting that switches on and off depending on whether there's someone in the room;
Thermostats for automatic temperature regulation that are connected with HVAC systems and maintain a comfortable environment;
Smart cameras that can recognize residents and non-residents inside the ADU, which is protection from burglars;
Automatic appliances that monitor the time when to, for example, brew a cup of coffee or notify the fridge owner of an expired product;
Locks that unlock by recognizing residents and lock up when it's strangers.
Aging family members, adult children who need separation, guests if you're housing them in the ADU, or tenants in rental units – all of these technologies are suitable for protection against potential hazards. But aside from that, they also make their lives way more entertaining!
Frequently Asked Questions — FAQ
What is the most cost-effective way to build an ADU?
The most cost-effective ADUs are those converted from an existing structure. These are garage conversions, attic conversions, and basement conversion ADUs. A garage conversion is made from an existing garage with walls and a roof; the building job is already done. All you need is to add enough windows for comfortable living, as well as a plumbing system, an electrical system if there's none, and air conditioners and heaters. And, of course, all the necessary furniture for food preparation, sleeping, and other daily needs.
What is the best ADU size?
ADU is a small cottage on the same lot as the main home to live nearby. So it cannot be too big. Building codes, local laws, and zoning regulations restrict ADU sizes to 1000–1200 sq. ft. The square footage affects the cost and strictness of building requirements. So it makes sense to build an ADU under 750 sq. ft., if appropriate.
A preferable ADU depends on its purpose. In a guest house or by building a detached ADU for rent, it should be pretty specious. Attached ADUs require less space and are good for housing grandparents and in-laws when you're out working while your children spend time with relatives.
Does adding an ADU increase property value?
Building an ADU brings forth several benefits, including extra opportunities for housing guests, making in-law suites for elders who need closer attention, and earning money from rent. But one of the most advantageous perspectives is reselling your property later.
An ADU can positively add 40 percent to your overall property value and become an investment project in itself. ADUs are at their peak popularity now, so a picturesque, ready-made ADU can realistically become the spice of your estate sale offer.