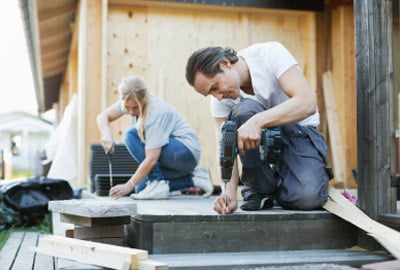 Building an accessory dwelling unit (ADU) is always a very responsible task for homeowners. Even cooperation with an experienced contractor is connected to numerous difficulties. But in order to build an accessory dwelling unit yourself, you should pay special attention to all the stages of work to achieve a certain level of professionalism in terms of construction.
In this article, we will do our best to tell you about all the existing pros and cons of DIY ADU construction. Stay tuned, and you will learn a lot of useful information on building an ADU on your property.
Pros of DIY ADU construction
If you're planning to build an ADU yourself, it will provide you with some benefits. Every stage of building requires the involvement of specific workers, including architects, designers, economists, and sometimes even lawyers. Building an accessory dwelling unit yourself, you will not have to pay for their labor. Moreover, in order to improve your existing space with the help of a contractor. You will certainly deal with customer service support, whose members will also ask for payments.
Secondly, if you are not satisfied with your primary residence and need some extra living space, you can create any design that you want if you want to implement a construction project yourself. Customization is one of the few pros of DIY ADU construction since you can personalize your space in any way you want.
Do I need to hire an ADU designer?
It is not always easy to find a designer who will be ready to work with all of your preferences. Doing the work yourself, you'll be sure that every square foot of your property will be designed according to all of your requirements. You will be free to build your own entrance everywhere you want and choose materials of any color and pattern.
Working yourself, you will always have the ability to create your own deadlines and follow your own piece of work. If you have enough time to build an ADU, you can spend as many weeks and months as you want. For example, when it is hot, you can take a break and go on a vacation with your adult children. You will not be afraid of any unpredictable money losses that will lead to deadline extensions.
Finally, building an additional space yourself occurs to be a great construction experience. After a successful ADU construction, you will have enough skills to do some other kinds of work yourself. For instance, you may implement garage conversion or make a renovation of your primary home without the help of builders since you will know all the peculiarities of construction.
Thus, by building an ADU yourself, you can save much time and money. DIY ADU construction will be the best solution for those who are looking for affordable housing and would like to work at their own pace.
Cons of DIY ADU construction
Sometimes implementing an accessory dwelling unit project on your own will not be a good decision because you will face some difficulties which not every homeowner can resolve themselves.
Firstly, you will need a professional consultation on how to get a building permit. Lawyers and other specialists will provide you with enough information on what criteria should be met. Since local regulations of different states may vary, it will not be easy for you to dig into all the peculiarities yourself. Without a thorough investigation of laws and building codes, you may have to pay fines along with your property taxes, which will lead to an increase in your property costs.
Secondly, collaborating with a team of professional builders will free you from the risk of injuries. Obviously, constructing a single-family home or other kinds of buildings can be dangerous. If you do not obey some safety rules. The experience of builders will let them improve your space without any injuries and will save your health as well as the health of your family members.
Thirdly, some kinds of work require a special qualification that can be achieved only after several years of building experience. Not every homeowner possesses enough knowledge and experience to understand how they can deal with bathroom facilities or what technologies should be used to build a garage.
Do not hesitate to contact your local contractor's team if you are not satisfied with your primary residence and would like to build an ADU with the help of top professionals!
Cost savings associated with DIY ADU construction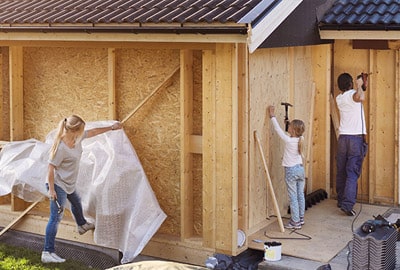 Considering building an ADU yourself, you might wonder in what ways you can save money.
Firstly, as we have already mentioned, you will not have to pay for the builder's and the designers' labor. Even if you require a consultation with a specific professional, you may have to pay only for a one-time consultation and will not need it to work with other specialists whose service is not required.
Secondly, you will always be free to find materials for construction yourself. That means you will be able to find great sales on building materials and buy them at a lower price than could be offered by your contractor. This will obviously provide you with extra cash.
Thirdly, an accessory dwelling unit of any type may become a potential source of extra income. Building an ADU is a great solution since it may become your rental property serving as a passive income. Moreover, an ADU may lead to an increase in your primary house cast. Apple house or garage construction may double your house cost.
A detached ADU may also serve as a single-family home for tenants.
So, do not put off starting building an ADU since it may become a perfect investment and provide you with rental income.
Time commitment required for DIY ADU construction
We understand that every homeowner would like to start enjoying your guest house or garage as soon as possible. But there is a specific limit in terms of building time management that should be taken into account while setting a deadline. Firstly, you should note that the building inspection process will usually take time since department specialists have a lot of work to do.
This process is always connected with some kind of bureaucracy. And, obviously, it leads to delays. We advise you to expect the inspectors to complete the work within two or three weeks.
Secondly, you should always understand that time spent on the construction itself may be prolonged due to several unpredictable factors. If the weather outside becomes worse, you may not be able to continue your construction process. If, due to heavy rain, your basic storage is all filled with water, you will have to spend some additional time to resolve this problem, and only then will you be able to continue working with your backyard cottage.
We believe that to let your family enjoy the process at your own pace, you should double your ideal time to create a deadline for your whole project.
Required skills and experience for DIY ADU construction
Building an ADU involves a number of skills required for successful project implementation.
Firstly, a homeowner should possess basic construction knowledge in order to properly organize building and siding works. Understanding which materials suit better for different kinds of spaces in your ADU or main residence.
Secondly, you should possess some knowledge and skills for dealing with electrical systems as well as plumbing systems. This knowledge is usually very specific and requires education, which is why, in most cases, a homeowner needs to address nearby utilities.
Finally, homeowners should reveal a high level of economic literacy, which will help to find the materials at the best prices.
Safety Considerations for DIY ADU Construction
In order to make the whole construction process as safe as possible, a homeowner should obey several safety rules.
Here is the list of the main ones:
You should always wear safety equipment, including a helmet and gloves. Mind that for those family members who are present nearby. All this equipment should always be provided.
Working with different kinds of equipment, especially when you are dealing with electricity and plumbing systems, you should follow all the existing safety instructions carefully before you start any kind of construction work.
Carefully check your working space and make it as clean and organized as possible. This may prevent you from injuries and falls.
Safety should be the primary aspect of any construction work and is always worth paying attention to it.
Availability of DIY ADU construction resources and materials
Several difficulties are connected with the availability of resources and materials. Before starting a project implementation, you should always make sure that all the necessary materials are available in nearby stores where you can always shop online.
It is always worth researching the building market to find the best prices among all the local suppliers. After it, you should implement a quality check according to the appropriate criteria.
If some materials are not available in your region, you order them online and exceed the deadline taken into account. The amount of time spent waiting for the delivery.
Mind that the contractors' team is always ready to assist you with finding the necessary construction resources and materials.
Legal and regulatory considerations for DIY ADU Construction
While implementing an ideal project, always obtain the corresponding building laws and codes. Firstly, pay attention to the zoning codes. Secondly, you will have to deal with property line codes which regulate the way homeowners set borders between their possessions. Find that homeowners associations are highly involved in the process of property line inspection.
The next important thing you should consider is building codes which regulate the way different kinds of materials are used in your ADU. The inspectors will also pay attention to the technologies involved in the process.
Finally, the level of safety kept while implementing your building project will also be thoroughly inspected.
Quality control issues with DIY ADU construction
After any project stage is completed, quality control procedures should be implemented. The inspectors will check the qualifications of the workers involved, as well as the tools they use. Secondly, the quality of materials will be checked. The general building plan should be inspected since you should make sure there are no violations in your budget and the deadline will not be extended.
We highly recommend you implement control after any stage of work in order to keep everything perfect!
Long-term maintenance and upkeep considerations for DIY ADU construction
Along with inspection and control issues, a homeowner should keep in mind long-term maintenance and upkeep for ADU construction.
In order to make sure your junior accessory dwelling unit will serve you as long as it's possible, you should implement regular inspections. The most important thing is that it should be checked every six months for electricity and plumbing systems since safety violations of the work may result in injuries, floods, or fires.
Another factor that should regularly be inspected is your landscaping. Homeowners should always make sure their trees and bushes are not approaching the ADU too close.
You can consult your local homeowner's association to find out what other kinds of inspections are required to implement long-term maintenance for your ADU.
Frequently Asked Questions — FAQ
In what ways can accessory dwelling units become sources of additional income?
If you are satisfied with your current housing options, you may consider building an additional house for small families who will rent your detached ADU since they are fed up with their multigenerational living environment. Moreover, if you add some extra space to your square footage by constructing a garage conversion, you will double your property's cost in comparison with the houses with the same property, which was not modified.
How much income can I get if I decide to use the square feet of my main house or an accessory dwelling unit for rent?
It will depend on the type of your living space. If you can offer tenants a tiny house, the rent will not cost them about $800. Sometimes a person needs to rent a garage only, and in this case, the cost and, hence, your income will depend on the number of square feet. You may also use the property of a family member to get extra income. For example, you can rent out your granny flat, freeing her from paying property taxes and letting her enjoy her daily life in your own primary dwelling unit.
How can I find affordable housing in Los Angeles?
As you might remember, you always have the option of building a space for living yourself, which has its own pros and cons. You can also find a rental flat since many homeowners rent their granny flats. Mind that even such space as a garage can be modified in a way you will fully enjoy your life living there.
What is the major deterrent to DIY ADU construction?
Those who need to modify their living space are usually afraid of unpredictable factors. For example, they think they may not foresee all the peculiarities of in-laws before a garage construction and will have to pay fines. The latter, on their terms, will lead to a decrease in their full home value. Sometimes they are afraid of unpredictable weather conditions, which may result in floods leading to losing basic storage.