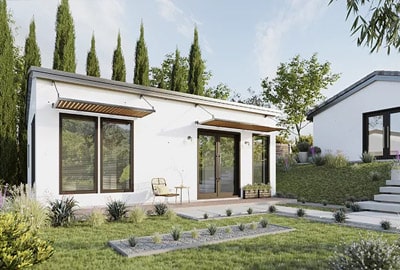 Accessory dwelling units (ADUs) have long been known as the most affordable housing options, but it seems they were not so popular before. Recently, when people are constantly talking about the creation of their micro-communities, which primarily include all family members, it has become important to create enough living space on a limited plot of land. The only way to do this quickly, simply, and legally is to build so-called granny flats or ADUs. In addition, the construction of units will help you increase the value of your property, as well as create the opportunity to rent a unit for short-term or long-term rent to tourists.
When creating a planning project, you should, first of all, take into account the type of unit that you want to build on your site:
internal ADUs
attached ADUs
detached ADUs
However, no matter what type of accessory dwelling unit you choose, you will not only need to build a secondary unit but also integrate it with the main residence and backyard. In this article, we will look at ways and examples of local projects aimed at creating both internal and external residential areas that are organically equipped on your site.
Incorporating outdoor living spaces into ADU design
In the current conditions, when the urban density is drastically increasing, people often face the problem of a shortage of residential premises. If you want to unite with your elderly parents or other members of your family or just want to get additional income from renting part of your living space to another family, building an accessory dwelling unit will be the best solution for you.
During the planning of your development, you should also plan in advance the creation of outdoor living spaces. The outdoor area is no less important than the internal residential area. You can create a space that will serve as an organically integrated extension of an ADU, expand the residential area, and create an additional place for both single-family homes and rented dwellings residents' gathering, entertainment, cooking, dining, and storage.
Maximizing small outdoor spaces in ADUs
As a homeowner who plans to equip the area around the accessory dwelling unit, you should think in advance about providing the necessary number of seats for resting and eating out for all members of your family, both children and seniors or members of your local community. The main thing that you have to take into account is the total number of residents of both the main residence and accessory apartments. However, many homeowners face the problem of limited house territory since, in most neighborhoods, the land area is small due to the high density of development. In this case, you should maximize the small area of your property.
Remodeling contractors usually recommend clients use every inch of their backyard. To develop a great outdoor area that will be used by homeowners and people renting accessory dwelling units, you should not buy oversized furniture. For example, instead of a large sofa, buy a bench and several stools or padded stools, as well as pillows. It is also a good idea to buy folding tables and chairs that can be put away.
Make sure that your outdoor area can be used for various purposes. Folding and small furniture is the best investment for a small yard.
Creating a seamless transition between indoor and outdoor living in ADUs
What do we mean when we talk about outdoor areas? In fact, you yourself determine what exactly you want to implement in the area located on your land plot between your main house, attached or detached ADUs, and other buildings such as a garage or shed. There can be not only a place for relaxing and summer dinners but also a space that will be visited all year around, a fireplace, a covered grill area, as well as cabinets for placing dishes and other things.
Property owners usually want to create a single space that will connect accessory apartments and amenities with those built previously. Glass doors and curtains should be used, as they do not delimit the space into several small parts but can create more privacy if necessary. In addition, you can create a multi-level area where it will be convenient to move between the main building, garage, ADU, basement, and garden.
This will allow you to increase your rental income and attract a lot of tenants to your secondary unit.
Designing outdoor kitchens for ADUs
A great investment for your property is the construction of an outdoor kitchen that can be used by residents of both secondary and primary dwelling units. There you can gather with family members and friends and have a barbecue and festive dinners while enjoying the fresh air.
The outdoor kitchen is a small but functional area. Here are a few things that you should definitely install on your site:
kitchen sink
refrigerator
built-in grill
pizza ovens
In addition, do not forget to think about storage places, as you will have to store additional sets of cutlery and dishes there.
Incorporating greenery and landscaping into ADU outdoor spaces
If you want to feel surrounded by wild nature in the middle of the city, fill your outdoor area with plants. Now, there are various programs on plants being integrated into the area between rented accessory dwelling units and the main residence that will make your property cozier and more vibrant.
Do you want to develop your own project on integrating plants into your outdoor living area? You can plant trees and shrubs in the garden or in large flower pots. The second option will give you more flexibility. For instance, you can put plants away when all family members gather. Another way to make the place around ADU greener is the so-called vertical garden (let the ivy grow all over the wall or attach planters with flowers to them).
Adding privacy features to outdoor living spaces in ADUs
As a homeowner, you will probably want to add a little privacy to fence off your existing home from the ADU that you rent out on the same lot and hide the entire site from neighbors and passers-by. At the same time, you do not want to build capital old-fashioned brick fences that will make open access to all external amenities limited.
Here are some natural fences that can be organically integrated into your residential outdoor area:
hedges
trellis
bamboo
folding glass doors
outdoor curtains.
Designing outdoor entertaining areas in ADUs
Above, we mentioned a lot of ideas aimed at outdoor territory development. However, we also need to discuss how homeowners can gradually develop and implement a design project for their accessory dwelling units:
Decide on the main purpose of your outdoor area near a new housing unit: a place for relaxation, a dining area, a garden, or a place for parties with a bar;
Create a detailed layout according to your tasks and preferences by planning the location of the kitchen, furniture, and decor;
Consult with the designer to determine the style that all finishing materials, furniture, and decor elements will match;
Think over the technical component: lighting, heating, equipment with screens and speakers, so that entertainment does not interfere in any season and time of the day;
Think about which plants you will choose to decorate your outdoor area. Keep in mind that plants can also act as a natural hedge and add privacy.
Creating functional outdoor storage solutions for ADUs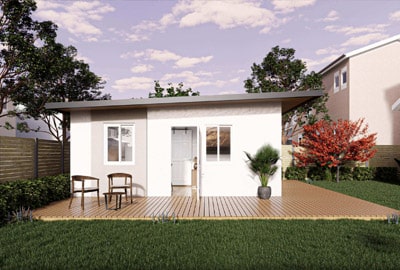 When it comes to arranging a small outdoor area, it is necessary to provide enough storage space. Since accessory dwelling units (ADUs) are usually small and the house territory can also be limited, it makes sense to use any opportunity to store garden supplies, dishes, and personal belongings.
Obviously, you can use wooden storage boxes and sheds. However, there are also some non-standard yet practical solutions. For instance, you can take advantage of a table and bench located on your site. Choose furniture that includes some storage space inside. The same applies to the barbecue storage table.
Incorporating outdoor lighting into ADU design for safety and ambiance
External lighting is something that you definitely need to take into account during the construction process.
To take into account all the necessary aspects for lighting the house territory near your secondary and primary unit, gradually think over a few things:
navigation between your additional dwellings
lighting around the main areas, such as the dinner table, kitchen, barbecue area, and bar
creating a special atmosphere at night: comfort or intrigue, depending on your preferences.
Designing outdoor living spaces for year-round use in ADUs
In order for your rental income to remain high throughout the year and for residents of the main residence and the secondary unit to have access to the local recreational area no matter in which city you live. You need to think through programs to protect the territory from precipitation and heat it when the temperature drops.
The easiest thing you can do is install a sliding awning that will not interfere with sunbathing in summer but will protect you from rain and even snow in cold seasons. Another practical solution is to install patio heaters around the perimeter of your outdoor area so as not to freeze during cold autumn and winter evenings.
Frequently Asked Questions — FAQ
What's one drawback of an ADU?
Accessory dwelling units are a great way to add another living area to a single-family home. ADU is an affordable housing option that has all the essential utilities for one person or a small family. Even though affordability is a crucial advantage of ADUs, they have some drawbacks, such as the need to obtain building permits and wait for approval for some time.
How tall can an ADU be in California?
Before building an affordable housing unit, you first need to study a local law that regulates the construction of ADUs in nearby neighborhoods. In particular, you should familiarize yourself with the requirements regarding the size of the future structure. Concerning height, detached ADUs can be up to 18 ft high, while attached ADUs cannot be higher than 25 ft high.
What are the new laws for ADU in California?
Every year, some changes are made to the legislation that affects the planning and building of accessory dwelling units. For example, previously, you had to include a bathroom in an attached ADU. Now you can do without it. In addition, some other changes regarding the development of additional units located on your property affected height restrictions, application review time, and setbacks this year.