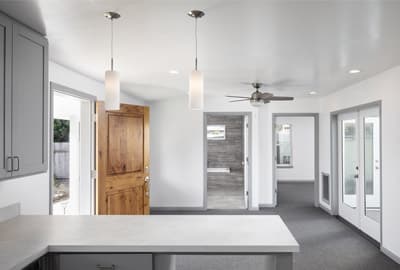 When people talk about the advantages of building an ADU, they, first of all, discuss an increase in living space and a growth in property value. They also discuss the possibility of accommodating relatives and friends not in limited space but in spacious and comfortable rooms. Against this background, very often, homeowners lose sight of the fact that ADU is a completely customized space that can be organized in an efficient and stylish way.
Most of the ways of storing things are becoming obsolete because people do not think only in the paradigm of the standard layout. The same can be said about the design, of which there are several hundred at the moment. ADU space is a field for experiments, and if you choose profitable solutions, you will get a modern and functional building.
In this review, we will talk about ADU design ideas that will help optimize the space, make it stylish and unique, as well as solve many everyday tasks. All these ideas are extremely effective and on par with this are easy to implement.
Efficient storage solutions for small spaces
In every homeowner's house, there are spaces that are covered with dust instead of being used for storing things. Interior designers who are involved in the decorating ADUs process agree that in everyday routine, people don't even notice these places, and now we will tell you about several ways to effectively store things in small spaces.
In addition to everything, each of these solutions will boost the general aesthetics of the room:
Use the space under the bed. Often, when we store things in the bedroom, we use cabinets, which occupy the entire wall. Instead, you can pay attention to the storage space under the bed, where you can place boxes or bins, which are very mobile and roomy.
Under stair storage. The space under the stairs, especially in detached ADUs, also remains unclaimed and serves more for children's games. However, your ADU design will become more practical if you will install multifunctional cabinets, organizers, or plastic boxes here. Almost all household items, from a vacuum cleaner to rarely used winter clothes, can be stored under the stairs.
Magnetic or cork boards. In each room, plenty of small items do not have a certain storage space, so sometimes people resort to organizers. However, it is impossible to find a universal model. Instead, you can purchase a magnetic or cork board, insert it into a frame, and use hooks or metal buttons to hang all your keys, jewelry, or watches.
As you can see, with these very simple but effective solutions, the space in your accessory dwelling unit will become more practical and comfortable, and you will free up valuable square feet for other purposes.
Multifunctional furniture for ADUs
The selection of the best ADU design ideas would be incomplete if we will not talk about multifunctional furniture that makes your own space as organized and aesthetic as possible. The list of such furniture includes sofas with folding backs behind which you can store things, TV stands with drawers, beds with roomy bedside tables, shelves with drawers with a false bottom, and much more. Your ADU design will turn into a real transformer, able to accommodate all things without disturbing the overall harmony.
Creative use of vertical space
A lot of homeowners complain about the lack of extra storage space; however, in each type of ADU, whether it's a guest house, garage conversion, or attached ADU, you can always find additional space if you look at the walls and any other vertical spaces.
Here are some striking proofs that not only floor space is suitable for storing things:
Floating shelves
Floating shelves are an ideal option for any space because they fit into the interior design of any room, be it a kitchen, bathroom, living room, or home office. Among all types of wall shelves, this model, firstly, visually expands the space best and, secondly, is the easiest to install. Moreover, if you have a collection of your favorite items, for example, wooden soldiers or sports stickers, but there is no place to display them in the main house. Then with the help of floating shelves, you can create an accent wall so that everyone can see them.
Installation of wall hooks
Interior designers note that the space behind the door very often remains undervalued, so they recommend homeowners use wall hooks or racks. Doors to different rooms can be used in different ways. For example, you can hang a school uniform behind the door in the children's room, place a work coat behind the door in the garage, and dry towels behind the door in the bathroom.
Vertical garden & wall art
A vertical garden is a great way to clear the shelves, cabinets, and window sills in all rooms in the house. This structure will bring aesthetics to your living space, saturate it with oxygen, and, most importantly, it will not take up much area because vertical gardens can always be hung by the same wall hooks. If you have visited art studios, you have probably seen how effectively specialists use walls and hang their pictures from ceiling to floor. Your ADU design may include similar techniques because a beautiful painting always adds interest to the room.
On the whole, now you know that the decision to ignore vertical space deprives you of many benefits that can make your life more comfortable. All these options will harmoniously fit into the interior design and provide enough storage space.
Incorporating built-in shelving and cabinets
This method is ideal for any room, e.g., in the case of a kitchen, all bulky pots and pans can be stored inside the built-in drawers. In the living room, built-in cabinets will be useful for placing disks, a game console, or board games. In addition to the obvious advantages in the aspect of storage, built-in cabinets are very mobile and easy to install; they will perfectly fit into any corner of your house and general interior design.
Maximizing natural light to create a spacious feel
Modern architectural approaches, especially in megacities, deprive people of natural light. Skyscrapers are so close to each other that even in the morning, homeowners do not have the opportunity to enjoy the sun and get a dose of vitamin D and positive energy.
In this regard, the process of building an ADU can include techniques to increase natural light:
Use light colors. Dark colors such as black, gray, or brown always steal the light, even if one wall in your house has such a shade. The situation is quite different with light pastel and bright combinations, e.g., white, beige, peach, or yellow. These colors visually enlarge the space and make it wider.
Consider reflective materials. If your ADU design involves the use of dark colors, then even in this situation, you can get more space by using metals that can reflect light. Moreover, metal decor elements are a great alternative to mirrors, which also belong to the group of design ideas for increasing space.
Choose large windows. Among all the ADU design ideas for maximizing illumination, there is no more effective way than installing large windows. There is also an extremely wide range of choices because it can be windows from the ceiling to the floor of the living room, windows with shutters that perfectly fit into the design of the small kitchen, or panoramic windows in the bedroom, which can always be closed with blackout roller blinds after dark.
Set up artificial light. If you do not have enough light, then at the moments when your living space falls into the shade, you can replace it with artificial ones. To do this, homeowners can resort to standard chandeliers or ceiling lights. However, creative design ideas include options such as wall-mounted lamps or floor lamps that provide accent lighting.
All in all, you can always combine the above techniques and not stop at just one solution. The main advantage of all these approaches is that they are perfectly suitable for any room style, be it modern, village, or industrial design.
Open-concept design for ADUs
There are many recommendations that are based on the principles of open space; they are very valuable in designing ADUs. However, we will highlight only the best. First, use split in a small space. In this case, there is no limit to imagination because you can install not only ordinary partitions but use bookshelves or dividers with hooks for clothes. Thereby, you will get a space divided into zones while maintaining the overall openness of the interior.
Secondly, install flexible partitions in the form of pocket doors or themed screens in your accessory dwelling unit. This will create an authentic space in which no one will interfere with each other. Finally, consider the option with rugs to divide the room into zones. This simple method will help not only to define the boundaries but also add a touch of warmth and comfort.
Utilizing sliding doors to save space
In comparison with a large ADU, in a smaller space, an ordinary door can bring a lot of inconveniences, so modern design concepts include sliding glass doors as an obligatory component of a functional house. It would turn out that the second option is easy to install, not bulky. Fills your ADU with light, has a longer service life, and also fits into any interior design, specially textured decor.
Creating a seamless indoor-outdoor flow
The most ambitious changes in terms of creating an efficient space are associated with the construction of an outdoor space, which is adjacent to the main residence. There are also plenty of options; firstly, an outdoor recreation area can be an ideal continuation of the main house. Secondly, an outdoor kitchen with a grill. This great space will become a gathering place for all relatives. However, the most important thing is that the interior of the house will be free for other purposes.
Finally, arrange landscaping and a green area that will be an extension of your hanging garden and decorative plants. This will help you create a single ecosystem from an ordinary house, inside which you will be able to find peace and harmony. It is important that all these methods will also increase rental income.
Designing for flexibility and adaptability in small spaces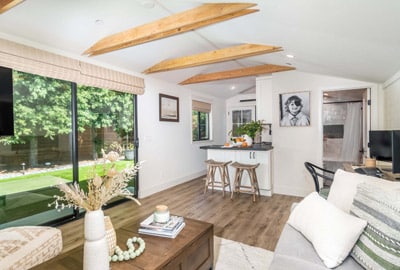 In this review, we have analyzed the most diverse options for the effective organization of small spaces in the accessory dwelling unit. At the moment, you know how to get more floor space, get rid of a warehouse of rarely used things that take up more than one square footage, and perhaps you think that's it.
However, here are some more ideas that will help you get extra space in your ADU:
Opt for mobile and small furniture
The smaller the space, the less relevant bulky and wide furniture becomes. Large cabinets and shelving are a thing of the past; today, the most valuable is small furniture that can be moved to another room without much effort, and also, it does not anticipate the penetration of light.
Choose modular components
Modern living space resembles a Lego set because, with the help of modular furniture, you can form new design options. As soon as you have new needs or your mood changes, you can rearrange items, such as shelves, drawers, and even entire cabinets. This is the most striking example of flexibility, which is best manifested at a time of urgent need in a new environment.
Incorporating hidden storage solutions
When you build a garage conversion, junior ADI, detached ADU, or, as it is also called, mother-in-law suite, you can always refer to the standard layout and interior design. However, the level of satisfaction with the final result, storage capabilities, and practicality of the room will increase a hundred times if you resort to hidden storage options.
Here are some of the most interesting examples:
Hidden safes.
Each of us has things (documents, money, jewelry, or objects with a special meaning) that we want to hide from prying eyes. Among all the storage options, you will not find a better option than a safe that can be mounted on the gallery wall behind a painting or in the floor space under the parquet.
Secret doors.
Perhaps this is the childhood dream of every homeowner to build an additional dwelling unit with a secret room. The room can be disguised as a fake door or an accent wall in the tapestry format, behind which there will be a passage.
In sum, every person tends to accumulate unnecessary things, which over time take up more and more space and make it less practical. In this review, we tried to tell you about solutions that will allow you to successfully manage your ADU, give its design uniqueness and aesthetics, and, most importantly, create a functional space.
Frequently Asked Questions — FAQ
How do you maximize space in an ADU?
To do this, firstly, it is necessary to study the capabilities of your accessory dwelling unit and, based on this, choose specific solutions. However, we can identify several universal methods, such as increasing the flow of natural light, installing multifunctional furniture, and freeing up floor space due to rarely used places, for example, behind the door.
What else should you keep in mind when maximizing space in an ADU?
In addition to these creative ideas and solutions, you can pay attention to such options for organizing ADU design. These include using mirrors to visually expand the space and not feel cramped, or installing an accent wall as a focal point, which will help create a unique geometry of the room.
What is the most efficient way to maximize ADU space usage?
It is possible to determine the most effective way to maximize your own space only through experiments. A number of win-win options exist, in particular, the use of vertical spaces. The creation of at least one hidden room, the use of space under the stairs, bed, or sink, as well as the installation of organizers inside cabinets or on doors.