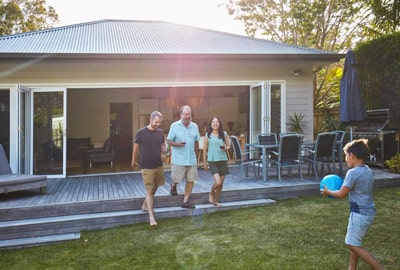 When our relatives get old, there is a desire to spend more time with them. To a certain extent, this is due to concern about their health because if you live in different cities, you can not come to the rescue in an emergency. Fortunately, the ideal way out of this situation is to build a multigenerational living unit on your site.
In this review, we will talk about the advantages of multigenerational living space, share useful insights about all the nuances of building this type of ADU, and also reveal how to establish an ideal microclimate between representatives of different ages.
The benefits of multigenerational living in ADUs
The prospect of living with aged parents or mother-in-law causes quite fair concerns among many families.
However, we will open up the privileges of multigenerational housing, which you might not even have guessed:
Peace of mind for age-related family members. When our parents begin to age, the level of anxiety about their health increases, and if you are separated by many miles, then you can not come to the rescue. This will definitely not happen in the multigenerational living unit because your elderly relatives will always be under supervision.
Communication of grandparents with kids. Two benefits can be distinguished here. Firstly, if you have no one to leave your child with, but you need to go urgently on business, then your grandmother or grandfather will always come to your aid. Secondly, the communication of grandparents with grandchildren always has a positive effect on the development of kids, expanding their horizons and interests.
Increasing the value of the property. Regardless of which project you are implementing, whether it is an attached ADU, having a common wall with a primary house, or a detached backyard ADU, the value of your entire property will increase by several hundred thousand dollars.
Amenities of living arrangements. When your elderly relatives live next to you in the neighboring granny flat, then you can be one hundred percent sure that they are provided with comfortable living conditions. That each room meets their needs, and that there are no flaws in the living space that would complicate their lives.
Overall, the implementation of the multigenerational household project can bring both material and spiritual strengths, and if you think through the design correctly, the quality of life of all members of a large family will reach a new level.
Designing ADUs for families with children and aging parents
It may sound paradoxical, but when planning an accessory dwelling unit, you will realize that the principles of organizing living space for the elderly and kids are almost identical.
Safety of living space
The design of the ADU for the multigenerational family has common features with the universal design. Such as non-slip flooring, the absence of sharp corners, burn protection sensors on the kitchen stove, insulation of scattered wires, and installation of handrails for keeping balance in the bathroom.
Multigenerational living space functionality
The organization of the living space should comply with the practical rules so that residents, both young and older, can spend time as comfortably as possible. To do this, you can, for example, install multi-purpose furniture, add open space, or even get a smart home system or its individual components for a more interactive lifestyle.
Accessibility of the multigenerational living area
Young children, as well as old people, do not have the highest level of finger motor skills, so instead of uncomfortable latches for drawers and doors from cabinets, you can use magnets. We also recommend increasing the doorways, and if we are talking about two-story accessory dwelling units, it is better to minimize the number of steep steps.
Overall, following only three principles will help you create an ideal multigenerational housing that will appeal to everyone, regardless of age.
Creating separate living spaces within ADUs for multigenerational living
When two or more generations begin to live under one roof, to preserve harmony, it is necessary to ensure the privacy of personal space. Why is this so important? Agree that it is a very awkward situation when your husband comes out of the bathroom, and a mother-in-law goes to meet him, or when your daughter violates the moment of privacy of the grandmother.
In this case, there are two options, and the most profitable is a free-standing building in the backyard. In this case, each family member has its own space; however, formally, all generations of the family live together on the same property. If you choose the ADU format attached to the main house, then the new living space should have a separate entrance, which again will preserve privacy and comfort for everyone.
Maximizing space in ADUs for multigenerational living
When several families start living together in the same territory, the question of limited space will arise. To make the most effective ADU space for multiple generations living, we draw your attention to the following important points. First, use customized storage solutions as you, your adult children, and age relatives will have different needs and, therefore, different types of furniture. Secondly, do not neglect partitions with built-in storage spaces. They are easy to install, will allow you to create personal space for everyone, optimize the storage of things, and also have an interesting design.
Finally, if you didn't like the previous option, then on the contrary, follow the rules of the open space. Use all its benefits, get rid of bulky furniture, and delete extra walls and barriers so that the atmosphere of unity begins to reign in the house.
The Role of Technology in multigenerational living in ADUs
The introduction of technologies into the ADU space can bring age-related people and young or adult children closer together. Representatives of the younger generation will teach the older generation all the benefits of a Smart Home, as a result of which the comfort of life will reach a new level. Functions such as a voice assistant, a smart thermostat, and various appliances will simplify the performance of household tasks; smart security systems will ensure peace of mind, and gadgets to maintain health will be useful in an emergency for people of all ages.
Legal Considerations for multigenerational living in ADUs
The construction of any type of ADU is accompanied by various legal issues, which, among other things, do not bypass the construction of granny flats. There are a lot of nuances, e.g., obtaining a permit from the local government, following the zoning rules, clarifying the criteria for the dimensions of the residential structure, equipping the ADU with parking, and much more.
An ordinary homeowner does not know all the formulations, so very often people get fines and bans for construction. To avoid this gloomy prospect and save money, it is best to contact a lawyer.
Financing options for building ADUs for multigenerational living
It does not matter whether you want to attach a multigenerational unit to the main house or place it separately; the implementation of such an idea will require investment.
Here are some options for financing the multigenerational ADU project:
Become a grant participant because, in almost every state, the government encourages the construction of multigenerational spaces.
Getting a loan for ADU construction with various benefits.
Invest personal savings.
Refinancing of the loan for the needs of ADU construction.
All in all, the most important thing to remember is that in the future, these investments will pay off, at least because a multigenerational housing unit costs more than a single-family home, and you can always rent it out.
Addressing cultural differences in multigenerational living in ADUs
When representatives of different generations gather in one room, there may be misunderstandings due to different upbringings, experiences, and ideas about life. To prevent such a situation, we recommend, first, creating a common neutral space where people can exchange cultural experiences. Secondly, encourage interaction because when people do something together, e.g., cook lunch or play board games, the negative background disappears. Finally, establish rules for the inviolability of personal spaces, compliance with which will get rid of the most common cause of disputes.
The impact of multigenerational living on mental health in ADUs
In recent years, people have all become aware of the value of mental health, and the most surprising thing is that residency in a multigenerational environment contributes to a more stable psych. The fact is that living in this type of accessory dwelling unit is impossible to imagine without the care and love of the older family members. This affects the growth of a sense of social support and self-confidence. In turn, those elderly people who communicate more with family members do not experience symptoms of depression and problems with socialization, in comparison to the rest who live in a house alone.
Addressing accessibility concerns for multigenerational living in ADUs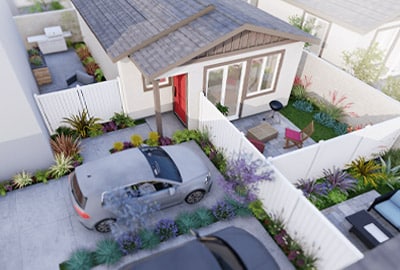 It would be useful to once again talk about the accessibility of living space because the issue of comfort and safety is a priority. In addition to all the above points, we decided to add such moments as equipping the ADU with a ramp, installing smoke detectors, adding contrast to the objects of the room, as well as improving lighting. All these measures will make the life of the elderly more practical. However, this approach will not harm other family members.
Frequently Asked Questions — FAQ
What are the top five benefits of multigenerational living spaces?
The main advantages of such an ADU project are strengthening family relationships, a better level of care for children and the elderly, improving the mental health of all family members, and the ability to rent an ADU in the future. As well as multiple increases in the value of your property after two units appear on the site.
Which multigenerational housing unit project is the most profitable?
The best option is detached ADUs or, as they are otherwise called, granny flats or mother-in-law suits. They are distinguished by an increased level of privacy, comfort, and autonomy. If you want to save money, then ADU attached to the main home is also a good option, as it has a number of undeniable benefits.
Do multigenerational living spaces have disadvantages?
Among the disadvantages of multigenerational accessory dwelling units, it is possible to distinguish insufficient privacy of living spaces and the risk of disputes between representatives of different ages. However, proper space management and planning under the guidance of professionals will help to avoid these difficulties.