Many homeowners want to add more open spaces in their houses to refresh their looks, enhance personalization, and make their plot area more welcoming and cozy. Easy access to the backyard space is what makes your property as authentic as a modern farmhouse, creates a relaxing mood, and can create the impression of an increase in square footage.
In this article, we'll discuss how to connect accessory dwelling units with your backyard spaces, both practically and in terms of style. We'll also have a look at what features make your accessory dwelling unit look more outdoorsy and rustic and how to implement them into your ADU to create an inviting space.
Incorporating Outdoor Living Spaces into ADU Design
When you bring more space from the garden into the house, it contributes to enhancing ADU's convenience and hominess.
It helps to visually expand the small space of your guest house;
It actually provides more room as you put fewer wall barriers on the way to facilities;
Your space feels bright and airy, which adds up to relaxation;
It makes your rental property more stylish and, therefore, alluring.
So, what do you start with to transform your ADU into a lively, spacious place for rent or for your family?
Make sure your outdoor space is consistent with the accessory dwelling unit and the main house in terms of style. First of all, install decks and patios, which transform the separate spaces of the ADU and the garden into a holistic landscape.
There are many ways to bring more nature to your backyard cottage. You can make large windows to let in ample natural light, install large swing-open doors, arrange outdoor furniture or a grill on the patio, and adorn your interior with numerous plants. Natural-looking wood is also a great helper when it comes to creating a harmonious outdoor room and accenting its pure, blending-with-nature appearance.
Maximizing Small Outdoor Spaces in ADUs
When dealing with small backyard cottages, homeowners understand that they have to make use of every available square foot.
There are a few things to employ in your ADU to actually make it more roomy:
Openness
The first idea on how to add more space to your room is to free the way to the garden. Floor-to-ceiling windows on the walls, windows on the roof, high ceilings, and open doors are what let in natural light and allow you to enjoy the outdoor scenery and the night sky.
Versatility
Saving space by implementing furniture that can be folded and unfolded is another great option. For instance, you can pick a sofa that transforms into a bed. Then, you can use the room as a bedroom at night and as a living room, dining area, or gym that leads to the front deck during the day.
Strategic layout
So that the walls don't put pressure on you, towering over you everywhere, use your room's furniture arrangement wisely. Huge windows are clearly inappropriate in the bathroom, but what about the bedroom? Of course, your family needs to keep their privacy, which is why curtains and blinds will be useful for this option.
Yet, placing furniture like sofas, armchairs, and beds near the windows to rest there and look at your backyard breathes new life into your ADU like nothing else.
Creating a Seamless Transition Between Indoor and Outdoor Living in ADUs
If we plan to create a more authentic view of the accessory dwelling unit, the last thing we need is to erect a clear wall between the cottage space and the backyard. The idea is that the cottage space should be as holistic as possible, extending your internal space and visibly adding square feet to it.
So, how can you break this wall? The first answer is no; make an easy-opening, half-transparent door. You, your family, or your guests have to perceive this door as a transitional way, not as something that restricts your ADU boundaries.
Another universal solution for this task is an outside deck or patio. There you can place garden wicker chairs, or flower stands with pots of flowers on them, a coffee table, an ottoman, a small sofa, or anything else you think will match your ADU interior design.
Designing Outdoor Kitchens for ADUs
If you live in a warmer region, a whole outdoor room may become a unique addition to your property. What do you think of the idea of building a full kitchen outside the ADU?
This can be a very stylish modern solution for a cramped owner's detached ADU, home office, or guest house.
That is, because you'll be able to employ every square foot of your property inside: arrange a more spacious bedroom and resting area, while all food preparation can happen outside, under the pergola roof.
Incorporating Greenery and Landscaping into ADU Outdoor Spaces
The best way to add a natural charm to your ADU is to get a lot of plants. Arrange big potted plants inside your ADU, flower beds, and a small garden near the patio. Also, a fabulous impression is created by the creepers decorating gazebos and canopies on your property.
Stones arranged picturesquely on the ground, a pond, bushes, and trees surrounding the construction, which you can observe from the window of your ADU, will also help to fit the structure into your landscape in a complementary way.
Adding Privacy Features to Outdoor Living Spaces in ADUs
If you want the outdoor room of your ADU to be more private, there are many ways to arrange this. For instance, to separate guest houses from the main house for outsiders, you can use wood trellis with plants on them. Just arrange them around the ADU and its adjacent outdoor space.
Another way to add privacy to your future ADU is to envision it in landscapes. You can plant trees and shrubs that limit the view of your property with their branches and leaves.
Pergolas and gazebos, though taking up square footage, are also a great addition to your ADU, creating a hidden, fairytale-like space.
Designing Outdoor Entertaining Areas in ADUs
An accessory dwelling unit can be not only an extra space addition or a source of rental income but also a place where you can have a good time with your family and guests.
There are plenty of ways for homeowners to make their ADU a place for more fun activities:
Enticing eating and food preparation areas: grill, as well as a firepit and chairs on the patio, will bring all your family together for enjoyable gatherings and conversations over a delicious dinner.
Relaxing areas: small gardens and sitting areas like gazebos and pergolas will suit sipping tea and spending time with neighbors and members of your community.
Gaming areas: a pool, a small tennis court, or an outside room for a game console will greatly enrich your entertainment options, all of which are healthier than staying within four walls.
Creating Functional Outdoor Storage Solutions for ADUs
The first thing that comes to mind is an outdoor shed near your ADU. But what else can be done if you've already converted your ADU from a garage and there are too few square feet for constructions like sheds.
To make your life more convenient and your interior less cluttered, have a look at the following storage ideas:
Garden stools with internal storage space or a garden storage bench for sitting and putting small things in there.
Plant stands with an empty bottom shelf allow greenery to flourish and garden tools to stay close.
Vertical stands with multiple shelves to fit everything in one place at once.
Stylish, transparent plastic boxes that can be placed on top of each other.
Incorporating Outdoor Lighting into ADU Design for Safety and Ambiance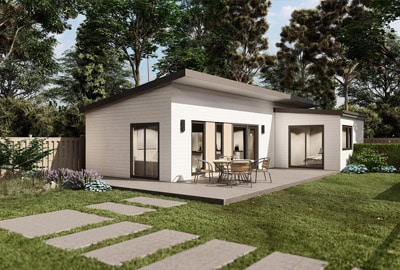 The last touch to your ADU's interior design as well as exterior appearance, is light. The sources of light may include candles placed on garden furniture surfaces. It can be the firepit area, with a fire with beautifully laid stones around it, illuminating the recreation area around it.
String lights are one of the most popular exterior and interior design solutions. You can put this source of light anywhere, starting with garden arches and gazebos and ending with a fence.
Some homeowners prefer to adorn the pathway to the ADU with on-ground lights. For example, it can be small decorative lanterns in the old style, balls of light, and much more.
Designing Outdoor Living Spaces for Year-round Use in ADUs
To make the outdoorsy space of your unit more suitable for cooler months, you can have a look at such features as fireplaces, heated deck floors, and furniture. They will keep you warm even if it's chilly outside.
If you need to hide from rainy weather, the ideal solution would be a canopy. It will protect your furniture from getting wet. In addition, in hot weather, it will also protect you from the heat of the sun, creating a pleasant shade.
ADU building is a means of affordable housing that can serve you the whole year. Some people build ADU units to create a home office or to arrange a comfy granny flat. Yet, ADU virtues don't stop here. The main thing is that your ADU project provides limitless space for creativity!
Frequently Asked Questions — FAQ
Why do I need to build an ADU?
An ADU is an independent living space with a bed, kitchen, and bathroom. The only difference with the main house is that it's smaller. Yet, there are still plenty of ways you can use it. For instance, ADUs make perfect in-law units for your aging parents. They're very cozy and convenient as guest houses, and they work quite practically as home office units.
Can I convert my garage into an ADU?
Yes, according to the law, you can convert a garage, a basement, or an attic into an ADU. This is a very popular option, as it's usually cheaper, requires less work time, and takes up unused space. Building an ADU conversion is a great way to make use of every inch of your land and create a full-fledged residential unit instead.
What is the difference between ADU and JADU?
A junior ADU is the same dwelling unit but smaller in size. Typically, ADUs can reach 1000–1200 sq. ft. in total, even though owners are free to make them much smaller. While JADUs must not exceed 500 sq. ft. and can only be converted from existing structures. They have their benefits, though. For instance, for smaller ADUs, there are smaller impact fees. Also, they take less time for construction and cost less in general.