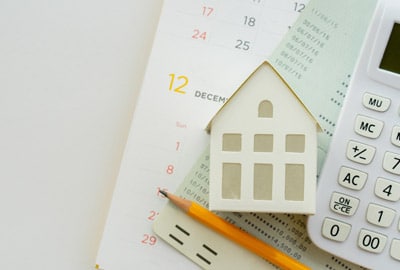 An accessory dwelling unit (ADU) has been a trend in the construction business for some time now, and there are many factors for it. Some people see it as a good investment; others think that this building can help them generate rental income or serve as a living space for their loved ones. Being one of the most affordable housing options in the market, the granny flat project may cost a fortune.
Everyone knows that ADU construction is not a cheap endeavor, and before commencing such a project, many homeowners and family members have to cut costs in order to prepare the family budget for significant expenses. Before you come up with an ADU design and the final plan, it is advisable that you understand the total project cost, what factors may influence it, and how you can reduce the total cost. These are the moments we will discuss in the following article.
Read the article if you want to know more about ADUs' cost and why it is usually so big. We promise that after reading it, you will not have any questions concerning the ADU costs. So, without further adieu, let's dive into the topic!
Factors that influence construction costs
In order for you not to get the sticker shock at the office of a general contractor, it is important to understand where they get such sums from. Normally, there are a number of factors that may influence the final cost of the ADU project. If you don't want to go beyond your ADU budget, keep them in mind.
The following factors usually carry the weight of the ADU cost per square foot:
The bigger your ADU is, the more money you will have to pay. In other words, cost per square foot is an important factor in the evaluation of ADU cost. ADU size also may influence the furniture you will have inside the ADU as well as the number of rooms, so keep it in mind.
Is your house next to a water reservoir? Is the earth in your backyard hard as a rock? How much space do you have on the lot? Before evaluating the cost per square foot, it is important to answer these questions. That means that the site preparation also requires money, and to build an ADU, you have to know what the builders have to do next to your primary residence.
Your future accessory dwelling unit will have all the necessary rooms, like a kitchen or bathroom. Hence, all the utilities also have to be connected to your unit, which leads to certain expenses. Take, for example, electricity. First, we will have to make a revision of your current electrical supply system, measure the increased electrical demands for future ADU, and only then evaluate how much money we will require to build your ADU.
How to estimate construction costs accurately
So, you have decided to build an ADU. That's a wonderful decision, but there may be a lot of confusion right now in your head, and the primary question is: how to estimate the ADU cost per square foot?
Well, there are certain steps you have to follow:
Size up on your budget
Take the necessary measurements.
Consider the labor and material costs
First, you have to understand that an ADU project may consume all your free money, and it is necessary that you determine how much money you would like to spend. Check accessory dwelling unit costs on sites with ADU projects to see how much money an average ADU of your size needs.
Next, you will need to know how large your accessory dwelling unit can be. Go outside and take the measurements of the site to know exactly what the dimensions might be. Remember, every square foot should be considered!
Lastly, materials and builders also add up to the total cost of an ADU. Visit the hardware store to figure out what tiles, furniture, and light fixtures you need in your unit. Also, talk to the general contractors working on ADUs, as they can tell you how much it will be to hire a team of builders.
Also, don't forget about design costs, permitting process, and interior finishes, which also contribute to the total costs. Keep it all in mind while figuring out the price of an ADU.
Understanding the cost of materials in construction
As we have stated earlier in the text, material costs can contribute seriously to the ADU cost per square foot. However, here it all depends on your preferences and your idea of how the ADU should look like. Want to add solar panels to the roof or waste disposal? Be ready to splurge.
The following elements require the most of your ADU budget:
A stable foundation is the key to an accessory dwelling unit that will serve you well for many years. Also, a good foundation increases the resale value of your unit as everyone will understand that they invest in quality. Normally, property owners choose the concrete slab as one of the most popular options, which is quite affordable at the same time.
Exterior finishing materials
If you want your future ADU to look well from the outside, it is required that you spend some money on modern materials that would underline your excellent taste. Take, for example, siding. While being one of the most popular picks, you can choose options from various categories. Wood siding will cost you less, while brick or stone siding requires some extra investment.
Interior finishing materials
Being inside should also feel nice. When we talk about interior finishing materials, we mean flooring, painting, doors, and cabinets, and there are also variations in price. As for flooring, picking a hardwood option can make a hole in the budget, while laminate flooring will let you save money.
Labor costs in construction: what you need to know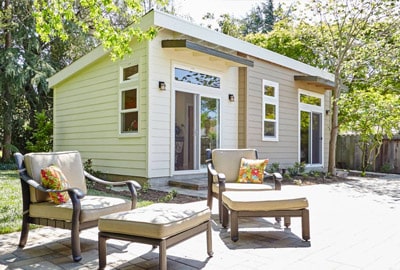 You will not work on your ADU by yourself, won't you? But every experienced team of builders wants to get money for their work. And the cost of building an ADU will differ depending on different factors.
First, it is the experience of the builders. Logically, the more experienced the builders are, the more they will charge. However, we don't recommend you hire the amateurs or the ones who only start working in the business, as there is a high chance that you won't get the quality ADU in the end. You can check the average costs of hiring builders on special sites.
Next, you need to think about the complexity of the project. If you need some intricate elements in your ADU or unique design elements, this may lead to additional costs from the builders, as they will have to spend more time crafting and installing them.
Moreover, legislation issues may come into play. Certain cities have a minimum wage requirement, which will directly affect the ADU costs. Before contacting a company, find out how the payment will work. In this matter, fixed costs may help you save some money.
The impact of site conditions on construction costs
As you may have already understood, when it comes to the total cost of ADU, every element is important. And site conditions are not in the last place of all construction costs. But what exactly can influence the actual costs? Let's figure it out.
Soil
The soil you have in your backyard on which the existing structure stands is important to consider as it will influence the stability of your future ADU, be it a detached ADU or attached ADU. Moreover, for the foundation, excavation is needed, and hiring a special digger is not a cheap endeavor.
Underground systems
Your existing home definitely has the structures like water, gas, and electrical lines under it. This will influence the ADU build and impact fees you will need to pay. The whole site work may be changed in order to save these systems and then use them in your ADU.
Environment
We don't live alone, and there are always animals and plants around us. But what if your ADU project has to be completed in close proximity to a wetland or wildlife habitat? Then you will need special permits which eventually lead to higher ADU costs.
As you can see, you cannot underestimate the importance of the site when commencing the ADU construction. Pay special attention to these factors, and you won't face unexpected expenses.
The Role of design in construction costs
The ADU design is another key element when we talk about ADU costs. Some people even say that design is what influences everything else in terms of the cost per square foot. For sure, normally, it will determine the square footage of your ADU, the materials used in the construction, additional elements of your ADU, as well as extra features like utility upgrades.
However, working with an experienced general contractor will help to balance cost and style. They have knowledge about features that may cost less than needed, as well as about elements that you cannot economize on. It will be difficult to do this work without proper experience in accessory dwelling units and an understanding of the essential elements of an ADU.
How to manage construction costs during the building process
You are not a manager but somehow have to manage the ADU development to fit the budget? It is time to obtain this precious knowledge as without surveillance, the budget can go out of control really fast, and you will not have time to notice that now it costs much more than normal secondary dwellings or even a single-family home that you own.
We have prepared a list of tips to keep in mind to successfully manage the budget of an ADU. Take the following ideas into consideration:
After working out a budget, it is important that you actually follow it. ADU development may be a long and difficult project, and sometimes the cost of certain elements can change. Then it is vital that you find out where to cut the cost in order to maintain the same final cost per square foot.
The construction process of accessory dwelling units is all about compromises. Here you need to substitute the furniture in order to fit in, there it is necessary to install an additional electrical panel, and there are many such things during the process. Remember not to be stern about certain positions and be open to new ideas from your designer or builders.
Last but not least, working with people who understand what they want and need will affect the necessity of managing the process. If the general contractor your work with takes care of every small detail, it allows you to guard down a bit.
Common mistakes to avoid when estimating construction costs
As we have stated, the cost per square foot may vary greatly depending on different factors, and the cornerstone of any project is the correct estimation of ADU costs. An inexperienced homeowner may face a lot of difficulties at this step, and it is advisable that you avoid the most popular mistakes at all costs.
Here is the list of mistakes that our clients regularly make while assessing the costs:
While estimating the costs, they may forget about key elements of any ADU. Check several times if your plan includes labor costs, money needed for the permits, materials cost, and the preparation of the site. We advise you to find out other estimations of finished ADUs and check with them whether you have all the positions in your list.
What is the key description of a general contractor? Reliable! Working with people who you cannot trust may lead to work of poor quality or unnecessary mistakes in the construction. Check the reviews and word of mouth to find a company you can entrust your money to.
You are not the hardware store, and buying huge amounts of materials will not do you good, and soon you will have to do a garage conversion to store everything there. Don't overbuy materials, or your construction cost per square foot will skyrocket!
The importance of contingency planning in construction cost management
What, you have never heard of contingency planning? This is a lifesaver for any ADU project. This is like normal planning, but you also think about unexpected costs that may appear during the construction. Nowadays, it has become a primary element of any plan. But why is it so important?
Contingency planning can help you with minimizing risks as some potential ones, after a close examination, will be identified and taken into consideration so they won't influence the process. Next, it can help you avoid possible financial losses. No one wants to waste money down the drain, which in some cases, may force you to cancel the project. With a contingency plan, everything will go well, and your project won't be derailed. Last but not least, the contingency plan will let you understand that your contractor really cares about every penny of yours and wants them to be well-spent in order to build an ADU on time.
As you can see, a contingency plan works well for both sides. It is a necessary element if you want to build an ADU, so take advantage of it.
Strategies for reducing construction costs without compromising quality.
You will say that it is impossible to reduce construction costs without the loss in quality, but we assure you that it is extremely easy.
Keep in mind the following pieces of advice to get the best out of your ADU:
An experienced contractor knows where to buy materials on sale, what to economize on, and how to avoid legislation issues. Entrust your project to a professional team and get a cheap project in the end.
Simplifying the project is another step towards a cheaper ADU. You will still get to use materials of great quality, but the amount of them, and, consequently, the money spent on them, will be much lower.
If changing the project is not an option, focus on energy-efficient strategies. Installing HVAC systems and getting proper insulation will allow you to spend less in the long term.
Frequently Asked Questions
What ADU types is it possible to get on the lot?
All in all, there is a variety of ADU types that you can get. The most popular options include detached ADUs, garage conversions, and attached ADUs. You can check the options on the site and choose the project to your liking.
How can I use an ADU?
Many owners build ADUs to get passive income by finding tenants to live with there. Some people get a granny flat to accommodate the elderly. Others build an ADU as a place to practice hobbies. The options are various, and it all depends on your imagination.
How long does ADU construction last?
Normally, the number depends on factors like the cost to build, difficulty, or square footage (every square foot matters). But usually, it takes us around 6-8 months to get from the construction drawings to the fully finished unit, no matter if it is a detached ADU or any other type.